Jets Heavy Investment in Wide Receivers About to Start Paying Dividends?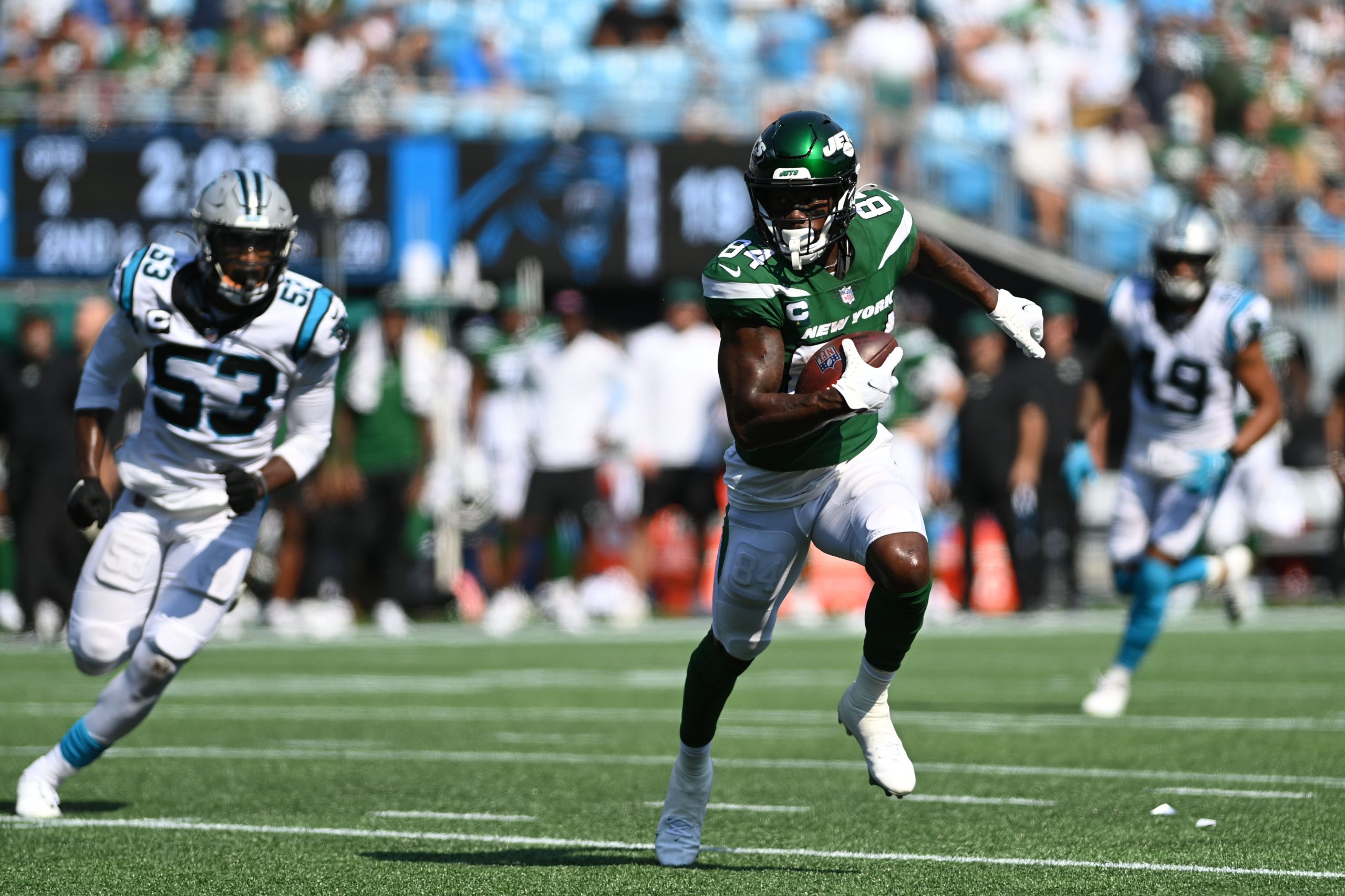 The number of additions that Joe Douglas and the New York Jets have made in recent years to give his quarterback every chance to succeed is well-documented.  Be it through the NFL draft or free agency, Joe Douglas has made every effort to upgrade the team's receiving corps.  And if the early reports out of Jets training camp are accurate, those moves might be about to pay off. What we do know is that NFL games today are more competitive than ever, so improving the roster is imperative.
Over a 22-year stretch (1997-2019) , the @nyjets drafted just 3 wide receivers in the top 60.

(Santana Moss, Stephen Hill, Devin Smith)

In 3 drafts as the team's GM, Joe Douglas has used the same number of picks on top 60 receivers.

(Denzel Mims, Elijah Moore, Garrett Wilson)

— Glenn Naughton (@AceFan23) July 30, 2022
Over the past 25 years, Jets GM's have failed mightily on draft day regardless of the position.  But at wide receiver, precious few resources have been used to acquire premier pass catchers.  Well, few premium resources anyway.
From 1997-2019, only three picks were used in the top two rounds on a wide receiver for Gang Green.  Those picks were spent on Santana Moss, Stephen Hill and Devin Smith.
Since arriving just a few seasons ago, Douglas has used three picks on wide receivers in the first two rounds.  Those of course being Denzel Mims, Elijah Moore and Garrett Wilson.  In addition, Douglas signed wide receiver Corey Davis last off-season and re-signed slot receiver Braxton Berrios this off-season.
In Moore, the Jets have a player who was consistently open last season.  Had the quarterback play been better, Moore would have likely had a monster season.  In fact, when the Jets were without Zach Wilson, Moore posted 24 catches for 336 yards and 4 touchdowns.  Over the course of a full season that extrapolates to over 1,200 yards.
With Wilson, this year's 10th overall pick, the Jets landed what some viewed as the top receiver in the class.  A receiver who won't be asked to move mountains in year one given the team's depth at the position.
I had WR Denzel Mims with four catches today on five targets. Three of the four were wildly impressive. The fourth was a short gainer in the flat. One pass was broken up #Jets

— Connor Hughes (@Connor_J_Hughes) July 27, 2022
Davis and Mims will both be looking to bounce back from disappointing results in 2021.  Davis was productive, and on pace for just under 1,000 yards and 7 touchdowns.  However, some drops, fumbles and injuries overshadowed the positives.  Meanwhile, Mims could rarely find the field.  When he did, he couldn't get out of his own way.  He would finish the season with just 8 catches for 133 yards.
After spending the off-season getting healthy for Davis and re-shaping his body for Mims, both receivers have been praised for some eye-opening plays this week.
Mims has reportedly been more aggressive than we've seen him in years past while Davis is looking more like the player the Jets though they were getting when they signed him.
Corey Davis with a diving catch in the back of the end zone in a red-zone period. Wilson led him nicely. #Jets

— Rich Cimini (@RichCimini) July 29, 2022
Also worth noting is that outside of the big names, it sounds as if undrafted free agent Irvin Charles is making an early impression.  A former Penn State product who transferred to Indiana University of Pennsylvania, Charles is making some plays.
Mike White finds a wide-open Irvin Charles for a big gain. Charles has made some plays early in camp.

Next play, Rashard Davis takes a short pass and zips down the left sideline for a TD. Davis has LOTS of speed. #Jets

— Dennis Waszak Jr. (@DWAZ73) July 29, 2022
What makes Charles intriguing is his rare size/speed combo.  He checks in at 6′ 4" and in what little footage you'll find of him in action, it's not a stretch to say he's one of the fastest (if not the fastest) guys on the field.
Jets UDFA WR Irvin Charles with his only big plat at @PennStateFball before being dismissed. What jumps out most is the amount of space he creates between himself and chasing defenders. The guy can definitely move for a big guy. pic.twitter.com/jvRIJPnP40

— Glenn Naughton (@AceFan23) May 18, 2022
Given the depth chart ahead of him, a player like Charles could find his way on to the practice squad and given a chance to develop.  And of course the hope is that the big names at the top of the depth chart; those early picks and free agent additions, are about to move the Jets out of the AFC basement and into the playoffs.
Videos
New York Jets OTA Presser Takeaways, Aaron Rodgers' Impact and Summer Delusion