Brant Boyer Gives Special Teams Update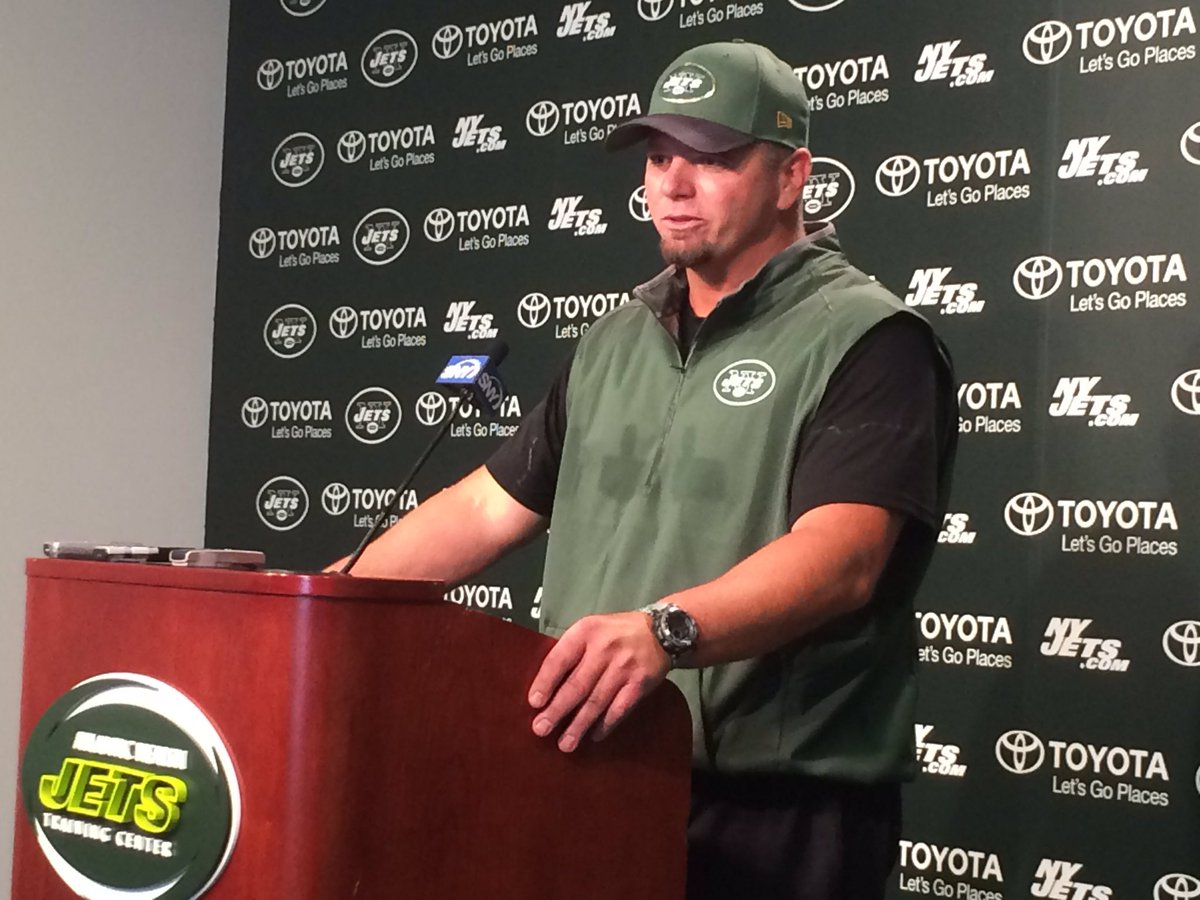 New York Jets special teams coach Brant Boyer sat down and spoke to the media about the kicking competition and how things are shaping up on specials so far in training camp.
Brian Costello, New York Post: Can you give us the update on the kicking competition? I know Eddy Pineiro has been out these last couple of days but how is everything going up until now?
It's going really, I think that both of them kicked well. Obviously, they made all their kicks the other night. I have no concerns about either of them kicking out of the back of the endzone at any time. Both of them plenty of leg strength, so it's going to be really interesting to see how it falls out.
Zack Rosenblatt, The Athletic: I seen Denzel Mims getting some reps during practice in special teams how does he handle that? It hasn't been his role in the past as much?
Yeah, he's learning just like everybody all the young guys that haven't had to do it much or even some older guys that we're asking to do it. It's different when you get out there and you're not used to doing all those things and that's something that any three, four, five receiver has to play any three, four, five running back, safety, corner, any of them, they all have to contribute because you only have such a little number of guys on gameday. I do think he's trying, he's getting better every day and that's what we ask of him.
Dan Leberfeld, Jets Confidential: Jermaine Johnson seemed to have a nice block on the kickoff return by Braxton (Berrios). How unusual is it for a first-round edge rusher to be playing in that role and how much do you expect to be using him?
We'll see how it plays out and what his defensive role is, but I think that what's really good about this whole entire draft class, they've came in and bought into anything we've asked them to do and Jermaine specifically, he's getting better every day. He's working his butt off and he'll do anything I ask him and that just shows you a testament of how he works and everything and how he's blocking out there is from him paying attention in meetings and his willingness to do it is good to see. That's what a team does and it's not about a bunch of individuals, it's about the team.
Rich Cimini, ESPN.com: Justin Hardee is essentially a specialist. How much value does that have? In today's NFL, you know the more things you can do the better, but he essentially is a specialist on special teams so when you're making the final cut how do you value that?
Well for me or the entire team? From my perspective, he has one kickoff, he makes one tackle. He has one punt, he's in front or standing in front of the returner to force a fair catch, so for me a guy like that I think he's top five in this league, I do. I think he's a Pro Bowler in my opinion, he does a really good job for us. He takes a leadership role in the room, so he has done a heck of a job and done everything we asked him to do.
Brain Costello, New York Post: Josh Martin was one of your guys for years here, do you see any shades of him with Jacob Martin?
I do, I joke around with him all the time like any comment that Jacob makes or something I would be like, "your brother never said that or something like that," so I'm always ripping him about his brother, but they're both very similar, both love ball, both are smart guys that play their butts off all the time. It was a joy to coach Josh and it's a joy to coach this kid too, Jacob's awesome.
Andy Vasquez, NJ Advance Media: With Lawrence Cager moving to TE, does that change anything that he's able to do on special teams? 
No, not necessarily, I think it goes back to the same thing I said earlier. Any position that's a three, four, five guy or whatever it is, they're going to be asked to play special teams and the guys that have the most value on offense and defense and on special teams combined will be here. That's how this league goes and Cager has done a nice job, he's working just like everybody else and his willingness to do it has been good, so I think you know we'll see how it all shapes out at the end.
Dan Leberfeld, Jets Confidential: Going back to Justin Hardee, what makes for a great kick/punt/cover guy just a great special teams' player? You played for almost 10 years in the league as a kick/punt/cover type guy what makes the great one great?
Want to, want to. That's what it all comes down to. Are you going to say that that guy when I have a 40-yard head start, can I get singled by that guy? I tell my guys all the time, there's absolutely no way in hell a guy should be able to block you, when you have a 40 yard head start all the time. It's all that mindset that they have to have in that room. I continuously try to preach on that, teach that because that's what I believe in. If they're not doubling you, then something is wrong. You need to beat any single that you got and that's how we coach them and Hardee's one of those guys that he has that right mindset and he plays 150 miles an hour on every snap and never stops and things like that. Does he have somethings to improve? Absolutely, just like we all do, but I think he has done a fantastic job in what we've asked him to do here since he has been here.
Dennis Waszak, Associated Press: Do you think the fact that you played special teams and was an excellent special teams player and you know that mentality firsthand helps you get that to the guys?
That's something you would have to ask a player on what they think of that, but I think you coach how you want it done and I try to coach my guys to play as hard as they can for as long as they can, you know and I want them to be physical and I want them to be tough as hell and I want them to be smart and doing the right things and if you have a group like that who just lays it on the line all the time and they work together and they study and they prepare and they talk and they communicate, then you're going to have a good group and if you don't, then that's on us as coaches. That's what I believe in.
Brain Costello, New York Post: Brant, what do you do this time of year to cut down on the penalties that you guys had last year?
Just over preach it, over teach it. Continually try to harp on the specifics of what's going to get penalties, what's not going to get penalties, any time we're correcting tape, we'll always point that out, so that's a big emphasis for us this year.
Eric Allen, New York Jets: How valuable are these joint sessions going to be coming up against Atlanta and then the Giants?
I think it's going to be huge because you get to see them against other guys and just like all these preseason games, they're just practices against other people. You get used to working with each other and everybody knows each other moves and stuff like that, but once you get into other guys that you haven't studied before like you can't pull out tape and watch these guys when you're practicing against them, you really see what your skill set is and where your eyes are and things like that and stuff that gets you in trouble and it'll be a good gauge where we're at on all phases to see how we stack up against these guys. They have a lot of talent.
Videos
Aaron Rodgers Injury Fallout & Jets/Bills Recap