Jeff Ulbrich on Michael Clemons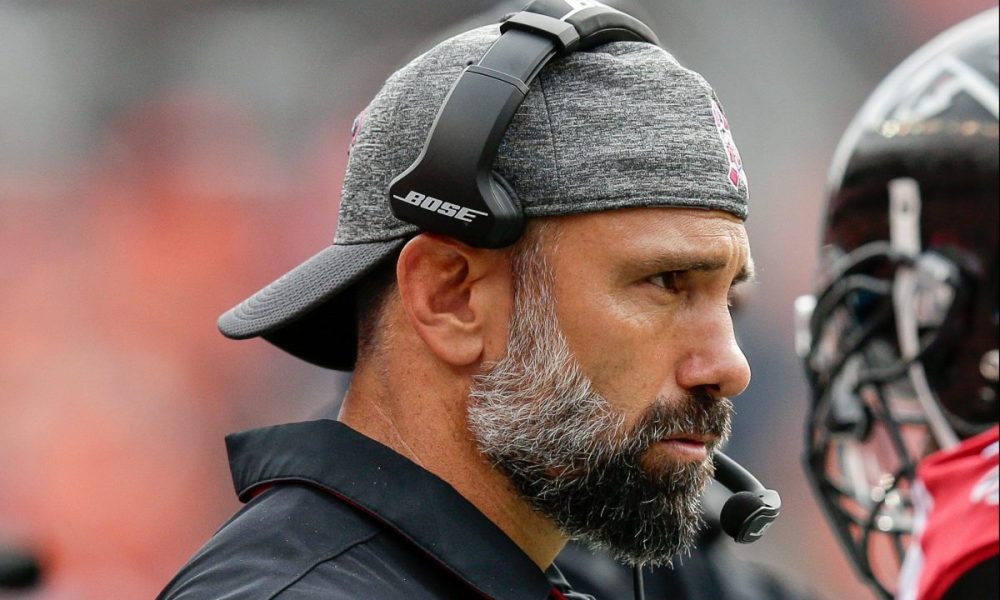 Defensive coordinator Jeff Ulbrich spoke to the media about the defense and here is what he had to say.
Zack Rosenblatt, The Athletic: How do you think the defense looked in that preseason game, especially at the beginning when some of the starters were in there?
The strain was good. The effort was good. I thought the toughness was good. The mindset was right. At the same time, there were some technical errors and some alignment stuff that we can get cleaned up. It's always a growing process regardless of who's in there — veteran, rookie. There's always going to be growth, especially from the first preseason game. The guys got the kinks out. I think they got a little bit of the nerves out, the expectations of themselves, of the unit, the whole thing. I expect us to be better going forward. What was very promising for me was the younger guys or the guys that might not have been in the system for as long, came in the second quarter, third quarter, fourth quarter, and really cleaned up some things that they saw happen with the first group and there was not repeated errors. They played very cleanly as the game went on, which was very good to see, especially from the young guys.
Zack Rosenblatt, The Athletic: What has impressed you most about Micheal Clemons? Seems like he was getting in the backfield quite a bit. 
All the stuff that he stands for, it showed up on game day — his strain, his violence, his toughness, his physicality, his strength, all of it. That's from a defensive perspective, that's also from a special teams perspective. He was just all that he stands for, he put on tape, so happy for him. Does he have a long way to go? Absolutely, but it was a good first sign.
Antwan Staley, New York Daily News: One of those young players, Michael Clemons, he applied a lot of pressure on Friday night. What have you seen from him and his growth?
Exactly what we just spoke on. He's obsessed with this game. I know we talk about that a lot and we have a lot of guys that fit that bill and check that box from our roster, but he goes to another space. His obsession and his love for this game is as good as I've ever seen, been around, and because of that, he's going to find a way to be successful in this league. He's got a long way to go, but he's got physical tools — he's long, he's fast, he's explosive, and then he's got the mindset, the obsession to learn the game and fine tune all the little details, but also the mindset to dominate the guy that's across the ball from me. He lives that life in all that he does, but excited about where he's going, but again, a long way to go.
Rich Cimini, ESPN.com: You say he goes to another space. What does that mean exactly?
He's a guy that I think he's relied on his toughness and his strain and his strength and his size, and he's always been successful because of it — high school, Pop Warner, and definitely Texas A&M, but here's a guy that now you're at a level where there's a lot guys with similar strength, similar size, similar mindset, so you got to start refining your tools and your pass rush and your edge set and your hand placement and your leverage, all the fine little details and technique that will be taking his game to another space. I expect that to happen for sure.
Brian Costello, New York Post: What do you hope to get out of the joint practices with Atlanta this week?
Keep refining what we're doing. Obviously, training camp is about us, less about opponents, less about game planning. So, that's a big part of it. But also, just seeing different looks, different ideas offensively attacking us. I had a talk with Coach Smith, Arthur, and Dave Ragone, the offensive coordinator, and I really laid out the plan of what we plan to play against them. I want them to go into a lab and absolutely pick on us and try to find every weakness of our defense and expose as much stuff as they can from the run game perspective, pass game perspective, schematically, the whole thing. I look forward to that for sure. Plus, a new opponent brings new energy and juice, and the guys will be revved up for it.
Al Iannazzone, Newsday: When you talk about the young guys, what have you seen in Sauce's (Gardner) development and what's impressed you about him as you've gotten to see him more and more?
He's that guy that's constantly collecting information and then sprinting back to the locker room and writing it down. He's just building this database right now. It was so funny today we got into the high redzone, they created a stack on his left and that's been a lot of daggers and in-breaking routes. He sat hard inside and all of a sudden they whipped it outside and he's like, 'You haven't showed me that.' You get him once and now he's ready for it. He's just collecting information as we go. He's getting better everyday, and excited about where he can go.
Brian Costello, New York Post: We talked about Quincy (Williams) a lot last year and the good things he did, but there were still some where he maybe was a little out of control and we saw that Friday night with that hit on (Jalen) Hurts. What was your message to him after that sideline hit?
First of all, to have the poise to not take that hit — I think that's been spoken about from Coach Saleh, myself, everybody that's involved, had a long talk with him. He absolutely acknowledges that, recognizes that at the highest level that there's no space for that preseason, regular season, postseason. Doesn't matter, there's no space for that. His superpower is this speed and this explosiveness and this aggressiveness. That's his superpower. Now, it's just harnessing it and controlling it and finding that poise, finding that ability to slow his body down a little bit while his mind speeds up and he's doing that, and we're seeing that on the practice field. Now, it's time for that to translate to the field on Sundays and in games. He is working at it tirelessly right now, and he's absolutely aware of his deficiencies. He's aware where he needs to get better, and it's a process everyday for him.
Antwan Staley, New York Daily News: Jermaine Johnson, what have you seen from him the first few weeks from him?
It's interesting because Jermaine, I would imagine, and I know that Georgia and Florida State are big programs, he's probably always been the best player on the field for the most part. So, he's a guy that I think like anyone, you can become, I'm not saying complacent, but you're talented, you're physically talented, you're skillfully talented, which he is. So, there was another place he had to go as far as strain, effort, practice habits, details, all those things. We saw through Spring, and you saw incremental games as he went, he's starting to get it. He's starting to understand what it takes to be successful in this league and that's not just defense, that's special teams too and all that he's doing. Is it hard to go every play? Yeah, it is. It's hard to go every play, but it simplifies your world. He's starting to find that consistent strain. A lot of things promising about what he's done at practice and in the game. What really jumped out, I thought, was his speed. That's probably one of the biggest things that we coveted. He's a four or five guy with a lot of size and length, that's going to be a tremendous benefit for us. We all know, especially within this division, and really throughout the NFL and especially for the schedule that we have this year, there's going to be a lot of athletic quarterbacks where his speed is going to be necessary to have on the field. I can't wait for him to keep refining this game and just getting better every day, which is he is trying to do.
Brian Costello, New York Post: Does Carl (Lawson) look like himself?
He's getting closer. I just said it to him the other day, a year off, especially for a guy like him who's such a rhythm rusher. He's a guy, you got to kick him out of the building. He's always working on his game, his pass rush, his timing and all those things. A year off and you're bound to be a little bit rusty. The timing is bound to be off a little bit. He is starting to find that again. I thought the last two or three days of practice, really saw glimpses of the old Carl. As we get closer to the season, he'll get closer to what he really is. To me, he's right on pace to where he needs to be.
Dan Leberfeld, Jets Confidential: When talking about the first team defense maybe needing to work some things out. Hurts, I think had a perfect quarterback rating and one of his passing highlights was that pass to (Dallas) Goedert down the left side. Are you guys were working on communicating better on pass defense? What happened on that play?
It's that seven route, the buzz defender needs to hinge. It's not funny, I was going to say it's funny, but it's not funny. Our defense is simple. There's a lot of detail within it, but (the) schematic is simple. The beauty of that is, the benefit, and the drawback from it is, people know exactly how to attack us. The beauty of that from a defensive perspective is, you have the ability to anticipate things because you know what's coming. You know how people are going to attack you. They give you a certain look, a specific look, and it's really interesting. Jordan Whitehead will never get beat on that again, I can say that confidently because he is starting to understand, oh I get one or two close and I'm in the high red zone, here come scissors – it's coming. You start to anticipate it. That's where the special plays lie within this defense. From the anticipatory stuff that comes from knowing how you're being attacked and then knowing your own techniques so well that you just, its sub-conscience competence and you just operate at that level. The beauty of that was, they come back later in that game, same concept, same defense, and it was played perfectly. It was pretty cool to see the youngsters see that on the iPads, correct it, and not get beat on the same thing, but I really think that people that are new to this system, sometimes you need those scars, sometimes you need those keloids. They help you grow.
Al Iannazzone, Newsday: What do you think Sauce can become?
I honestly don't want to even say what I really think about that because I don't want him to hear it, but he's got a bright future in this league. The physical tools are obvious, the DNA of the man is special too. So, he's got to keep working, he's got a long way to go, but we all think very, very highly of him in this building, what he can become.
Andy Vasquez, NJ Advance Media: Going back to Sauce, Saleh and several other guys have talked about how much he talks out there. What does that say about him as a competitor and how rare is that for someone who is a rookie?
Yeah, he has a unique confidence, especially for a rookie. It just speaks to who he is as a man. A lot of times you see fake swagger, fake confidence, and phony talk. With him, it's completely authentic. In reality, it's earned from the way he prepares and the way he works and the way he knows what he's doing. He's very aware of his ability and what he's capable of becoming. It's really cool when you have guys that have that sort of confidence and swag, it just elevates the group. He'll continue to have that affect on the group.
Videos
JetNation
4.6K
Subscribe
Broken Brains; Critics of Jets Quarterback Aaron Rodgers Begin Stirring up Conspiracy Theories