53 Man Roster Contains Some Surprises on Both Sides of the Ball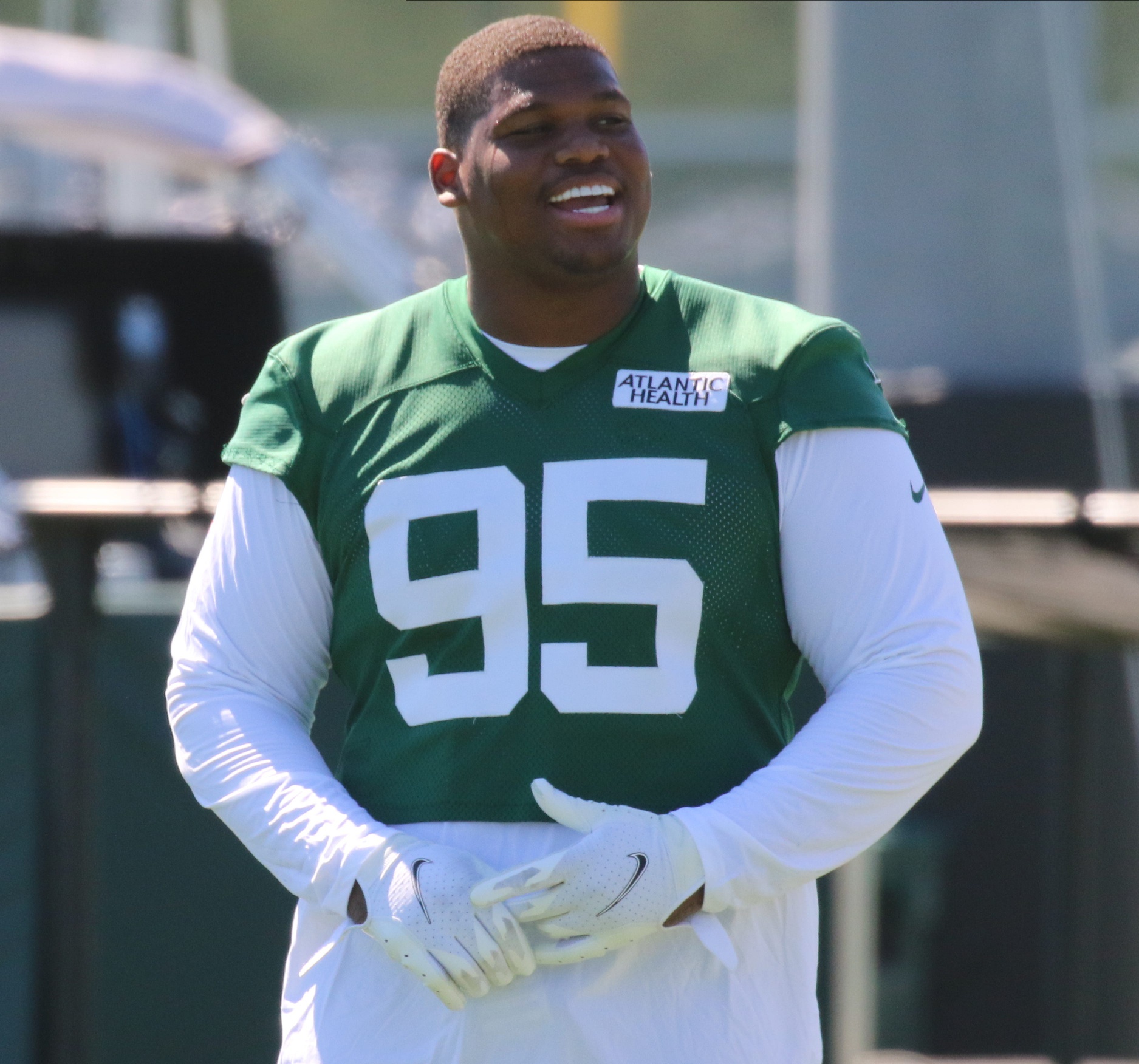 While the Jets 53-man roster is official on paper, maybe calling it the 50-man roster would be more appropriate as a few players always get shuffled on and off of rosters in the days the follow.  With other teams cutting down to 53, the Jets may scoop up somebody else's discarded players.  But until then, the first version of the 53 is official, so let's take a look.
S Tony Adams: The undrafted free agent out of Illinois is a big hitter who has some versatility (played CB and S in college) and special team's value.  What makes Adams such a surprise was the camp being had by Will Parks and Jason Pinnock.  Both had far more praise heaped on them for their play than Adams, and the pair were let go while Adams stayed.
Illinoins safety Tony Adams played alongside Kerby Joseph had some missed tackles but is a big hitter when he squares up on his target. pic.twitter.com/MCCHoVy6CH

— Glenn Naughton (@AceFan23) May 1, 2022
LB Kwon Alexander: Alexander could be this year's version of Morgan Moses.  A proven veteran starter picked up during training camp who will wind up playing a ton of football.
WR Braxton Berrios: Berrios had his best season as a pro last season and the Jets brought him back in free agency after seeing the chemistry he developed with Zach Wilson.   One of many quality targets Wilson will have to work with this season.
OT Duane Brown: Added just a week ago, Brown steps in to start for the injured Mekhi Benton who will miss all of 2022.  Brown being on the market as a free agent when Benton was injured was a gift from the football gods.
TE Lawrence Cager: What a story.  The former Jet and former wide receiver re-joined the team with the hopes of making the transition to tight end.  We heard his name all throughout camp, saw him shine in the pre-season, and now found his way back on to the roster in a new role.
RB Michael Carter: The second-year back out of UNC will split carries with rookie Breece Hall.
CB Michael Carter II: The impressive young slot corner wins the job again.
DE Michael Clemons: The rookie edge rusher out of Texas A&M had himself a heck of a pre-season, showing why he was taken by the Jets.  Clemons made plays against the run and the pass and showed a great motor.
TE Tyler Conklin: We've said for some time now that even though CJ Uzoman signed first, it should be Conklin getting TE1 reps.   We'll see how that plays out, but the Jets depth at TE is the best it has been in years.
DL Vinny Curry: A veteran mentor, Curry missed all of last season and returned with the hopes of making the 53 and did just that.
S Ashtyn Davis: This one came as somewhat of a surprise as the aforementioned Will Parks and Jason Pinnock were having the better training camps.  In this situation, it looks as if the Jets chose the more athletic player in Davis who has more physical tools than the safeties who were let go.  Will that translate on the football field?  Time will tell.
WR Corey Davis: The Jets are hoping for big things from David's after an up and down 2021 campaign that ended prematurely due to injury.  Davis had a shot a a 1,000 yard season but also had several drops and fumbles.
CB Brandin Echols: It was a quiet camp for Echols who missed lots of time due to injury but the 2021 starter returns as a quality depth piece.
OT George Fant: Fant continues to prove his value as he flips tackle spots again to accommodate Duane Brown who has no RT experience.
OL Dan Feeney: The versatile interior lineman returns for second season with the Jets after filling in admirably for a short time last season.
QB Joe Flacco: Flacco started just one game for the Jets last season and there for 291 yards.  He may start this season's opener with Zach Wilson's status up in the air.
DL John Franklin-Myers:  The man they call JFM will be a versatile piece this season as he's expected to alternate from DT to DE based on pass/run situations.
CB Sauce Gardner: The man they call Sauce wasn't targeted a single time during the pre-season.  The sky is the limit for the young cornerback.
RB Breece Hall: As you would expect, Hall didn't have a ton of carries in the pre-season so there wasn't a whole lot to see as the starting O-line didn't see much of the field either.   Look for Hall to contend for offensive rookie of the year honors.
CB Bryce Hall: Hall didn't have a great camp but should still be a very nice depth piece at corner along with Echols.
CB Justin Hardee: The special teams ace returns for year two.
LS Thomas Hennessy: Hennessy remains the long snapper for the Jets.
OL Nate Herbig: Herbig is an under the radar signing who provides valuable depth on the interior offensive line along with Dan Feeney.  A former starter in Philadelphia, Herbig was snatched up off the waiver wire by Joe Douglas.
DE Bryce Huff: The Jets final pre-season game encapsulated what Huff has been since his arrival.  A valuable player on defense who makes life miserable for opposing quarterbacks who want to set up in the pocket, but rarely gets home for the sack.  Huff won't do much for your fantasy football team, but he's a valuable piece for your actual football team.
DE Jermaine Johnson: The first round pick out of FSU will see plenty of reps on a Jets D-line that looks to suddenly be deep along the edge.
RB Ty Johnson: We've always liked Johnson but expected him to be shown the door in favour of Tevin Coleman.  As it turns out, Coleman was sent packing and Johnson hung around.
S Lamarcus Joyner: Clearly a player the Jets like, Joyner missed all of last season after signing a one-year deal but was brought back as a starter once again.
RB Zonovan Knight:  The running back/kick returner put together enough plays in both areas to hang on as the team's fourth running back.
@nyjets are likely to add a running back via draft and getting one who can catch and run is essential in this offense. One guy who did it well when given the chance was @PackFootball RB Zonovan Knight. pic.twitter.com/o9pVSdpFTU

— Glenn Naughton (@AceFan23) April 3, 2022
DE Carl Lawson: Perhaps the player Jets fans are most excited to see on the field this season, the pass rushing specialist could be in for a career year in Robert Saleh's defense.
P Braden Mann: Mann hasn't been the guy the Jets they'd hoped he'd be out of Texas A&M.  He gets another year to elevated his game.
DE Jacob Martin: Brother of former Jets DE Josh Martin, Jacob came over from the Texans as a free agent and figures to see plenty of action in the Jets heavy D-line rotation.
C Connor McGovern: The steady vet is back for another season to anchor what the Jets hope will be a much improved unit.
WR Denzel Mims: Mims requested a trade which the Jets tried and failed to accommodate so he's back again for a third season.
Heck of performance from Denzel Mims in what may be his final snaps as a member of the Jets. Gang Green hoping his big night (7/102/1) might drum up some interest from teams looking to add a receiver. pic.twitter.com/zVPgnqMEkN

— Glenn Naughton (@AceFan23) August 29, 2022
OL Max Mitchell: Viewed as a project lineman after being drafted by the Jets this season, Mitchell has performed well enough for the Jets to cut ties with Chuma Edoga, Conor McDermott and Grant Hermans, the primary competitors for the backup tackle jobs.
WR Elijah Moore: Look for Moore to be the top receiver on the roster this season in a deep group.  His ability to get in and out of his cuts at top speed makes him a threat against any cornerback.
LB CJ Mosley: In what may be his last season as a Jet due to his bloated salary next season, CJ Mosley returns as the leader of the team's defense in the middle of it all at linebacker.
DL Sheldon Rankins: A player who at times looks like an all-pro and at others does little to get your attention, Rankins is back for a second season for Gang Green.
CB DJ Reed: The free agent addition from Seattle gets ready to start opposite Sauce Gardner for what should be a vastly improved secondary.
TE Jeremy Ruckert: The local kid from Long Island will likely be the team's primary blocking TE this season while looking for reps as a pass catcher in a deep group.
DL Nathan Shepherd: One of just two remaining Mike Maccagnan draft choices, Shepherd comes back as a rotational piece along the defensive interior.
LB Jamien Sherwood: Sherwood had himself a very good pre-season and may have positioned himself to be the team's starting middle linebacker next season.
WR Jeff Smith: Smith sticks again.  Another great story as the UDFA who started his college career at quarterback keeps finding ways to impress his coaches and make the roster.
DL Solomon Thomas: Thomas has bounced around a little bit after being drafted with the third overall pick in 2017.  He hasn't come close to living up to his draft status, but the Jets feel he can be a contributor on their D-line.
LG Laken Tomlinson: The stud guard steps in to start on the left side where he'll be a big part of keeping quarterback Zach Wilson upright while opening holes for the backs.
TJ Uzomah: Uzomah gives Zach Wilson another huge target in the middle of the field to help move the chains.
RG Alijah Vera-Tucker: The man they call AVT enters year two with hopes of taking the next step in his development to enter the pro bowl conversation.
QB Mike White: White enters the season as the team's third quarterback after and up and down pre-season.
S  Jordan Whitehead: Another free agent addition in the secondary, the former Buccaneer should dramatically improve the Jets defense against both the run and the pass.
Just finished up watching 4 TB games on all 22 and I think Jordan Whitehead has a chance to finally help fix a Jets defense that hasn't been able to defend a screen pass for much of the past 30 years. Reads the offense well, gets through blockers and a GREAT tackler one on one. pic.twitter.com/e8HfeQpWIR

— Glenn Naughton (@AceFan23) March 16, 2022
LB Quincy Williams: A surprise addition last year who may go from highlight reel play to boneheaded mistake, Williams has some big fans on this staff.  Watch him blow up opposing ball carriers on game day and it's easy to see why.
DT Quinnen Williams: If Williams hits his ceiling this season with all of the talent the Jets have placed around him…look out.
WR Garrett Wilson: The rookie receiver out of Ohio State struggled with drops in training camp but looks to start making plays once the games count.
QB Zach Wilson: Wilson enters season two hobbled by a knee injury suffered in the pre-season but there's a slight chance he could return in week one.
K Greg Zeurlein: With one of the strongest legs in the NFL, Zeurlein hopes to regain the form that earned him the name "Greg the leg" several years ago.
Videos
JetNation
4.6K
Subscribe
Broken Brains; Critics of Jets Quarterback Aaron Rodgers Begin Stirring up Conspiracy Theories