Featured Editorials JetNation Radio
Zach Wilson Heats up After Slow Start in win Against Steelers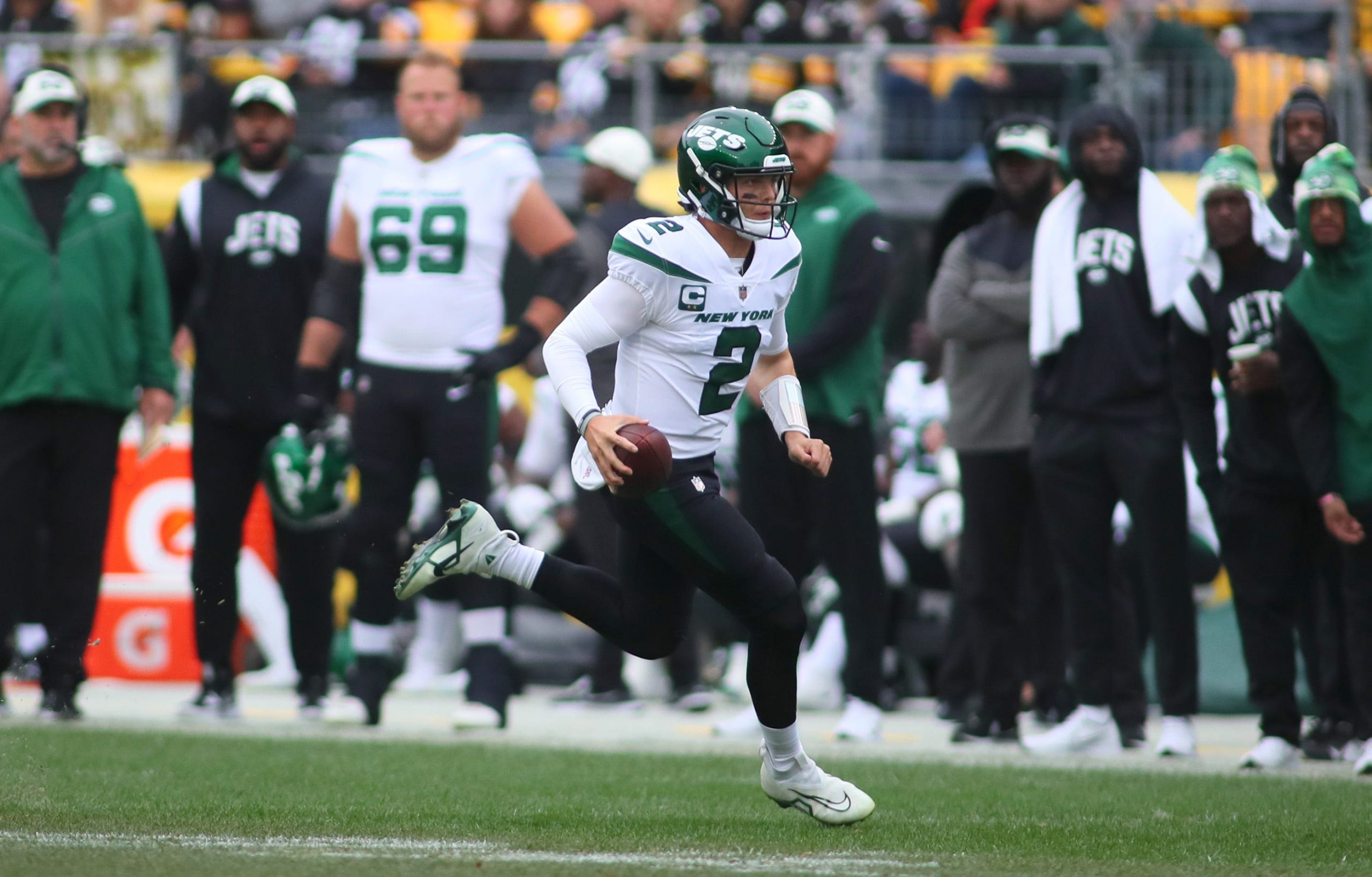 Zach Wilson's performance against the Steelers wasn't always pretty, but it was a thing of beauty when it mattered most.  After a painfully slow start early on, the team's 13-10 deficit felt like 31-10.  At 20-10, the hill appeared almost certainly too steep to climb.  It turned out to be anything but.
As noted by Conor Hughes of SNY, Wilson was sporting a passer rating of just 13.8 after his first 20 pass attempts.  Taking into consideration the multiple drops and rushed throws, the stats don't tell the whole story.  But even still, Wilson wasn't as sharp as you'd like.  In fact, his struggles on short swings and screens that plagued him last season reared their ugly head again.
Zach Wilson, in his first game back, is 7 of 20 (35 percent) for 106 yards with 2 INTs. QB rating of 13.8. #Jets

— Connor Hughes (@Connor_J_Hughes) October 2, 2022
With the 10 point deficit, Wilson led the Jets on a pair of clutch touchdown drives.  The first culminated in his first TD pass of the season to wide receiver Corey Davis.  The next was the game winner that saw Breece Hall find the end zone with just :16seconds left on the clock.  In fact, after the disastrous start, It was a tale of two halves as Wilson would go 10-12 for 128 yards and a TD in the fourth quarter.
Love this throw from Zach Wilson. Nothing spectacular on the surface, but it's these throws he made in college that made him so good. Reading the defense and quick release when Conklin comes open. Awkward arm angle to get around defenders but makes the completion. pic.twitter.com/HpIMcOocnf

— Glenn Naughton (@AceFan23) October 3, 2022
Already without his starting left tackle, Wilson played behind a makeshift line that lost another starter early on when Max Mitchell went down.  In came Conor McDermott who had his struggles and was flagged for multiple penalties.  Perhaps the most impressive thing about Wilson was his ability to operate under extreme duress.  Wilson was pressured on 44% of his drop backs and had to throw several passes out of bounds just to avoid losing huge chunks of yardage.
When all was said and done, Wilson met with the press and his first comment was in regard to how ugly the game was, but how much fun he had playing in it.
Videos
Aaron Rodgers Injury Fallout & Jets/Bills Recap