Joe Douglas: We Love Elijah; We're 4-1 When Zach is our Quarterback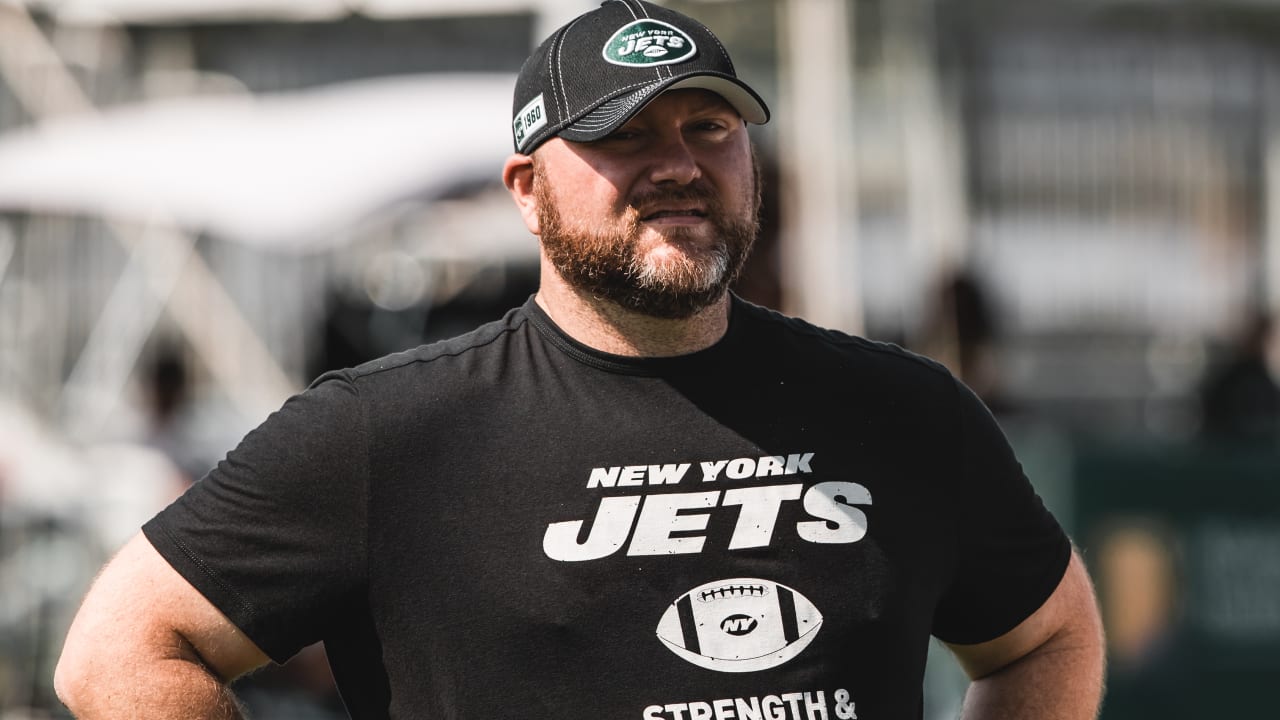 Joe Douglas spoke to the media on Tuesday. He gave updates on the most recent draft class, Elijah Moore, "We love him" and Zach Wilson, "We're 4-1 when Zach is our Quarterback".  Here is the full transcript, it is worth checking out.
Opening Statement: 
Good afternoon, appreciate the time today. It's good to be with you guys again since we haven't talked officially since the beginning of September. Just going into the two trades we made leading up to the deadline with the first one being for James Robinson last week with Jacksonville, felt that was a good opportunity to add a really good football player, a really good person to our locker room, so when we found out we would be without Breece (Hall) for the rest of the season, and we decided to canvas the League and see what opportunities were available. I felt really good about bringing in a person and a player of James' caliber. Today, we made a trade with Denver with Jacob Martin. Obviously, it's tough to say goodbye to Jacob because he came in here, he's a pro's pro, did everything the right way, valued member of this team. Ultimately, felt it was good value for us with the depth in the d-end room. It was an opportunity to add some flexibility moving forward with a higher draft pick and get some of these guys a few more reps in games moving forward. Obviously, sitting here at 5-3, in a perfect world we're 8-0, but there's a lot to be excited about moving forward. It's a real testament to Coach Saleh and his staff and these players. We've had a ton of contributions from a lot of different players that have gotten us to this point. We know we haven't accomplished the goal we set out to accomplish, but we set ourselves up to have a good opportunity moving forward to have success. There's a lot of football to be played and a lot of games left. We know the challenge coming up here with Buffalo — great team, great organization, and it's a great opportunity for our guys. Looking forward to the back half of the year and rolling. That said, I'll just open it up for questions from here.
What was your reaction to, first Elijah (Moore) having some issues with his usage two weeks ago and then asking for the trade?
I know Coach has talked about it a little bit. We love Elijah. We all stood on the table to take him high in the second-round last year. We think the world of him. Obviously, we're a football family. Anytime there's an issue, we like to handle that in-house. I was able to have a really good one-on-one conversation with Elijah. Again, we think the world of him. We think he has a bright future as a New York Jet.
Did you give any consideration to trading Elijah or was that just not going to happen?
We had some calls, but at the end of the day like Robert said, Elijah was always going to be a New York Jet.
Joe, you guys have obviously had a lot of injuries on the offensive line. Did you look into adding any reinforcements there or are you more focused on getting the guys healthy?
Yeah, we canvassed the League and looked at opportunities at a number of different positions. Ultimately, we felt good about the depth that we've added. You talk about having a guy like Nate Herbig step up and play good football at right guard, Cedric Ogbuehi coming in from Houston's practice squad played good football, adding a guy like Mike Remmers who has played in a ton of meaningful games, and then also we still have the opportunity to bring Max (Mitchell) and George (Fant) back soon here, so we'll see how their rehab progresses over the next few days and weeks, but we feel like we have really good depth along the offensive line.
Joe, is it concerning at all that you had two highly drafted players who play the same position, Moore and (Denzel) Mims both request trades?
No, look, I mean each situation's mutually exclusive and look, I talked about it regarding Elijah. We think the world about these guys, and we love them here in New York and both guys love football, they work hard, and I think you've seen some of Denzel's work pay off yesterday or excuse me, two days ago in the Patriots game making some plays, so, no. Look, we love both of these guys.
How do you decide or how do you go back and forth in deciding trade deadline aggressiveness in terms of potentially one of your top assets for a second or third round pick? Do you get a player compared to saving those picks for moving forward? I mean what is that balance and determination like for you?
Yeah, I mean look, you're looking for opportunity and I felt like last week there was an opportunity to add a proven running back, add in to our room in an outstanding person, so I would say each year is different, Connor, but for us just canvassing the market, canvassing the League, we felt like these were the two right moves for us.
The last time we spoke to you, you said the goal was to be playing meaningful games in December. Being 5-3 now, is the bar raised?
Look, I think all we're thinking about right now, Rich is the Buffalo Bills and we know the challenge that brings. I think, like I said in the opening statement, I feel like we've set ourselves up to play important games and that is a credit to coach, that's a credit to the players, but we all know the challenge in front of us, we know the schedule's not getting easier, and we know we've got to play good football moving forward, and our focus is on the Buffalo Bills and it's a great opportunity for this team, some of these young players. These guys are last year's division champs, outstanding organization and outstanding team, and it's a great opportunity to prove themselves.
Are you concerned at all about what you saw from Zach (Wilson) on Sunday?
Look, I think if you guys talk to Zach I'm sure he would tell you there's a few throws that he'd want back, but look, we're 4-1 when Zach is our quarterback and Zach brought us in his first game back, he brought us back from double digit deficit in a hostile territory in Pittsburgh, so I'm sure he'd say that he wants a few of those throws back, but we also had nine explosive passes, there's a lot of good to take away from that game. I know the focus was on the turnovers, but we love Zach, we love the way his approach is every week, love his competes, and he's our quarterback.
I know you were thrilled after the draft with what you got, but now having watched those guys through eight games, how impressed have you been with this rookie class?
It's been fun to watch them come in since April – how they've grown, how their confidence has grown, some guys came in with unbelievable confidence, with real authentic, genuine confidence and so, it's been fun to watch them grow, grow as professionals, perform each day on the practice field, perform on Sundays, and have fun doing it. So, again, that's a real credit to coach and his staff and their development. We've committed to playing a lot of young players and some teams wouldn't do that. Coach Saleh and his staff have committed to doing that and again, that's a credit to them, but the exuberance, the energy these guys bring every week, you can feel it, it's palpable. We feel like we've had great contributions from this class, we've had great contributions from last year's class, and we feel like we've gotten good contributions from even the 2020 class before that. There's a lot of reasons to be excited about some of the young players and I think a lot of that has to do with Robert (Saleh), his staff, and also some of the great veterans that we've added to be great mentors in the locker room.
What can you say about how Quinnen Williams has played this year? Obviously, the last couple of offseasons he wasn't healthy all offseason and this year you saw what it looks like when he's healthy going into the year. What's it been like seeing him kind of live up to the talent you guys thought you were drafting?
Quinnen, he was dealing with coming off of that foot injury last year in the preseason and so, him being fully healthy from the jump this year, I think you've all seen the difference he can make and he's an outstanding player, but again, I say it a lot, he is a truly outstanding person. His energy's infectious, that smile's infectious, and it's been fun watching him play every Sunday.
Can you give us an update on Mekhi Becton in terms of where he's at in his rehab and where he is physically? Is he rehabbing at the facility? And what your plan is for him next year in terms of when he can get back on the field?
Mekhi had the procedure out in L.A. with Dr. ElAttrache. He stayed out there for a few weeks. He's been back in the building since I want to say early last month. He's been back, he's been rehabbing every day in our training room, and I know his focus is coming back next year in the best shape he can be and as healthy as he can be. We feel really optimistic that he's going to be full strength for OTA's.
With Breece and AVT (Alijah Vera-Tucker), have they had the surgeries yet and what's the timeline or how confident are you that they'll be ready for the start of next season? 
I know neither one has had surgery yet and obviously, tough second quarter there in Denver, because you're talking about two young players that were having Pro Bowl caliber seasons, you could argue All-Pro caliber seasons. So, we love those guys, and we love their approach, and we love how they handle themselves, but again, our docs (doctors) are very optimistic that these guys are going to come back full-strength next year and hit the ground running.
I know you guys love Zach and he's your quarterback, but what would you like to see from him for the remainder of this season? What does he need to show you?
Look, I think when you watch us play this year, it's tough because when you lose, the quarterback gets the blame, and it's not always just the quarterback's fault, but I think when you see how we played the first eight games of the season, we're going to be tough to beat when we take care of the ball. When we take care of the ball and we don't have self-inflicting wounds, and we talk about that every week. How games aren't won in this League, they're lost, so when you take care of the ball, and with our defense and special teams, we're going to be a tough team to beat, so just focus on the turnover battle, focus on eliminating the self-inflicting wounds, and that's not just for Zach, that's the entire team.
You talked proudly about the rookie class, but specifically with Sauce (Gardner), could you have envisioned him making this big of an impact that he has right away and playing at the level that he is as a rookie through his first eight games?
Absolutely. Just from the minute you meet Sauce, you fall in love with the energy, the enthusiasm, the confidence, the authenticity that he brings and you see that carry over, and then when you add that to the field with his natural instincts, his length, his play speed, it's come together to be a really outstanding start to an NFL career. His competitiveness, his will to win, you see this, and I feel like he has a charisma and guys tend to gravitate towards him just because he's authentic. He's the real deal, there's nothing fake about his confidence, his toughness, his anything. He's a genuine article and I feel like we have quite a few guys on the team that are wired that way, and Sauce is definitely one of them.
With Mims and Moore, how do you balance what you're saying makes sense, you have two talented players that can contribute, but obviously they're not happy with their roles. It kind of reminds you of the Mike Tomlin line of a few years ago that he wanted volunteers, not hostages. How do you balance having unhappy players in the locker room versus making decisions with an eye on the future for the team?
Obviously, we always have to do what's right for the team, but we always have open and honest communication and lay out expectations and I feel like Coach Saleh and his staff, no one does that better in terms of communication, expectation, laying out the road map to success for every player. I think it starts and stops there.
Is there any concern as far as perception that you have two players who have asked to be traded who are building blocks on the team, and moving forward and having players who might consider that when they're considering coming here and working with the staff and that sort of thing?
I think when a player comes here and they get around our staff, they get around our group of guys, they see we have a pretty authentic and honest group and honest communicators. Again, like I said, not everything is going to be perfect. Nothing is perfect in a football family environment, but it's important to have open and honest discussions and hash things out.
When you've done these mid-season talks with us the last three years, the record hasn't been too good. This year, 5-3, what's this been like for you personally to have a nice start to a season?
Definitely the best record sitting here in early November, late October talking to you guys, but again, in a perfect world, we're 8-0, and we're not. So, we have a lot to work on. Obviously, 5-3 is better than 3-5. We haven't accomplished any of our goals. We've got a big division game this week at home and we know the crowd is going to be wild and crazy like it was last week and we know the task at hand. That's the focus. So, while you don't really have much time to think about, to dwell on, how you feel now versus past years. We're worried about plowing forward.
Videos
JetNation
4.6K
Subscribe
Broken Brains; Critics of Jets Quarterback Aaron Rodgers Begin Stirring up Conspiracy Theories