Joe Douglas Facing Several Dilemmas That Highlight Unpredictability of NFL Draft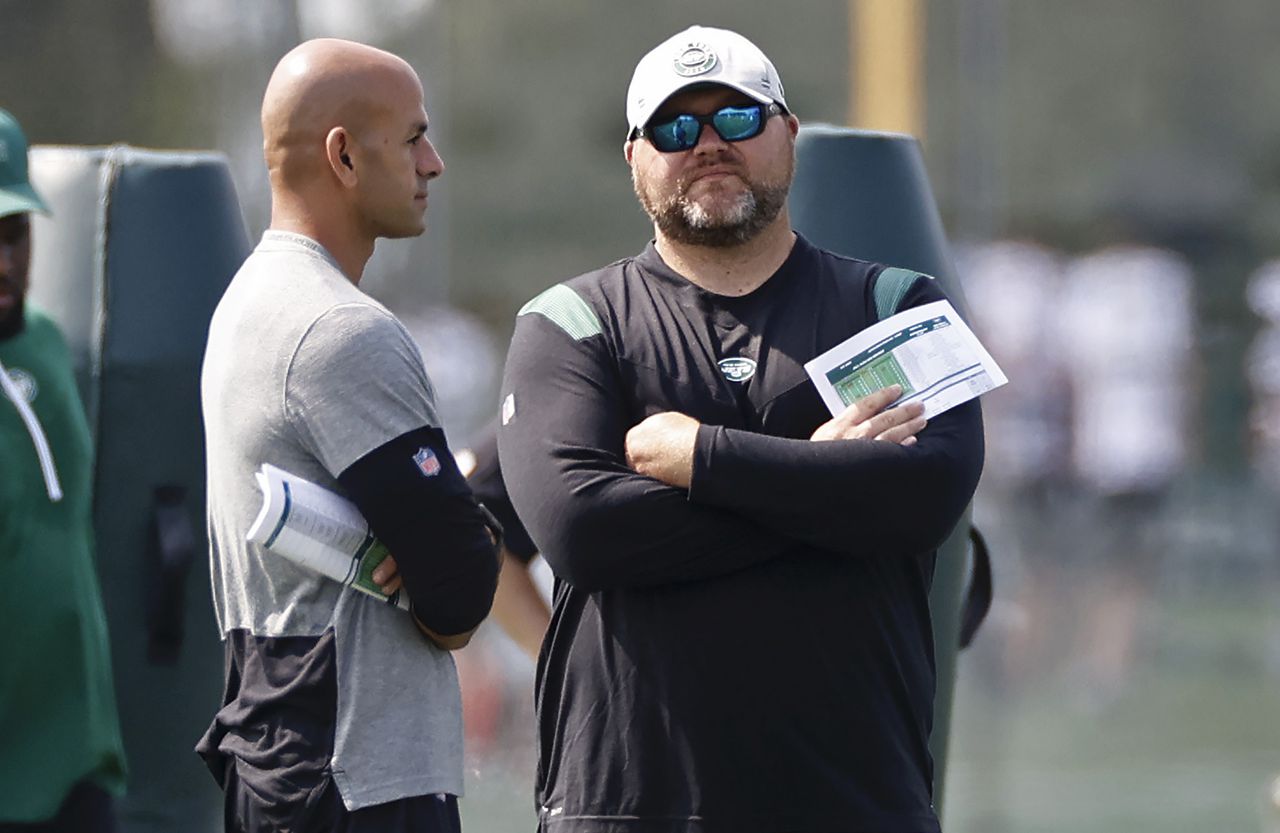 It has been said that even the best general managers in the will hit on about fifty percent of their picks in the NFL draft.  Those are the best.  The cream of the crop.  And with a bevy of on and off-field traits to be evaluated each year, choosing players will always be an inexact science.  Just ask Jets GM Joe Douglas, who is seeing right now how something can go from afterthought to emergency in the blink of an eye.
Just look at the players Douglas has taken early on in his first two drafts at the helm at 1 Jets Drive.  Mekhi Becton, Denzel Mims, Zach Wilson and Elijah Moore.  All highly touted players.  Each one a cause for serious concern, albeit for different reasons.
In the case of Becton, despite managing to stay healthy throughout his collegiate careers, has battled injuries since entering the NFL and thus far, the injuries are winning.  Becton will have missed all but a handful of snaps over the past two seasons when this year winds down.  The product of a freak injury suffered by Becton when guard Greg Van Roten was tossed on to the back of Becton's leg in the season opener two years ago.
Then there's Mims.  A productive college receiver with a great height/speed ratio who showed a fair bit on the field as a rookie.  However, once failed head coach Adam Gase was sent packing, Mims found himself playing for a staff whose offensive philosophy wasn't a fit.  Mims went from promising to perplexing and everything that could go wrong did go wrong in year two.  Whether it was food poisoning, drops or drawing out of character penalty flags.  Mims may or may not be on the way back as he has contributed with some key plays over the past two weeks, but his time with the Jets hasn't been anything close to what the team envisioned.
Nice reminder of what Denzel Mims looked like just two seasons ago. It's time to give him another shot.https://t.co/4upqQ3rj3V

— Glenn Naughton (@AceFan23) October 21, 2022
With the 34th pick in the 2021 draft, Douglas snagged another wide receiver in Elijah Moore.  A supremely talented player with high-end speed and quickness.  Moore is able to create space between himself and defenders, but at the moment only seems to be interested in distancing himself from the Jets and his teammates.  Moore made plays as a rookie that had the Jets believing they'd spent wisely with that 34th pick and that Moore would be a key part of the future.  What they didn't know, and couldn't have known, was that Moore would melt down if things didn't go his way for a few weeks.
After a well-publicized trade demand at the end of a 3-game winning streak, Moore has gone public in saying he's not sure what his relationship with quarterback Zach Wilson is due to his lack of targets.  Moore, who just a month ago was seen as a long-term piece to what could be an explosive offense, has decided he'd rather play elsewhere.  This may pass in time, but yet again, a development that would have been impossible to predict.
@nyjets WR Elijah Moore making DB's look silly. Don't let the numbers fool you. If and when the targets come, the production will follow. pic.twitter.com/H4H675i2bn

— Glenn Naughton (@AceFan23) October 3, 2022
Then of course there's Wilson himself.  A young QB who isn't asked to be perfect, but just to show progress.  And at this point, even that looks to be too much.  An incredibly accurate passer in college, Wilson looks nothing like the player he was at BYU.  Oddly enough, he doesn't even look much like the player he was at the tail end of last season.  Gone are the quick reads and decisive throws, replaced by chaos and panic and the first sign of pressure.  Sure, the Jets offensive line has struggled, but if you've been paying attention, you've seen Wilson in plenty of situations where stepping up on the pocket to make a throw was an option, but Wilson chose instead to bail out and roll ten or more yards in reverse to escape pressure that hadn't even arrived yet.
Just another of many unpredictable developments for several talented young players showing that those great evaluators who are hitting on "only" half of their draft choices are avoiding innumerable potholes along the way.
Videos
Aaron Rodgers Injury Fallout & Jets/Bills Recap