NY Jets to Honor Military in Annual Salute to Service Game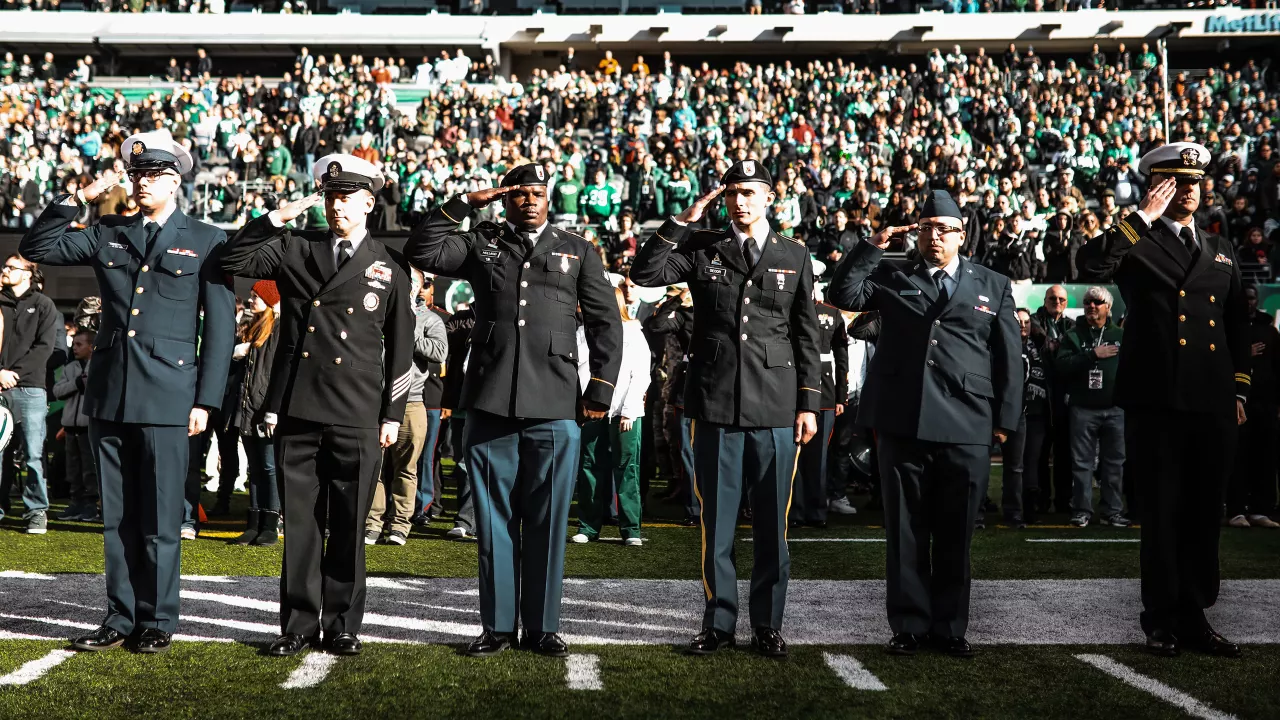 Jets Week Nine game to feature military recognitions in an on-field scholarship surprise, enlistment ceremony, fly-over, and much more.
FLORHAM PARK, NJ, November 3rd – Salute to Service is one of the NFL's primary causes that acts to honor, empower, and connect our nation's service members, veterans, and their families. Each year, the Jets champion this cause by working closely with organizations that support the military, promoting special service members and their families, visiting military bases, and coordinating special events to recognize service branches and their members. This season, the Jets are highlighting Salute to Service through several activations, recognitions, and events during the team's Week Nine game versus Buffalo.
In the first quarter, several recipients will be surprised with U.S. Army Minuteman Scholarships, covering full tuition and fees (or $10,000 per year toward room and board) at any college or university served by an Army (ROTC) program. These scholarship recipients also receive a yearly book allowance of $1,200 and a monthly stipend of $420 while attending school enrolled in the ROTC program. After graduation and commissioning, scholarship recipients are guaranteed placement in the Army Reserve. The total value of all of the scholarships combined will be approximately $500,000.
Additionally, at 12:40 p.m. before the game, an oath of enlistment ceremony will take place in the end zone for over 100 future members of the armed forces. At the completion of the oath of enlistments, which will be administered by Lieutenant General Douglas F. Stitt, Deputy Chief of Staff, United States Army, over 700 members of the armed forces would have taken their oath of enlistment at MetLife Stadium. This year's ceremonies will also include members of the US Army's medical and chaplain's corps. Last year's game set a record for professional sports when over 180 took the oath of enlistment.
The Jets will honor a Navy Veteran of over 20 years as its "Fan of the Year" in a special surprise celebration that will occur on-field in the first half. This fan will be recognized by current Jets players on the video board and will be presented special gifts from Jets legend Laveranues Coles, including tickets to this year's Super Bowl.
Before the game, the national anthem will be sung by the crowd in unison with US Army Staff Sergeant Megan Browning from the United States Army Six-String Soldiers Band. During the Anthem, over 200 military members, veterans, Gold Star and Blue Star Families will hold the American flag while three Apache AH64-D Helicopters from 10th Mountain Division based at Fort Drum perform a fly-over.
Navy Leap Frogs will parachute into the stadium during the pregame ceremonies. Leading into the game, the Navy Seals attended the Atlantic Health Jets Training Facility to watch practice, meet the team, and speak with Head Coach Robert Saleh.
At the Jets Tailgate Zone, the United States Army Six-String Soldiers Band will perform for fans from 10:30 a.m. to 12:15 p.m., and five military branches and the National Guard will have activations that will include a dune buggy, gaming trailer, medical tent display, pull-up bar test, Coast Guard boat, robots, MASH Tents and more.
Leading into the game, from October 30 to November 6, the Jets are partnering with Soldiers to Sidelines presented by Verizon, an organization founded by Harrison Bernstein, former New York Jets Intern Coach. Soldiers To Sidelines (STS) is a nationally recognized 501c3 Veteran Service Organization that provides a renewed sense of purpose for Service Members, Veterans, Military Spouses, and Gold Star Families to become character-based sports coaches in their communities. To date, STS coaches have positively influenced approximately 45,000 young athletes.
During those dates, the Jets will host service members, including active duty, retired and veterans from all military branches, for in-person and virtual coaching certification seminars. Attendees will participate in classroom and on field work to educate and empower them on how to become football coaches. Rookie wide receiver Garrett Wilson and General Manager Joe Douglas will attend the event and speak to the soldiers.
About the NFL's Salute to Service
Salute to Service is a year-round effort to Honor, Empower, and Connect our nation's service members, veterans, and their families. It is grounded in deep partnership with nonprofits and organizations that support the military community in the United States and across the world. The NFL extends its appreciation of the military community through special moments of recognition at games and events and visits to military bases both domestically and internationally throughout the year. Since 2011, more than $58 million has been raised for the league's military nonprofit partners.
For more information, visit www.nfl.com/causes/salute.
Videos
JetNation
4.6K
Subscribe
Broken Brains; Critics of Jets Quarterback Aaron Rodgers Begin Stirring up Conspiracy Theories