Lawson, Tomlinson and Mosley top List of Potential cap Saving Moves as Offseason Approaches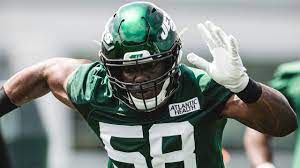 In all likelihood, the New York Jets offseason will kick off in just over two weeks as the team plays out the string.  Two remaining games on the road against Seattle and Miami await.  With the team needing to win both games and get a ton of help elsewhere, we'll assume for just a moment that these will be the final two games of the 2022 campaign.
With that in mind, we asked a few days ago which Jets veterans may be let go to create cap space for the upcoming free agency period and there were a few names that jumped out.
Are any of these guys playing well enough to justify keeping on the roster at their current salaries vs projected savings?

2023 cap hit/savings if cut

Mosley: $21mil/17 mil
Lawson: $15.3 mil/15 mil
Davis: $11.1 mil/10.5 mil
Tomlinson: $17 mil/13 mil
Berrios: $8.2 mil/5 mil

— Glenn Naughton (@AceFan23) December 19, 2022
Looking at projected post June 1st cap hits per overthecap.com, here are some of the names we may hear as players who, barring a huge pay cut, may be asked to move on in 2023.
MLB CJ Mosley: The Jets re-worked Mosley's contract earlier this season and has been at the center of what has been a very good defense all season.  Per pfr.com, Mosley has logged 142 tackles this year with 86 of them being of the solo variety.  Mosley has played every snap of every game with the exception of the first meeting with the Bills.  When Mosely came off, the Bills exposed it and made multiple plays up the middle.  His absence would certainly sting, but the Jets have to ask themselves if what Mosley brings is worth his $21 million cap charge.  Cutting ties with the veteran linebacker would leave the Jets with $4.4 million in dead cap while saving them $17 million.
OG Laken Tomlinson: Easily the most disappointing free agent addition of this past offseason, Tomlinson has been a durable player whose performance has been all over the map.  Tomlinson will go from solid performer one week to looking completely overmatched the next.  That type of inconsistency isn't acceptable for a player who carries a $17 million cap hit in 2023.  The only player on this list that would hurt the Jets financially in 2023, Tomlinson would save the Jets just $3 million while incurring a $13 million cap hit.  The tweet above had the hit and the savings flipped.
DE Carl Lawson: Oh, what could have been.  When the Jets signed Lawson as a free agent two seasons ago, twitter was abuzz with his dominant pre-season performance.  One observer after another gushing over Lawson being "unlockable'.  He was going to finally be the answer to the team's prayers at edge rusher.  But it wasn't meant to be.  Lawson would miss the entire 2021 season with a ruptured achilles.  He returned this season, but gone were the rave reviews about an explosive defender as Lawson has managed to be disruptive at times, but nowhere near often enough to justify his salary.  Cutting Lawson saves the Jets $15 million and comes with just a $333,000 dead money hit.  A re-worked deal is also a possibility for Lawson.
WR Corey Davis: Davis is an interesting case.  His lack of durability would presumably make him a lock to be let go, but it's not that simple.  Since signing Davis, we've seen the wide receiver market explode to the point of some pass catchers being given franchise quarterback money.  While Davis isn't quite at that level, his production (when healthy) makes him a bargain at $11 million.  Had he stayed healthy this season, Davis may have even talked to the Jets about a pay raise.  But as it stands, he will have missed 12 games through two seasons in Green and White.  His drop against Jacksonville this Sunday gave fans flashbacks to his struggles of 2022, but in in all reality Davis has dropped just 2 passes this season according to PFF.com  The other coming in week 1 on his first target of the season.  It's not as big of an issue as social media would have you believe.
WR Braxton Berrios: Berrios has spent the majority of the 2022 season being completely invisible.  Not a whole lot of production as a receiver or a return man.  People seemed to give him a pass because there was so much going on, but then Berrios went from invisible to unmissable; and not for the right reasons.  Failing to hold on to what would have been a difficult but game-winning touchdown vs the Vikings wasn't the best look.  Then a slew of bad decisions as a punt returner and wasted reps at receiver put Berrios under the microscope.  Is his production worth his 2023 price tag of over $8 million?  Certainly not.  Is it a cost that will bog the Jets down and encourage them to move on?  Nobody could blame them if it was.
Videos
Aaron Rodgers Injury Fallout & Jets/Bills Recap