A Tale of two General Managers; Joe Douglas and Brian Gutekunst Address Rodgers Rumors at Owners Meeting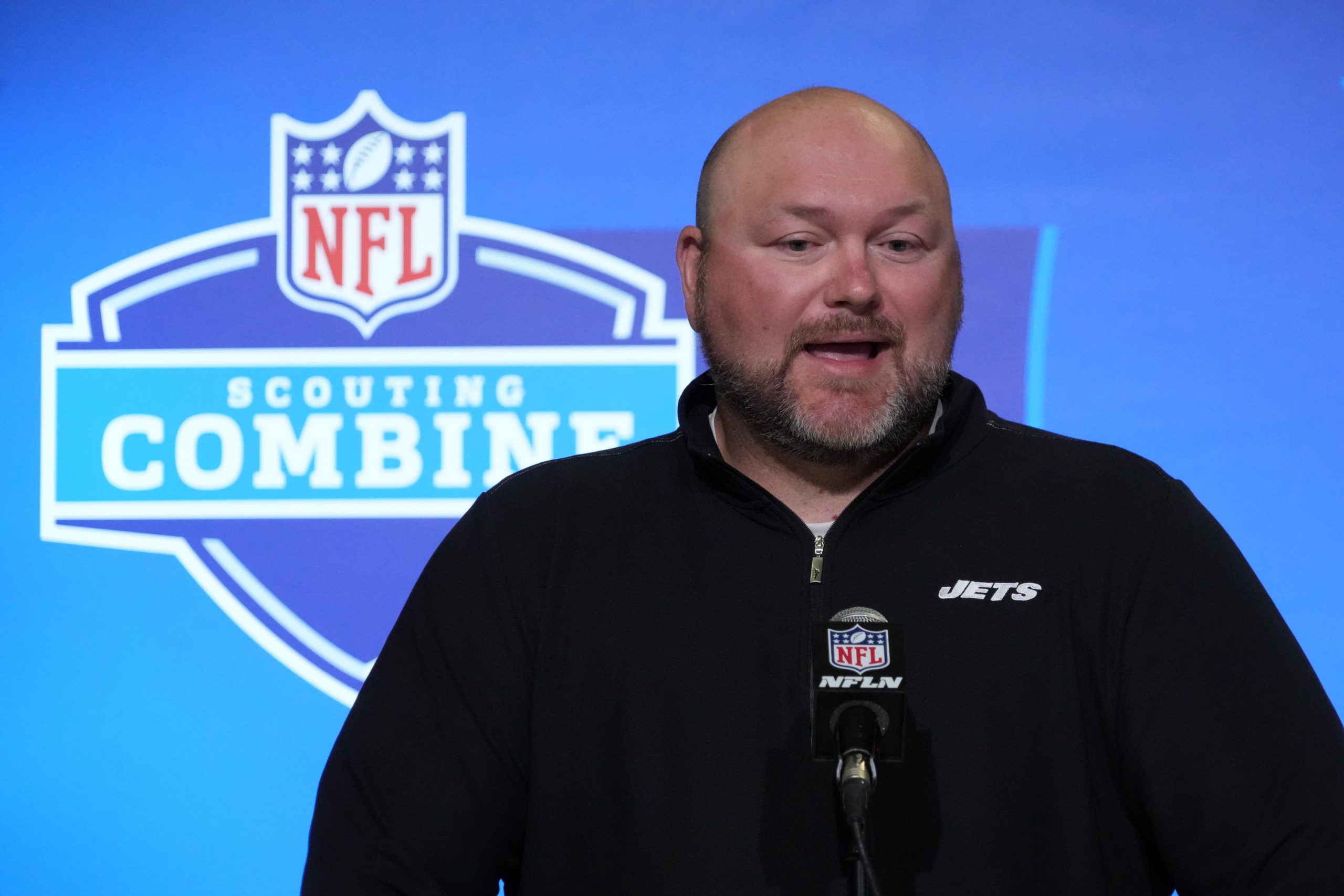 Jets GM Joe Douglas and Packers GM Brian Gutenkunst knew what was coming.  Attending the annual owners meeting in Phoenix, Arizona, each would be bombarded with questions from the media regarding what looks to be an inevitable trade between the two clubs.  It's a move that will see the Jets land future Hall of Fame quarterback Aaron Rodgers, with the Packers receiving draft picks and possibly a player or two.  However, there was a noticeable difference in tone between the pair of GM's.
During his session with the media, Douglas appeared calm and cool.  He said there was no rush or timetable to get a deal done for Rodgers.  He seemed so confident a deal would get done, that when asked if the Jets would be pursuing Ravens quarterback Lamar Jackson, Douglas said that doing so would be in bad faith.  This, due to the fact that the Jets are clearly all in on Rodgers.
Jets GM Joe Douglas gives an update on the Aaron Rodgers trade situation and reacts to the possibility of acquiring Lamar Jackson https://t.co/HM5ahBcrrn pic.twitter.com/Mo2XC2vsRi

— New York Post Sports (@nypostsports) March 27, 2023
Meanwhile, Gutekunst met with the media and sounded as if he may have been laying the groundwork for what will eventually be a less than desirable outcome for Packers fans who believe Rodgers will command the sun, moon and the stars.  After weeks of insiders, pundits and fans insisting the price for Rodgers would be at least the Jets 13th pick in the draft, Gutekunnst threw some cold water on those hopes.  A first rounder would not be necessary according to the GM, whose language appeared to be hoping to lay the foundation for a soft landing.
Brian Gutekunst said he tried to contact Aaron Rodgers "many times" this offseason to discuss how he fit in the Packers' future.

"Our inability to reach him or for him to respond in any way — I think at that point … I had to do my job."

Full comments: pic.twitter.com/K8aGGdVhOn

— Matt Schneidman (@mattschneidman) March 27, 2023
In discussing the team's relationship with Rodgers, the GM wanted Packers fans to know he made an effort to reach out to Rodgers, but were unable to get a call back from the QB.  That's never a good sign.
That was followed by Gutekunst saying it was because of the lack of communication with Rodgers that he now has to "do his job", putting the need for a deal squarely on Rodgers, presenting the fans with a view that suggests a deal isn't his doing and he tried to patch things up with Rodgers before things got to this point.  None of this should be viewed as good news for Packers fans who were hoping to land multiple premium picks and a high-end young starter such as Jermaine Johnson.
When all is said and done, don't be surprised if Douglas lands Rodgers for a 4th round pick in 2023 and a conditional pick in 2024 based on playing time, wins and/or post-season success of the Jets with Rodgers under center.
Videos
NY Jets Phase 3 OTAs, Expectations and a Minor Calf Tweak with Greg Renoff