JetNation Draft Prospect Profile: Northwestern DL Adetomiwa Adebawore no Longer Flying Under the Radar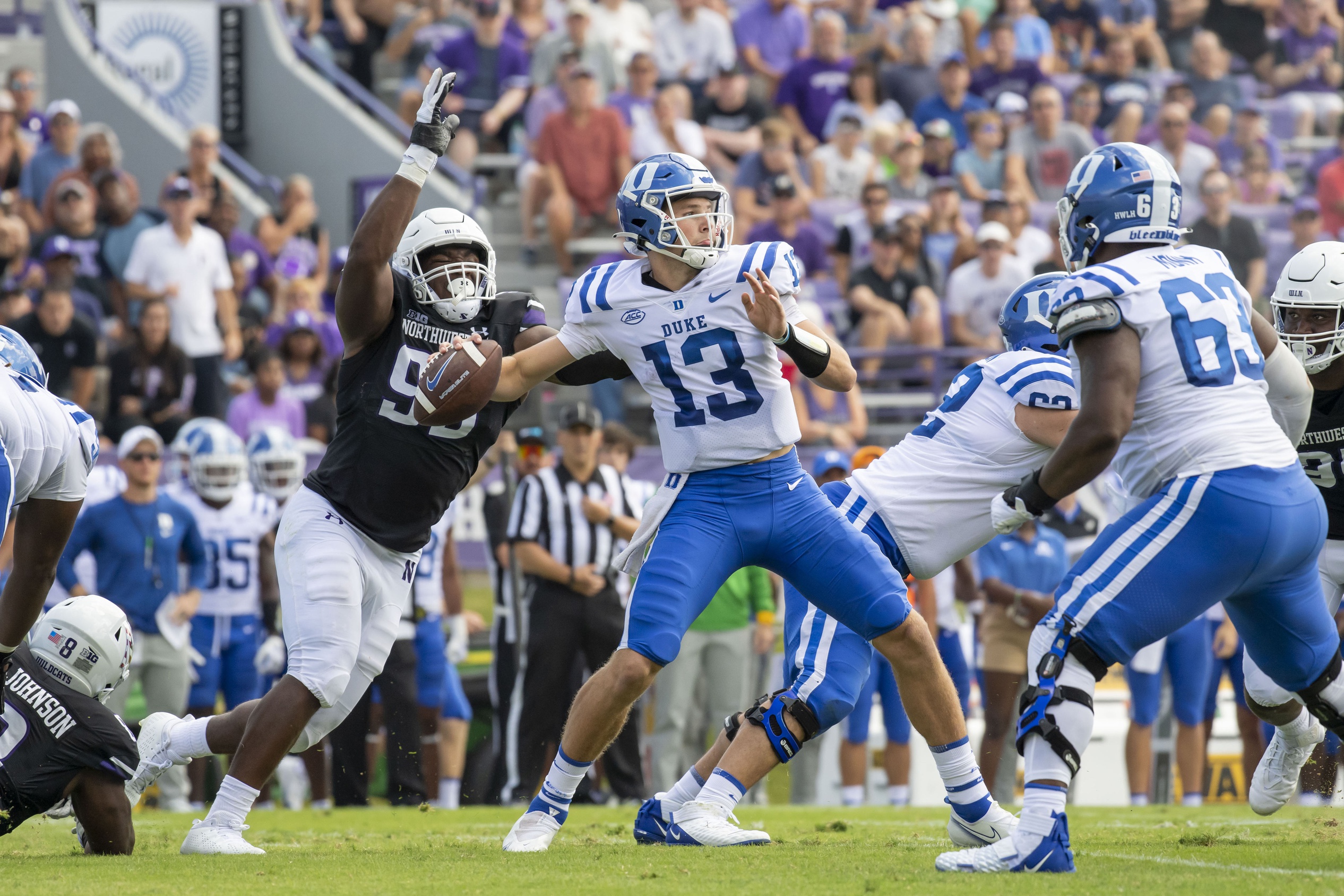 Not many people knew the name Adetomiwa Adebawore  just a few short months ago, but after standing out during Senior Bowl practices in Mobile and excelling at the NFL combine, the Northwestern product is having his name throw around regularly.
In fact, Adebawore has firmly entered the conversation as a potential round one pick next month.  Rich Cimini of ESPN New York even suggested Adebawore could be in the crosshairs of Joe Douglas in the first round of the NFL draft.
It was back in December while watching Northwestern vs Ohio State to get a look at Buckeyes offensive tackle Paris Johnson that Adebawore first got on our radar.  One play after another, whether lined up on the left or right side of the D-line, at tackle or end, Ohio State had no answer for Adebawore.  He spent much of his day making life miserable for anyone in the Buckeye's offensive backfield.  What made him so good?  Let's take a look.
Incredible strength here from @NUFBFamily DL Adetomiwa Adebawore (99 @tomiwabawore). Keeps one arm free and uses the other to drive his man into the backfield. No tackle but he's the first man there to disrupt the play the leads to a TFL. Underrated player in this class. pic.twitter.com/1ZUCDRvkOW

— Glenn Naughton (@JetsPicks) December 24, 2022
Name: Adetomiwa Adebawore
College: Northwestern
Position: DE/DT

Number: 99

HT: 6′ 2"

Wt: 282

Arm Length: 33 7/8"

Hand Size: 10 1/2"

40 yard dash: 4.49
10 yard split: 1.61
Vertical Jump: 37.5
Broad Jump: 10.5
Games Watched: Ohio State, Miami (OH), Penn State, Duke
The numbers confirmed what we had already suspected.  He's an athletic freak, picking up a RAS (Relative Athletic Score) of 9.83 and continued to impress during his Northwestern pro day.
Adetomiwa Adebawore had himself a day. Top tier #RAS, and will probably stay in that range even if he doesn't do well in agilities at his pro day. pic.twitter.com/sfRjurvhJM

— Kent Lee Platte (@MathBomb) March 3, 2023
Adebawore's combine numbers should come as little surprise as his explosion game day suggested we'd see impressive numbers on his vertical and broad jumps.  His 4.49 40 was not something we anticipated for a 283 lb defensive lineman so in some ways he was even better than expected.
Adetomiwa Adebawore of @NUFBFamily showed off the charts power vs Ohio State this season and good explosion off the edge here against Miami (OH). Once a sleeper but now looks like a round 1 lock. pic.twitter.com/3HByVxtq4S

— Glenn Naughton (@JetsPicks) March 31, 2023
Adebawore's explosiveness paired with his strength is what makes him such a problem for opposing offensive tackles.  He fires out quickly enough to get opposing offensive linemen back on their heels and can then overpower them en route to the backfield.
He also shows good hand usage and his motor is no concern as he's a high energy player during and after the snap.  He can be the type of tone setter that defensive head coaches like Robert Saleh covet.
While he may lack the ideal bend you might want out of a player who spends time on the edge, his other traits allow him to be a presence on the outside.  Pairing a player like Adebawore with Quinnen Williams on the defensive interior could cause serious problems for guards and centers.
Wherever Adebawore lands come draft time, he'll have a very good chance to contribute early on while developing into a high level starter at the pro level.
Videos
New York Jets OTA Presser Takeaways, Aaron Rodgers' Impact and Summer Delusion