JetNation Prospect Preview: Oklahoma State Safety Jason Taylor II in Play for Gang Green?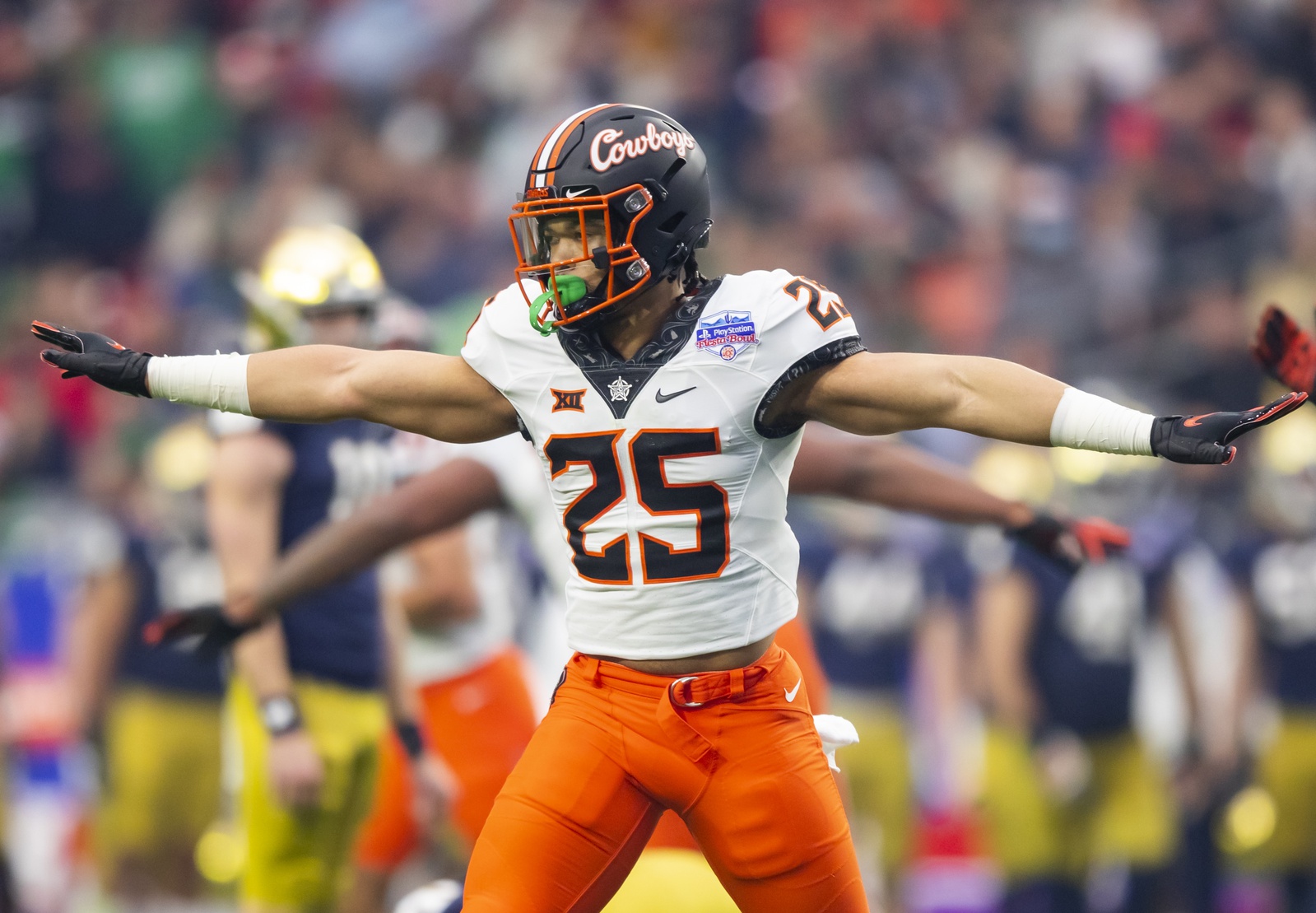 No, Jason Taylor II is not related to that Jason Taylor, Jets fans.  So with that out of the way, let's delve into Oklahoma State's play making defensive back whose name you're probably not hearing very much of as the NFL draft approaches.
All S Jason Taylor did for @CowboyFB in 2022 was make plays. Logged 99 tackles and SIX interceptions to go along with seven passes defended. pic.twitter.com/u0urbARaee

— Glenn Naughton (@JetsPicks) April 2, 2023
Taylor spent four seasons at safety for the Oklahoma State Cowboys where he played just a handful of snaps through his first two seasons.  Then in 2021, he appeared in 13 games and picked up 48 tackles and a pair of interceptions.  With his fourth collegiate season on the way, Taylor was expected to be a more prominent part of the Cowboys defense and he did not disappoint.
Love this one. Somehow didn't put him on my draft eligible list but this dude was always all over the place for @CowboyFB. One to watch for safety needy teams. Working here to rip potential TD out of the hands of Quentin Johnston.

Not related to former Dolphin Jason Taylor. https://t.co/u97bHS2N6f pic.twitter.com/LFU5YnvF2T

— Glenn Naughton (@JetsPicks) February 2, 2023
The Oklahoma City native would play a total of 812 snaps on defense, picking up 99 tackles, six interceptions and seven passes defensed.  That's one heck of a stat line to close out a college career.
Name: Jason Taylor II
College: Oklahoma State
Position: Safety

Number: 25

HT: 6′

Wt: 204

Arm Length: 32"
Hand Size: 10"

40 yard dash: 4.50
10 yard split: 1.52
Vertical Jump: 43"
Broad Jump: 129"
Games Watched: Texas, Baylor, TCU, Oklahoma, Arizona State
Viewed as a likely day three selection, Taylor offers the possibility of a late-round steal.  A player who showed tremendous improvement during his time at Oklahoma State, the safety held opposing quarterbacks to a rating of 54.7 when targeted in 2022.  This, compared to marks of 153.5, 124.5 and 97.3 from 2019 to 2021 respectively.
Taylor's impressive ball production and high level play against the pass can be largely attributed to his ability to recognize what opposing receivers are trying to do while having the ability to react quickly to what is transpiring.  In games against Oklahoma and TCU, Taylor flashed the ability to break on the ball, cover plenty of territory while locating the ball to break up an incoming pass.
On several occasions, @CowboyFB S Jason Taylor II covered plenty of ground and did a good job of tracking the ball to pick up a PBU or INT. pic.twitter.com/rfzKnpAu8Q

— Glenn Naughton (@JetsPicks) April 3, 2023
There may be some concerns about Taylor's long speed and the cushion he'll sometimes afford opposing receivers, but this shouldn't prevent him from possibly becoming a solid starter with quality coaching.  With safety being one are where the Jets should be looking to add depth, Taylor should be in play.
Videos
NY Jets Phase 3 OTAs, Expectations and a Minor Calf Tweak with Greg Renoff