NY Jets Draft Party at MetLife Stadium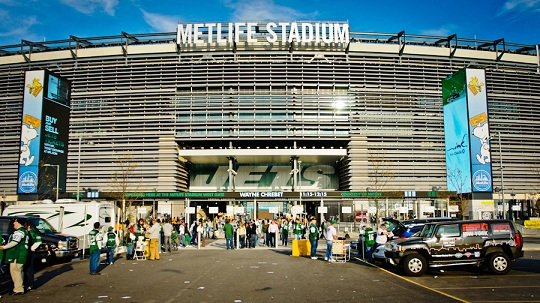 Here is a press release from the team about their NY Jets Draft Party at MetLife Stadium on April 27th. We have been to these in the past, and it is a fun time, definitely worth checking out if you are in the area. Or if you are going to K.C., here is some information on the NFL Draft festivities there.
NEW YORK JETS TO HOST FREE DRAFT PARTY AT METLIFE STADIUM ON APRIL 27
Free Draft T-Shirt, Player Autographs, Locker Room Tours, Exclusive Field Access and More
April 4, 2023 – The annual Jets Draft Party, presented by Verizon, will be hosted by Jets Legend Bart Scott live at MetLife Stadium on Thursday, April 27th for the first round of the 2023 NFL Draft. The draft will be broadcast live on the videoboards, and fans can watch the first round unfold with the Jets first round selection from the field. The draft party is free of charge and fans in attendance will receive a commemorative draft t-shirt upon entrance to the Stadium, while supplies last. The MetLife Gate will open for Jets fans at 7:00 p.m.
The 2023 Jets Draft Party will be highlighted by appearances and autograph signings from Jets players and legends, as well as locker room tours and exclusive field access. Select players will be seated at the 100 level prior to the start of the first round to sign autographs. Fans will also have the opportunity to enjoy Jets Fest and live music by DJ Jon Blak on the 50-yard line. The Bud Light Beer Garden, located on the field, will open for fans 21 and over. Food and beverage will be available throughout the West Hall and MetLife 50 Club for purchase. Additionally, the Jets Team Store, located outside the West Hall on the plaza, will be open throughout the night.
In addition to the Jets Draft Party, the New York Jets will host several Season Ticket Holders at the 2023 NFL Draft in Kansas City. Season Ticket Holders in attendance will be seated in the Jets Section at the Draft and participate in draft festivities throughout the city. All Season Ticket Holders in attendance will receive free Jets gear and a bottle of Kansas City barbeque sauce.
Two winners from the New York Jets in UK Draft Sweepstakes and one winner from the Jets Rewards VIP Draft Sweepstakes will be flown out to watch the draft live in Kansas City alongside Jets Season Ticket Holders. Airfare and lodging will be provided for the sweepstake winners, courtesy of the Jets.
Tickets will be available to the general public beginning Thursday, April 6th at 10 a.m. Fans can download their free mobile tickets at nyjets.com/draftparty. From now until tickets are available to the general public, Jets Season Ticket Holders receive special early access to download their tickets.
Videos
NY Jets Phase 3 OTAs, Expectations and a Minor Calf Tweak with Greg Renoff