Packers vs. Jets for Aaron Rodgers: Rumor Roundup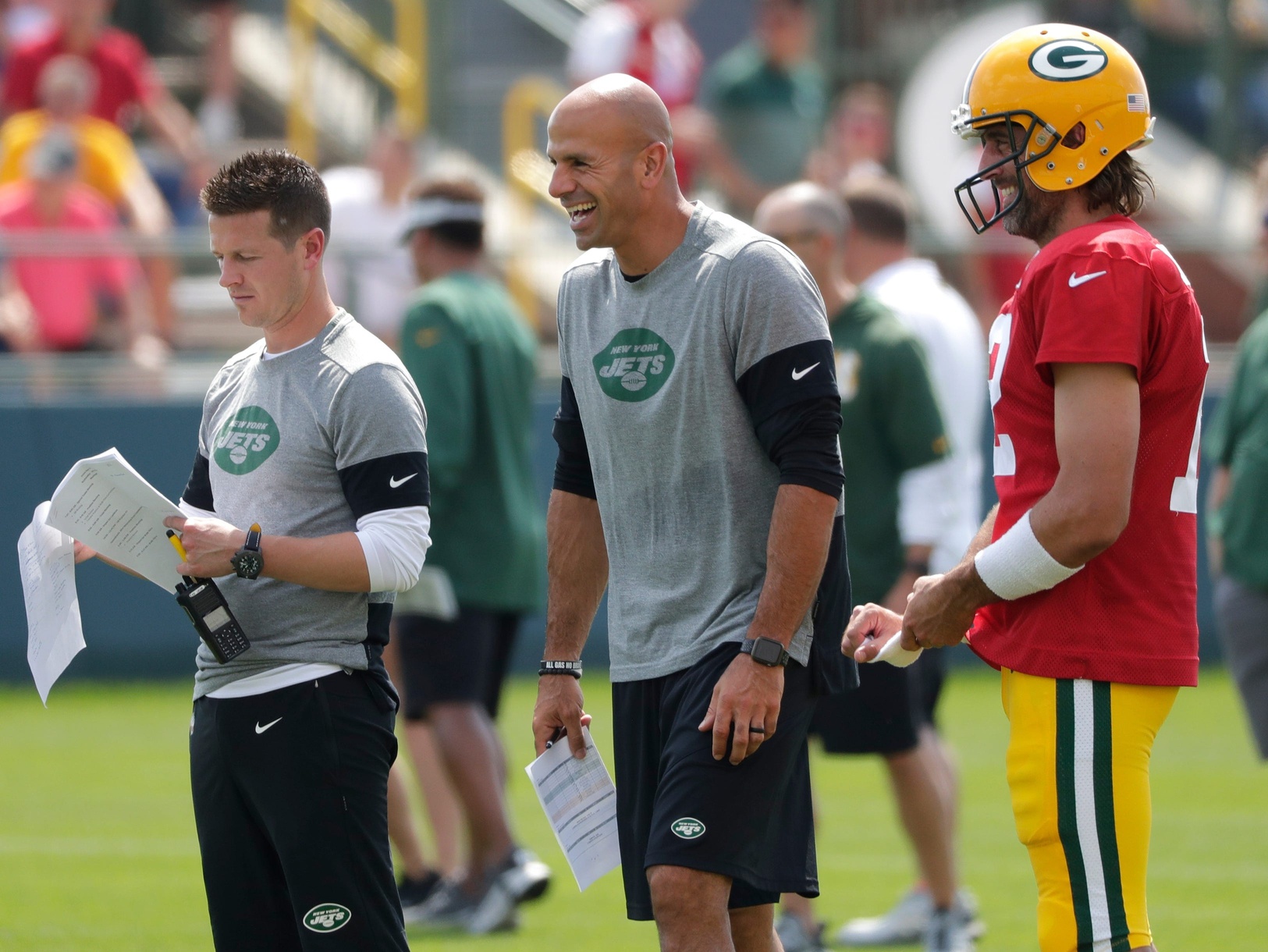 Frustrations are growing regarding the latest Aaron Rodgers trade information circulating around social media. It has been said that the Green Bay Packers and New York Jets have not been communicating regarding an Aaron Rodgers trade for several weeks.
Aaron Rodgers has earned himself the title of the NFL's most valuable player four times during his career. NFL betting lines favor Rodgers making a trade to the New York Jets, but recent comments leave fans annoyed and unsure of what will happen.
Frustrating tweets
Dov Kleiman, an NFL reporter for ESPN, spoke about the lack of talks on the NFL Insider show, causing a big reaction all over Twitter. Kleiman responded after the show with a video of Schefter's complete report stating that there is an understanding that there hasn't been a great deal of progress over the last few weeks. Both teams seem to be pretty dug into what they expect to take place in the draft and are not looking to make any changes. If, for some dramatic reason, the two sides cannot come to some agreement by the time the draft occurs and the New York Jets go forward and make their picks, Aaron Rodgers will need to make a serious decision about whether he is going to show up for the mandatory minicamp in May for the Green Bay Packers.
It was concluded that both teams were firmly dug into their personal decisions and were okay with waiting until something happened. But by this point, nothing is getting any closer. The original tweet blew up immediately with over half a million views, 1.3K-plus likes and 400-plus retweets and quotes in under four hours.
Fan report reaction
Most fans did not appreciate the report's results, and some even questioned whether Schefter's new information was accurate. This has been linked to the revelation of Rodgers telling the ESPN insider to "lose his number" the last time he attempted to reach him.
One fan stated that he has been wrong about nearly every step this trade has completed, so he will assume that these comments by Joe D and Gute had been having "cabin sleepovers every night for weeks."
Another tweet agreed to ask if Mark Murphy said in the past few days that the two teams had still been communicating. The tweet also claimed the idea of Schefter being "way outside the loop" regarding the Aaron Rodgers discussion.
A third Twitter response said that the Jets and the Packers general managers were probably sitting at a bar laughing at how ridiculous these tweets were.
People who didn't see the humorous side of the current negotiations expressed their frustrations claiming that the situation regarding Rodgers was being "held hostage" by an organization that has stated publicly they are ready to move on.
A second tweet expressed their thoughts of the Jet's Twitter feed gaining serious backlash from all other NFL fan bases if the Jets do not complete the Aaron Rodgers trade.
A final tweet claimed that the Jets were being ridiculous due to Aaron Rodgers being the best QB in the entire league. The tweet also claimed that this trade would bring millions to the franchise of the New York Jets and bring a new level of energy, and the fact the team doesn't want to pay for him is absurd. The deal of a first-round and two second-round packs for a player who has been a four-time MVP that will repair your entire franchise seems like a pretty good deal.
What has the Packers' president said about the situation?
Rob Demovsky from ESPN was one of the few that managed to speak with the president of the Green Bay Packers, and he detailed Murphy's responses in an April 11 article. Murphy stated that he couldn't really get into the subject of the trade but that Brian and Joe have been in communication.
A quote like this would seemingly go against the updates by Schefter. It is even more strange as Schefter retweeted Demovsky's story, which contradicted his comments. You would strongly assume that the retweeted story had been read by Schefter, which means that he is wrong and deliberately hampering proceedings or that Murphy's comments were wrong.
Murphy reiterated later in his questioning that he does anticipate many questions regarding the subject of Rodgers and that he also anticipated that he did not have any form of update. Murphy also said that a similar situation occurred 15 years ago, which was his "very first Tailgate Tour."
Mike Greenberg joined The Pat McAfee Show to offer some extra inside information of his own. He said that he has heard Aaron has sent signals to the Jets, but there isn't a big reason for them to rush the process. He has stated that he is not coming until May, so there is no need to have further discussions at this present moment. The Jets should hold out as long as they feel possible so they do not result in having to trade the number 13 pick in the draft, which is the ultimate reason for what the trade is coming down to.
Videos
NY Jets Phase 3 OTAs, Expectations and a Minor Calf Tweak with Greg Renoff