How Allen Lazard and Corey Davis Offer Jets Offense big Play Opportunities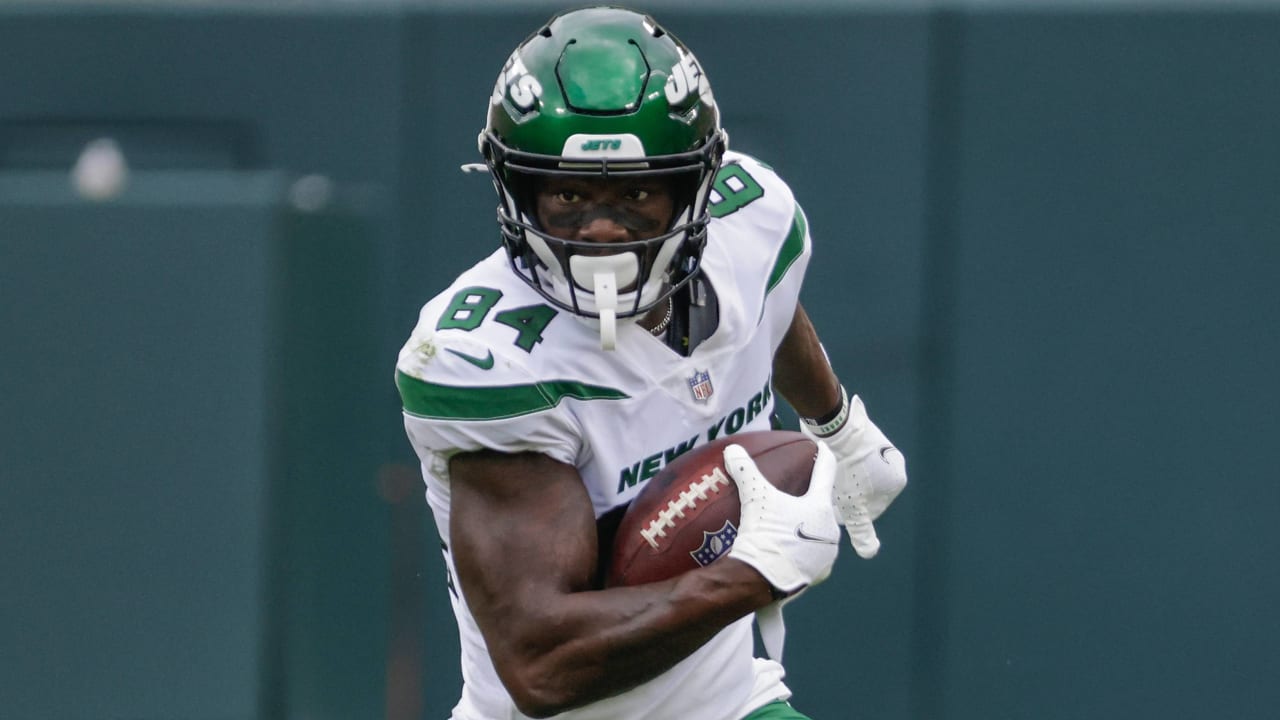 Looking at a straight forward statistical comparison of Jets wide receivers Corey Davis and Allen Lazard based solely on production is akin to comparing the performance of two sports cars; one of which is riding a smooth stretch of highway while the other attempts to climb Mt. Everest in reverse.
Lazard, with one of the most accurate passers in the NFL in Aaron Rodgers, hauled in 62% of his targets last season whereas Davis came down with just 50% of his targets.  This should come as no surprise in looking at how often Rodgers puts the ball where he wants it versus Zach Wilson, Joe Flacco and Mike White throwing to Davis.
The number of times Davis would have to twist, contort or leap to make a catch was fairly impressive last season.
Corey Davis had a drop early on but made some very good catches from that point on. Takes a shot over the middle here while fully extended and hangs on. pic.twitter.com/EuZKdXuMMb

— Glenn Naughton (@JNRadio_Glenn) September 12, 2022
And while some may assume this was a product of Davis having issues holding on to the ball, his 3 drops last season would hardly be enough to skew the numbers so dramatically.  In looking at what each player did when passes were on target, Davis was the better player in multiple categories.  His 16.8 yards per catch topped Lazard's 13.1 by a wide margin while his 98% 1st down rate beath the 75% posted by Lazard.
What does this tell us?  That while there is plenty of buzz surrounding the arrival of Lazard, the Jets may have a guy on the roster whose production could exceed that of Lazard if given the opportunity.
More importantly, the presence of two big-bodied physical receivers could present the Jets with a unique opportunity.  To field a pair of highly talented targets in Davis and Lazard who check in at 6′ 3" and 6′ 5" respectively, the chance to create mismatches in the middle of the field could give the Jets offense an added dimension in 2023.
It's no secret that Garrett Wilson should be the team's top receiver with limitless possibilities playing with Aaron Rodgers.  But when Davis lines up on the opposite side, moving Lazard to the slot could pay huge dividends.  And the big man is no stranger to lining up on the inside.
Over his past three seasons with the Packers, Lazard has played a total of 831 snaps in the slot.  Having Lazard running slants, seam routes or skinny posts against opposing linebackers, nickel corners or safeties could open up plenty of possibilities.
Aaron Jones touchdown, key block from WIDE RECEIVER Allen Lazard pic.twitter.com/rDqAnzuKeV

— Arif Hasan, but NFL 🏈 (@ArifHasanNFL) December 24, 2019
Add to that the fact that both Davis and Lazard are more than capable blockers and it means the Jets running game could have a bit more room to work with this season.
With Breece Hall returning from injury and Israel Abanikanda joining the backfield, the Jets two home run threats at running back could flourish with a healthy offensive line and a pair of receivers who will block better than most.
Aaron Rodgers is the star of the show, but the Jets supporting cast is also worth talking about.
Videos
New York Jets OTA Presser Takeaways, Aaron Rodgers' Impact and Summer Delusion