Robert Saleh: "Aaron Rodgers is a Little Kid in an Old Man's Body"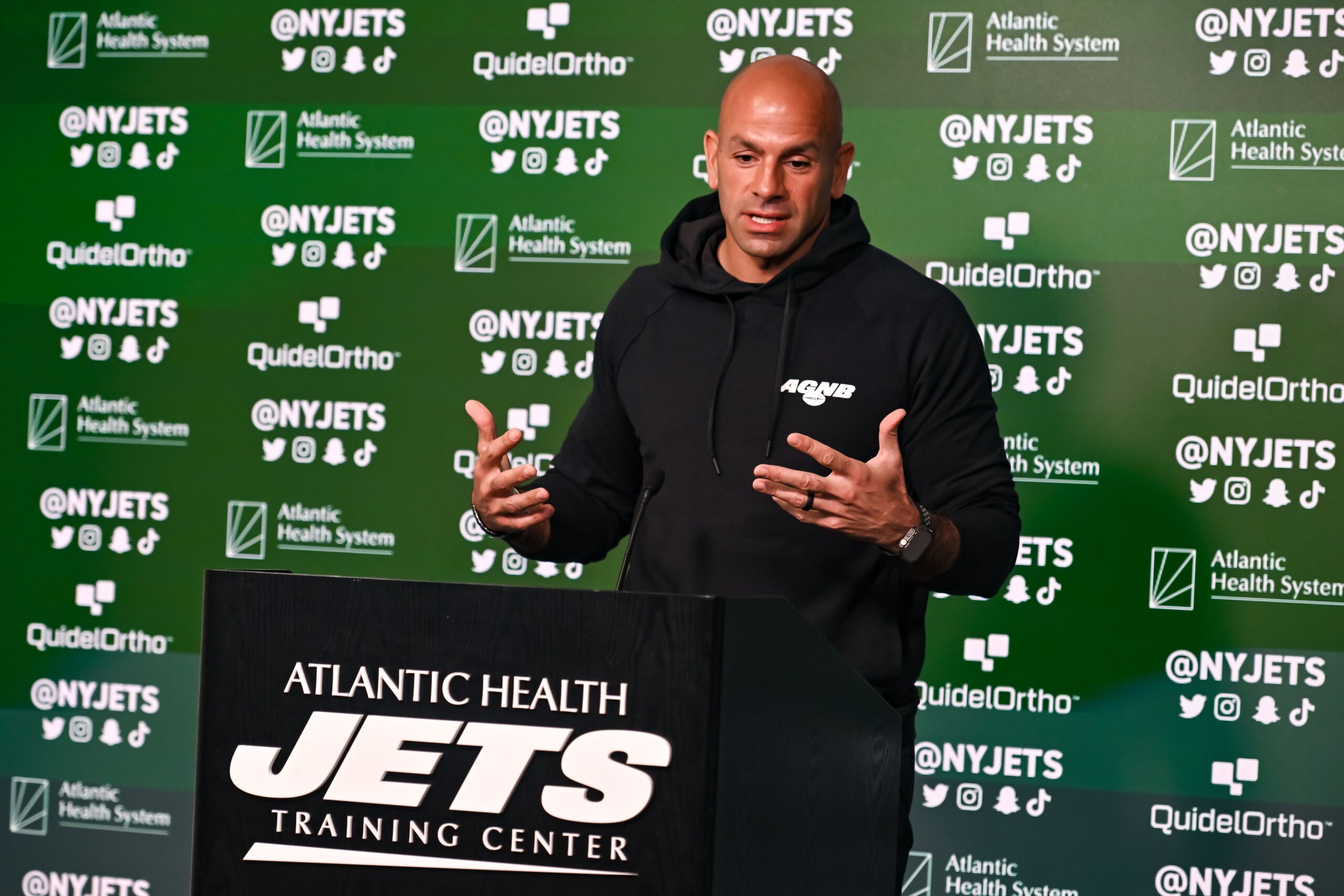 Robert Saleh spoke to the media on Tuesday and as suspected Aaron Rodgers was the topic of the day. He is a little kid in an old man's body was the exact quote! Here is the Q&A related to the NY Jets QB position.
What's it been like having Aaron Rodgers in the building?
It's been cool. I joke around that he's closer to a coach than he is a player at this point in his career. He's a fantastic mind, he's a fantastic conversation. He's been all positive.
With Aaron, obviously he had some background with (Nathaniel) Hackett. How much of the offense is the same as Green Bay? How much does he know? And, how much does having him know some or most of it help people around him?
He's had a lot of schemes in his day, obviously, so he has a wealth of knowledge. He's got familiarity with Hackett. There's going to be some nuance, obviously, that's different than what he had in Green Bay. I'm not going to get too much into trying to reveal for Buffalo to go study. There are nuances, there will be some differences, but it's stuff that obviously he can handle.
Can you see or feel the impact Aaron has had already with, not only the team, but with receivers, stuff like that?
For sure. The amount of communication, pre-snap, post-snap, just sitting in meetings and having him be vocal about his cadence and the way he wants to operate within the offense as a quarterback calling the signals, the relationship he has with Hackett. Like I said, it's a very fluid, very open dialogue, which is awesome, but for sure, getting on the same page between quarterback and receiver, there's nuance to it because the playbook says one thing, but you might have to shave a route, you might have to do something a little bit different to get the ball in a more efficient manner. He's been really good in that regard.
How would you say the adjustment is going with Nathaniel Hackett being the offensive coordinator? I know the system is going to be somewhat similar, but bringing in a new coach, the guys adjusting to him. 
That's the tricky part, because it is going to take time. You've got a lot of new faces on the offensive side of the ball, a lot of new coaches, new quarterback, a few o-linemen, a couple of receivers. So, there's new faces. Getting those guys to get in the same lane if you will and march to the same beat, it's going to take time, but with the amount of we're that we're putting in, we're confident that we're going to get going.
What advice did you give Aaron about adjusting to life in New Jersey and how do you think he has made the transition so far?
I think he's been good, it's probably more of a question for him. I think he's a big city guy at heart. I think he's been embracing all of it. It probably would be more of a question for him, but I think everything has been going good.
How has the dynamic been between Zach (Wilson) and Aaron? How has it kind of been being in the same building for a little bit?
I think it's been good. I thought Zach had a really nice day yesterday. He's been a sponge. I think Zach has handled this as good a professional can handle this. I'm excited for him because I think he's approaching this in a way where I think he can grow from this, with the mindset at which he's approaching. There's no doubt in my mind that Zach is going to get so much better through this experience and I am confident that he is going to turn into the player that we know he can be.
Are there one or two things you've learned about Aaron that maybe you didn't know until he showed up here?
Yes, one thing in particular. I think he's one of the more thoughtful athletes that I've been around in terms of how caring he is about people and the way he interacts around the building. I'm not just talking about the way he interacts with coaches and teammates, the way he interacts with the chef, the way he interacts with equipment, trainers, how he walks upstairs and meets all the business people. He is a very thoughtful, kind person. That part is actually refreshing.
Does he look to you like he's having fun?
He is a little kid in an old man's body. He's having a blast.
(follow up) What signs tell you that?
Just the way he interacts with his teammates and how comfortable he is in the building in terms of just communicating with people. I think he's, like I said, he's a genuine person. A very genuine person. Just watching him interact with everybody has been pretty cool.
One of the questions we had when you guys were pursuing Aaron was, would he be all in in the Spring? I know you guys didn't want to pressure him or anything like that. Was that a question in your mind when you were going through the process with him like, 'Hey, I wonder if this guy is going to be here in May or OTAs?'
No, just knowing the competitor that he is. In my opinion, there was never a doubt he was going to be here. When you're making a change, you're a competitor, he wants to show well, I know he wants to have a good season, just like we all do. He's a pro, he knows that in order for him to be his best, he has to help everybody around him be their best. For me, it was knowing the athlete he is and the competitor that he is, there was no doubt in my mind that he was going to be here, so I never had to talk about it.
Coach, you normally hear quarterbacks of Rodgers level holding everyone accountable, coaches, players, everyone in the building. Can you give me an example of what he's been doing to do that already or he's made that kind of impact of accountability?
So far, it's communication. This is where I appreciate him, the expectation is that we all get on the same page as quickly as possible, but we've only been going a couple of days. So, there's mistakes being had on the football field, so there's no jumping bones. It's just more, 'Hey, let's get on the same page, let's do it again. Let's repeat that play or whatever we have to do.' That's coming from Hackett, too, but eventually there's going to be a breaking point where the expectation is we should know this, and I think that's going to come all the way with coaches, players, all of us knowing when that's going to happen. The amount of communication pre and post snap, with the players, the o-line, with all the different skill guys, talking with coaches, I think everyone is working really hard to get on the same page.
Join the conversation in our NY Jets forum.
Videos
New York Jets OTA Presser Takeaways, Aaron Rodgers' Impact and Summer Delusion