NY Jets Schedule (Preseason) Officially Announced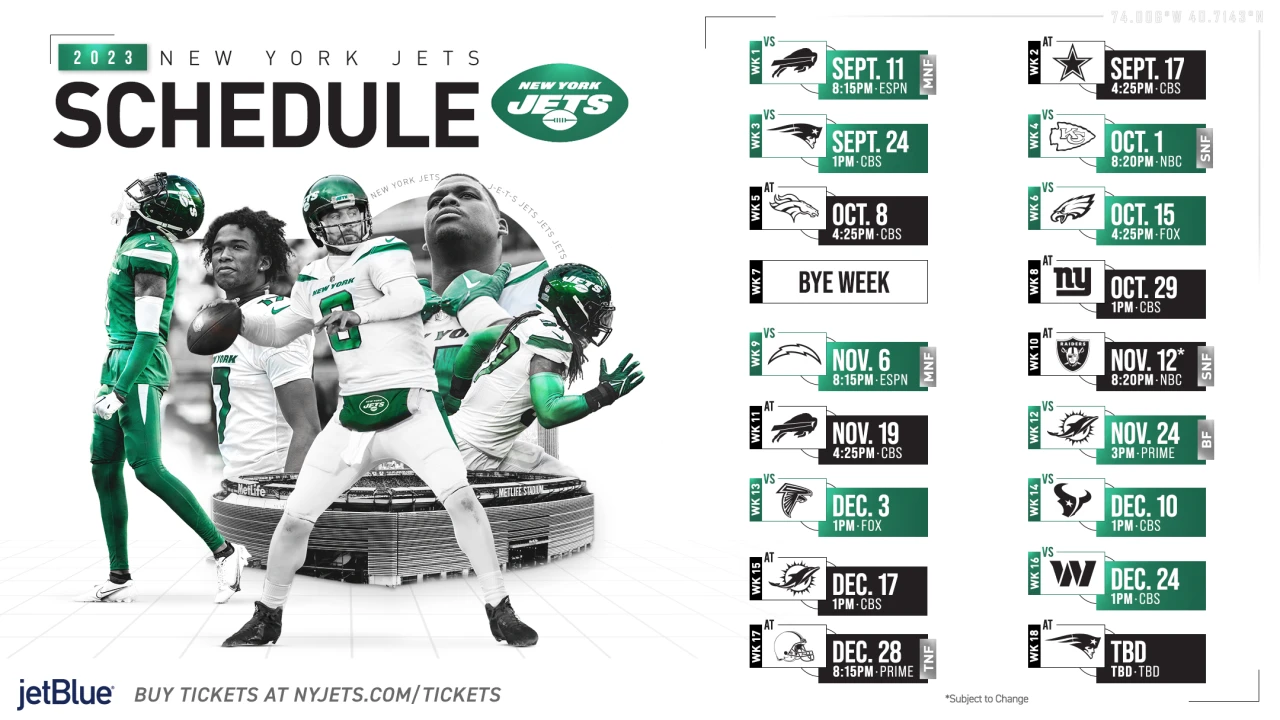 We posted the NY Jets Schedule some time ago and updated it with the preseason dates and times. The NFL officially announced the league-wide preseason schedule on Wednesday. With only one away game against the Carolina Panthers and a visit to their crosstown rivals, the New York Giants, the Jets are set for a preseason that will minimize travel fatigue. Let's delve into the details of the schedule and see how it sets the stage for an intriguing start to the upcoming season.
8/3 (Thurs) vs. Cleveland – 8pm: The Jets kick off their preseason campaign with the Hall of Fame game in Canton Ohio. This Thursday night game won't feature many starters, but it allows the Jets to open up training camp a week earlier than normal. Stay tuned for the Jets Camp announcement later this month.
8/12 (Sat) at Carolina Panthers – 4pm: This will most likely be Aaron Rodgers preseason debut.
8/19 (Sat) vs. Tampa Bay – 7:30pm: Returning home, the Jets will take on the Tom Brady-less Tampa Bay Buccaneers on August 19th. This is my birthday so on a personal note I am looking forward to this tailgate!
8/26 (Sat) at N.Y. Giants – 6pm: In the final preseason game, the Jets face off against their crosstown rivals, the New York Giants, on August 26th. This local showdown brings an added level of excitement and intensity, as both teams share the MetLife Stadium. With minimal travel involved, this is a convenient opportunity for both squads to assess their progress and compete for local bragging rights.
NY Jets Schedule (Preseason)
8/3 vs. Cleveland*, 8:00
8/12 at Carolina, 4:00
8/19 Tampa Bay, 7:30

8/26 at N.Y. Giants, 6:00
Videos
Aaron Rodgers Injury Fallout & Jets/Bills Recap