Jet News NY Jets Training Camp
Robert Saleh Says No Minicamp; NY Jets OTA Updates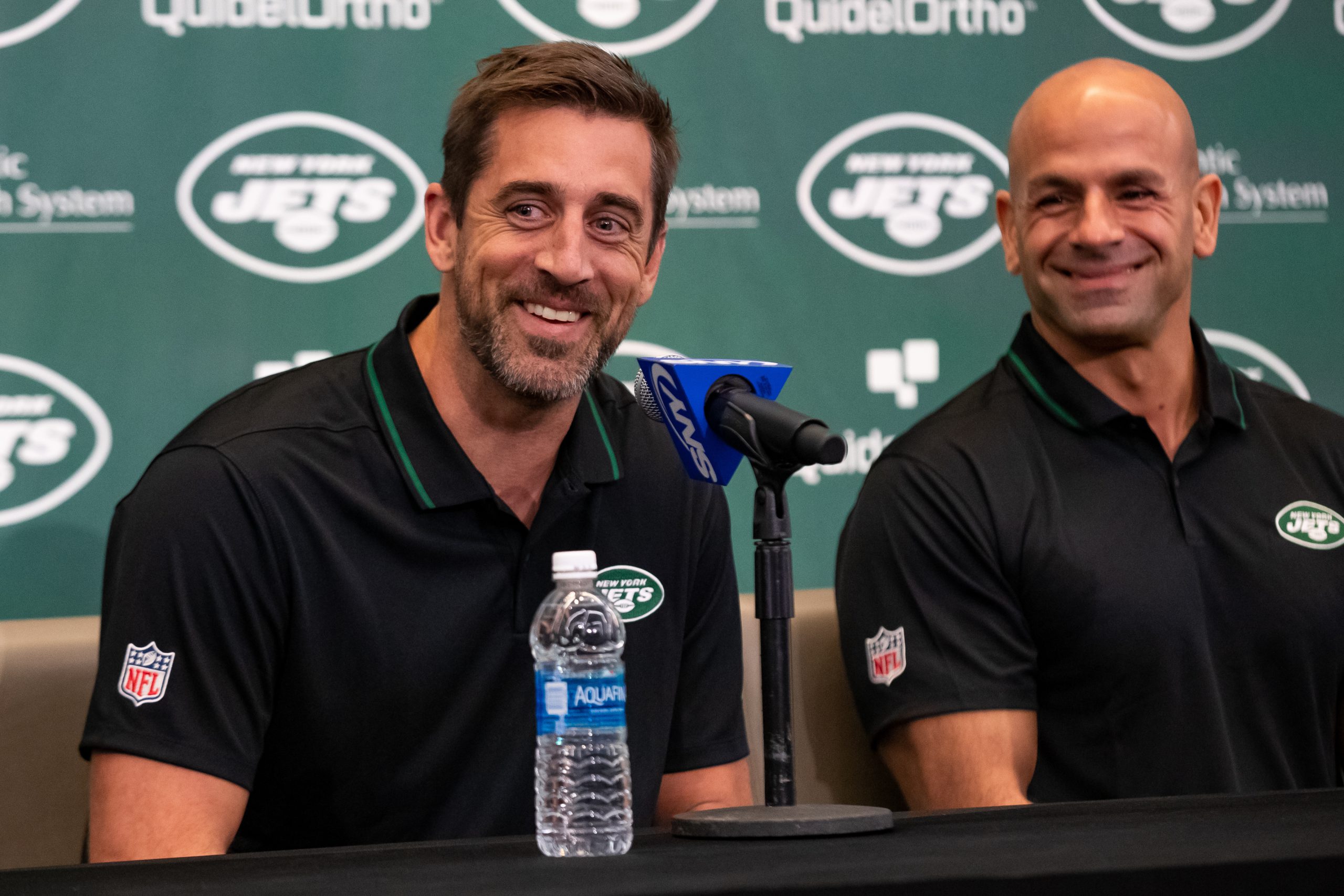 There will be no mandatory minicamp for the Jets next week. Actually no minicamp at all, according to Robert Saleh. NY Jets OTA sessions are underway and here is the update that Saleh gave on Aaron Rodgers.
With the Hall of Fame game, we're reporting a week earlier than everybody else and guys need to get away. We've been here, they've put in a really good off-season, all the guys have since April, so April, May, June. Just to give the guys an extra week to go take their break because you need a week off and then you got to rev back up to get ready for the season. Having this extra week, taking the week off, then the Fourth of July, there's just a lot of things that can mess up the flow, but we'll pick it up and we'll regain it once we get back for the Hall of Fame Game.

No, we're not doing it. Everyone's dismissed.
Aaron Rodgers has been on the field with the team since Friday when he did two minute work. Then he returned on Monday and they have been holding him out for any drills that could produce contact.
Can you illustrate that these guys (Aaron Rodgers) are playing at 39 as if they were 29?
As far as a physical standpoint on what he does day-to-day, that would probably be more of a question for him. I know he is pretty disciplined with regards to eating and all that stuff. He has a way about him. It's funny talking to (Mike) Nicolini in the strength room, our strength and conditioning coach, he was talking about how strong he is, like Duane Brown strong, I'm convinced it's probably old man strength, who knows. He's got tremendous strength, he's still very youthful. I know his age is just a number for him, but everything looks good. He's got tremendous zip on the ball, a lot of accuracy, a lot of accuracy. He's special.
Player Updates from Robert Saleh…
Carl Lawson
I am excited for him. My personal experience would be Richard Sherman who had the Achilles injury. We signed him that first year, he had a decent year, but was nowhere near where I remembered and then the second year removed, it was like he was back. That was the 2019 year and just learning about Achilles injuries and it's a two-year injury. The first year you're not quiet where you want to be and then that second year everything comes back. Yesterday was the first day we've seen him, he looks freaking awesome. I'm really excited for him and what he can do having two years removed from that injury.
Duane Brown hasn't played right tackle ever in the NFL, he said the last time he played it was at Virginia Tech, either his sophomore or junior year. Could he possibly play there? 
That's something that we'll look at. He obviously is very comfortable at that left tackle spot. There's guys who can play right and left and just trying to sort it out. We'll get to all of that as we go, but I have a feeling Duane will be a hard out anyway. He looks good, he's doing a real nice job, but everything will be taken into consideration once we start to settle in on which five are going to be the five that we roll into the season with.
Will McDonald IV 
Will looks the part. I love his personality. He is a dude, man. He's got tremendous length, his bend, just going through drills. I know there hasn't been much o-line, d-line, but it's freakish, just his bendability and burst off the ball and all that stuff and his length. Obviously, there's things from a developmental standpoint, all rookies go through it with regards to a little bit more size, a little bit more power, developing the ability to run through tackles is always going to be the biggest thing for a defensive lineman, but I love where he's at right now, he's got a long way to go, but you guys know as we rotate, if they dress on gameday, they're going to play at least 20. He'll be part of the rotation.
Jeremy Ruckert
He looks awesome. He's hungry. Last year he had plantar fasciitis, as he was dealing with the foot injury all season, but he looks like a guy on a mission. We're not in pads yet, but I'm not worried about him in pads. He's got a nasty streak to him. Excited about him and the direction he's going in for sure.
Quinnen Williams
I speak for everyone, I probably speak for Quinnen in that we all want it to get done sooner rather than later. Again, I'll let the business guys handle all that stuff, but it's going to get done. He'll be here for camp, he'll be ready to roll and once he is, I'm sure he'll be the same guy he was a year ago.
Jamien Sherwood
Yeah, (Sherwood) Wood's doing a really nice job. He's got it hard. He's got to work between SAM and MIKE, so he's got to do two positions at once and it's year three for him. He looks really good though. He's very smart, he's very comfortable in the system and he's executing at a high level. Again, excited for him to get pads on, not that I'm even worried about his physicality and all that stuff. Just excited for real football, defending the run and doing all the things that we think, just to see the steps that he's taken.
Videos
Aaron Rodgers Injury Fallout & Jets/Bills Recap