Positive Reviews for Rookie Will McDonald IV in First Month of Jets OTAs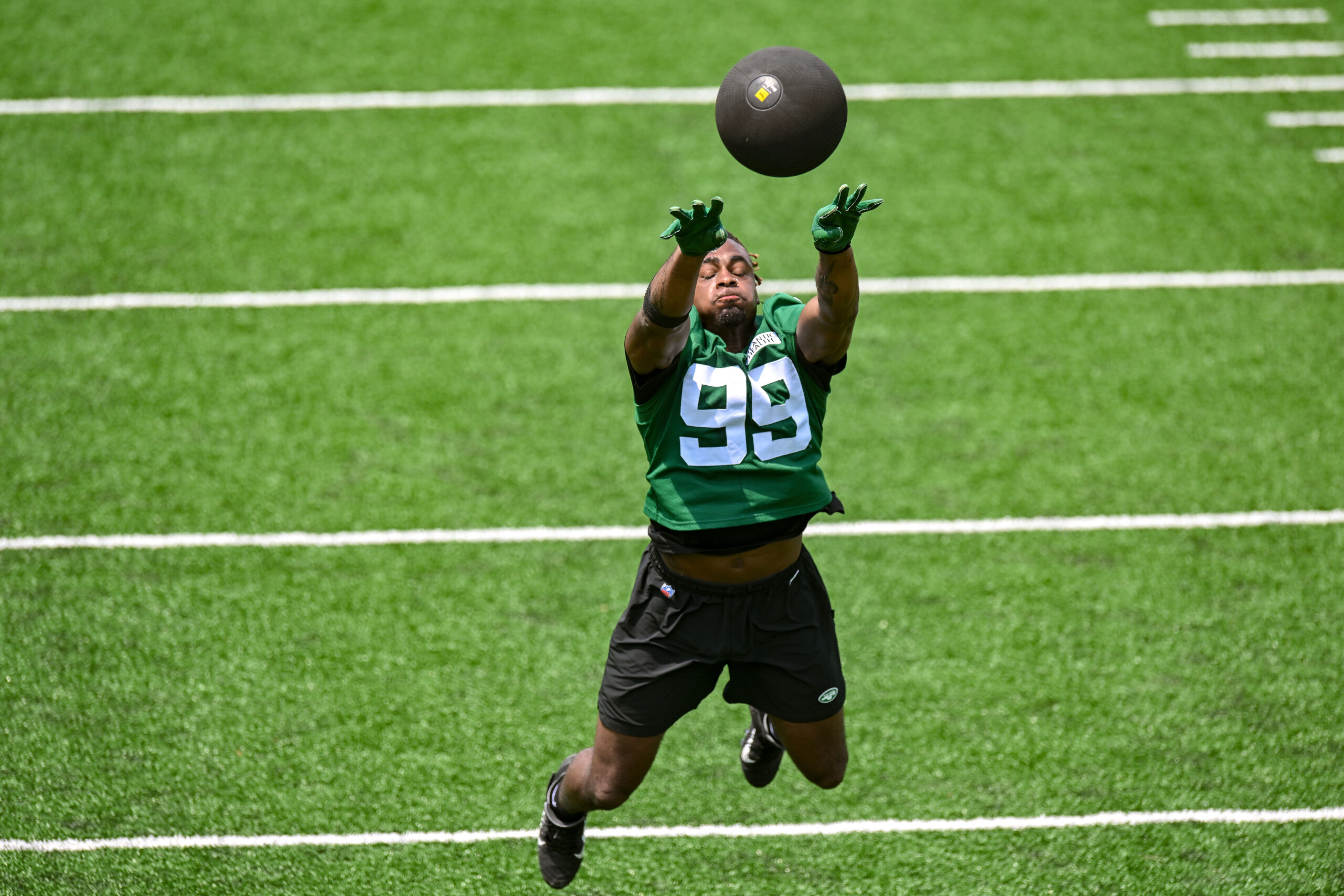 While all eyes have been on newly acquired quarterback Aaron Rodgers and the Jets' offense, another new face is also creating buzz during OTAs. In just a few short weeks since being drafted by New York in the first round of the 2023 NFL Draft, rookie defensive lineman Will McDonald IV is already living up to the hype of being a top selection. Here is what head coach Robert Saleh had to say about their newest pass rusher from Iowa State:
#Jets HC Robert Saleh when asked about rookie Will McDonald IV and how he looks so far as a rookie in OTAs:#TakeFlight @JetNation 🛩🐉🏈 pic.twitter.com/Wqf8WuW48s

— Dylan Tereman (@DTereman) June 11, 2023
"Will looks the part. I love his personality. He is a dude, man. He's got tremendous length, his bend, just going through drills. I know there hasn't been much O-line [vs] D-line, but it's freakish, just his bendability and burst off the ball and all that stuff and his length. Obviously, there's things from a developmental standpoint, all rookies go through it with regards to a little bit more size, a little bit more power, developing the ability to run through tackles is always going to be the biggest thing for a defensive lineman, but I love where he's at right now, he's got a long way to go, but you guys know as we rotate, if they dress on gameday, they're going to play at least 20. He'll be part of the rotation."
Jets first round pick Will McDonald working on his get-off with Jets D-Line coach Aaron Whitecotton. pic.twitter.com/BhFeutRZsE

— Dan Leberfeld (@jetswhispers) June 6, 2023
In the above drill you see McDonald doing a get-off rep where he has to "run the loop" while being chased by Bryce Huff, the team's best pure pass rusher last season. His athleticism is eye-popping, and his length will be advantageous when facing NFL offensive tackles. Once he develops the size and power that Saleh was alluding to, he could become a legitimate 3-down player at the next level. While it's great to be good as a pass rusher, to stay in on early downs against the run makes you a complete defensive lineman.
Even as "part of the rotation", if McDonald actually receives 20 snaps per game, he will have a plethora of opportunities to make an impact for New York's top flight defensive front, specifically on 3rd downs or obvious passing situations.  For reference, last season's rookies, Jermaine Johnson II and Michael Clemons, averaged 22.2 and 18.2 snaps respectively per game in 2022. If this is any indicator on how they will deploy McDonald, who many believe to a higher ceiling as a pass rusher than Johnson, the production level for the 15th overall pick could skyrocket compared to his teammates along the line. The idea of a twitched up pass rusher like McDonald playing alongside an interior force like Quinnen Williams, who commands the attention of 2 offensive linemen on every snap, sounds like a recipe for success for defensive coordinator Jeff Ulbrich's unit.
Albert Breer of Sports Illustrated and The MMQB reported on the competition period of the Jets final OTA practice of the off-season, where the rookie proved himself. Defensive line coach Aaron Whitecotton led the get-off drill competition, selecting Huff and Jermaine Johnson as the two captains. Johnson had the first pick, and chose McDonald. In the first round of the drill, McDonald had to go up against veteran Carl Lawson, to see who can fire off the snap fastest and strip sack the tackling dummy. McDonald won his 1-on-1 and his team went on the win the period. Below is Breer's thread on Twitter about the interaction, as well as a video of the rep by Ryan Dunleavy of the New York Post:
Got plenty on Aaron Rodgers coming, but Will McDonald caught my eye at Jets OTAs. And there's a story (🧵) here. Early in practice, the DL was in a get-off drill, and created a competition. DL coach Aaron Whitecotton appointed Jermaine Johnson and Bryce Huff captains. …

(1/3)

— Albert Breer (@AlbertBreer) June 9, 2023
Here is the #Jets rep that Albert is talking about with Will McDonald over Carl Lawson after teammates drafted https://t.co/zKggAbyigy pic.twitter.com/2qT2906dPC

— Ryan Dunleavy (@rydunleavy) June 9, 2023
While the first month has looked to be very promising for the former Iowa State Cyclone defender, the coming months will be paramount for him. If he returns for training camp and picks up where he left off, McDonald could create a lot of preseason headlines for himself.
Videos
Aaron Rodgers Injury Fallout & Jets/Bills Recap