Jackpot! Quinnen Williams Inks 4-year Deal for $96 Million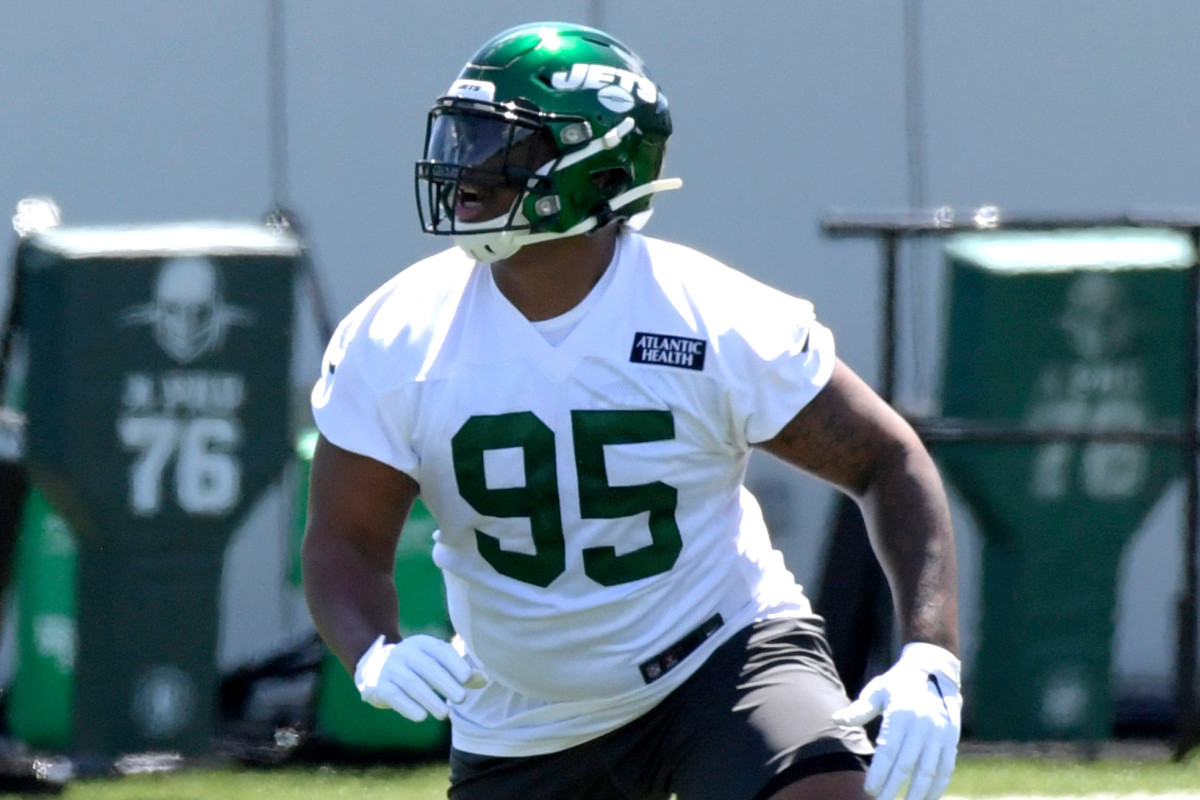 At long last, New York Jets defensive tackle Quinnen Williams inked a 4-year deal worth $96 million with $66 million of that guaranteed. With training camp just one week away, it now becomes about the Jets re-working the deal of quarterback Aaron Rodgers who carries a $107 million cap hit next season. The team has more information about the deal on their website.
The Jets have agreed to terms with Quinnen Williams, their rapidly-rising, award-winning defensive tackle, on a contract extension.
"We are thrilled to secure Quinnen as a New York Jet for the foreseeable future, as he embodies everything we look for in our players," said Jets GM Joe Douglas. "He is a leader on and off the field, who does everything asked of him and more. He is a young, ascending player who has shown a consistent ability to dominate the line of scrimmage and help this team win. We are happy to have the business of football behind us and to turn our focus to getting ready for the 2023 season."

"Quinnen is the epitome of a Jet," added Chairman Woody Johnson. "His commitment to this organization and our fans is consistently on display in his play, in his preparation, and in his work serving those in this area. We are looking forward to him, his wife, Maranda, and their new baby girl being Jets for a long time."

Williams, who is entering his fourth season with the Green & White, is a foundational piece of a unit that finished No. 4 both in total defense (311.1 yds/g) and red zone defense (47.83%), No. 2 in yards per play (4.84) and No. 10 in sacks per pass attempt (8.09%).
"The success of this organization is beyond important to me and completing this deal allows me to turn all my attention to positively impacting that," Williams said. "I am thrilled to put forth my best efforts alongside my brothers to get prepared for this season ahead of us."

Equally impressive is Williams' position among NFL interior linemen in the Next Gen Stats era. He ranks 13th in that span in stop percentage, seventh in stuff rate, 16th in pressure percentage and fourth in sack rate. Williams is the only player among 169 defensive linemen with 1,000 snaps since 2016 to rank in the top 20 in all four categories.

"When you have guys like Quinnen, you're happy for him because of all the work he puts in and how much he cares about this game," said head coach Robert Saleh. "He's a dominant force inside. When he's playing at his best, he makes it easy for everybody to do their jobs, but not just that, he's the ultimate team guy, and is very coachable. I'm happy for him and his family, he's deserving of everything."

As a result of his outstanding work during the past season, Williams reaped many awards after it ended. He was selected for his first Pro Bowl, was named first-team All-Pro by Associated Press and by the Pro Football Writers, and was voted by his teammates as the winner of the Curtis Martin Team MVP Award. He was also named AFC Defensive Player of the Week and the AFC Defensive Player of the Month, both in October.
"First and foremost, I want to thank God for making all of this possible," Williams said. "I also want to thank my beautiful wife, Maranda, for being my backbone throughout my journey. In addition, I want to express my gratitude to my agent, Nicole Lynn, for working tirelessly alongside Jets GM Joe Douglas, and Chairman Woody Johnson."
Videos
Aaron Rodgers Injury Fallout & Jets/Bills Recap