New York Jets Unveil Legacy White Throwback Uniforms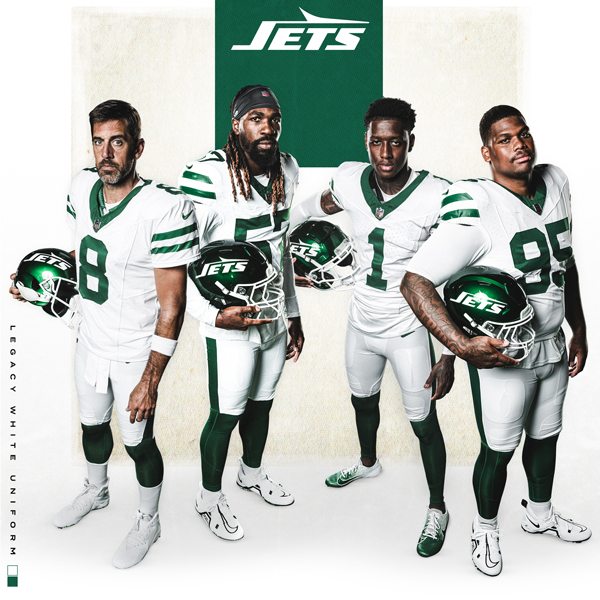 The New York Jets announced today that they have a new legacy white throwback uniform. The sack exchange era inspires it, and the timing is perfect since Joe Klecko is being inducted into the Hall of Fame. Here is all the information the team sent out explaining the new uniform and when they will wear it. If you are going to buy any Jets gear for yourself, please check out that link, the site earns an affiliate commission, and it helps us out tremendously.
July 24, 2023 – The New York Jets have announced their Legacy White throwback uniform ahead of the 2023 season, a modern interpretation of the fan-favorite jersey combination worn from 1978 -1989.

The Jets will wear the legacy white throwback twice this season during nationally televised matchups – Week 1 vs. Buffalo on Monday, September 11 and Week 4 vs. Kansas City on Sunday, October 1. For each game, the team will have the Sack Exchange logo prominently painted at the 50 yard-line, along with other Legacy-themed branding including special end zones, wall-wrap and, and in-game entertainment that will take fans back to the Sack Exchange era. On the sidelines, players and coaches will be wearing special Jets Legacy apparel.

The Jets throwbacks are highlighted by a historically accurate Sack Exchange logo decal affixed to its current helmet shell with a white face mask. Using the team's current Gotham Green color, the jersey features double striped shoulders and single stripe pants, the same design the team wore throughout this era. The Legacy White uniforms utilize Nike Vapor F.U.S.E technology, a product built to maximize team performance.

Former Jets Legend Joe Klecko, a cornerstone of the Sack Exchange era who will be inducted into the Pro Football Hall of Fame on August 5 alongside fellow Jets Legend Darrelle Revis, will receive his Hall of Fame Ring of Excellence during halftime of the October 1 game against the Kansas City Chiefs.

Per the NFL uniform policy, teams are allowed to wear a combination of throwback uniforms and alternate uniforms up to three times during the season. The Jets will wear the Legacy White uniform twice and their alternate Stealth Black uniform once during the NFL's first every Black Friday Football game on Week 12 vs. Miami on Friday, November 2.
Stop by our forums to see what Jets fans are saying about the new legacy white throwback uniforms.
Videos
Aaron Rodgers Injury Fallout & Jets/Bills Recap