Joe Tippmann Spends Time with the First Team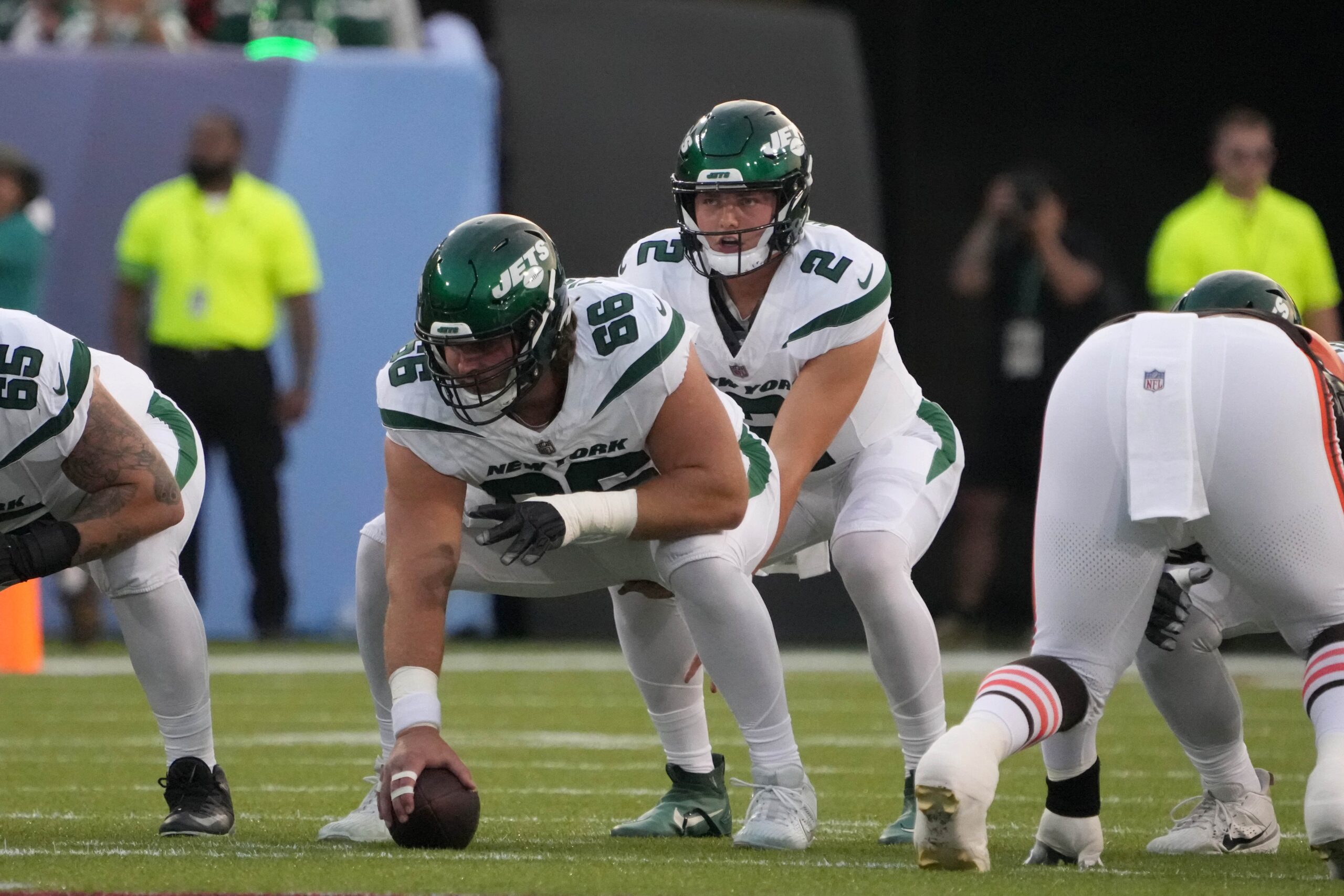 Joe Tippmann spent some time with the first team in practice on Tuesday. Robert Saleh was asked about it during his press conference and he gave these updates.
Joe Tippmann – we saw him getting some snaps with (Aaron) Rodgers today. How have you liked his progress and what made you confident?

I'm excited to go see the tape on this one just to see how he did because we wanted him to get some action with Aaron. Anyway, I'm just thinking about a couple plays in practice that got Aaron pissed off, but he's a beauty, but Tippman has been doing a really nice job. He has elite strain and he's been showing up really well in the games and we just wanted to get him against better competition with our starting d-line because there's some things he's got to work on, but the one thing that I can attest to is that he doesn't have any work on his strain and athleticism and all that stuff. It's just a matter of just learning the different techniques and football that we're trying to teach him and how to do it versus bigger people and better people and to do it with all the thought that you have to have when Aaron's under center with cadence and changing plays and all that, so we just wanted to give him that look. Connor McGovern will slip back in with the ones tomorrow and we're just going to alternate just to give Tip (Tippmann) some of those opportunities. It was good to see them out there, I'm excited to see his tape.

When we talked to you about Tippman before the Hall of Fame Game, it seemed like he was buying the eight ball quite a bit. Did something change that you saw in that Hall of Fame Game game, where you were like he might be a little further than we expected because suddenly since then, it's been like one, one, one and then Zach (Wilson) had a good day?

Yeah, for sure. A couple days leading into the Cleveland game, it was pretty good and then that Cleveland game was really good. Then he had a really nice week in preparation for Carolina and he had another really nice game against Carolina. He's coming along like all rookies do if you just give them enough reps they're going to figure it out, especially with his demeanor and the way he plays, so he's improving and he's making it interesting, for sure, so it's just for us when that starts to happen, 'All right, let's elevate the competition and let's see if we can continue that'. That's kind of the progression you take with these rookies, you just start out easy and you take it up a notch and you see where they go, but yeah, he's moving in the right direction, for sure. Long way to go, but he's still moving in the right direction. As for Zach, he's been stacking up a lot of great days, really pumped for him, and I'm just going to keep knocking on wood for him. He's doing really, really nice.
Jets fans seem to be pulling for Joe Tippmann to win the starting job over Connor McGovern. Stop by the JetNation forums and let us know what you think.
Videos
Aaron Rodgers Injury Fallout & Jets/Bills Recap