NY Jets Want Season Ticket Holders to Pay 2024 Bill in 2023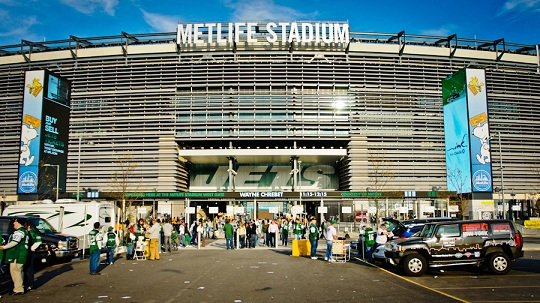 The NY Jets dropped an email that won't soon be forgotten on season ticket holders: Pay for 2024 in 2023. Let's talk about this curveball the team threw at season ticket holders yesterday. I mean, c'mon, we're still trying to get over the heartbreak of Aaron Rodgers going down in the first game, and now, they want us to pay for the 2024-25 season tickets a whole year in advance. Are they serious?
The Email That Stirred the Pot
So, if you haven't seen it yet, the Jets sent out an email to season ticket holders and PSL holders, basically saying, "Hey, we love your support, but by the way, your invoice for the 2024-25 season is coming up. Pay up or else." They're giving us two options: Pay in full by November 15, 2023, or opt for a 6-month automatic monthly payment plan, also starting November 15, 2023.
The Aaron Rodgers Effect
Let's not forget, that a lot of fans bought these season tickets with the hope of seeing Aaron Rodgers light it up at MetLife Stadium. Four plays into the season, and he's out with a torn Achilles. You can insert one of many cliches here, but that isn't what people signed up for. Many long-time season ticket holders are there no matter what. Neither group deserves what the Jets are trying to do to them. We were sold a dream, and now they want us to double down for next year? Sure thing, we will all double down, no problem. But we want to pay next year like we always have.
The Timing Couldn't Be Worse
Look, I get it. The team needs to plan, and they need funds. But the timing here is just terrible. We're still in the 2023 season, for crying out loud! How about giving us some time to breathe, maybe see how the rest of this season plays out, before asking us to commit to another year?
What's the Game Plan, Woody Johnson?
I'm all for supporting the team, but this feels like a Hail Mary with no receivers in the end zone. If the Jets want to keep the fanbase happy and engaged, they need to rethink this strategy. Maybe offer some incentives or, you know, win some games to make this pill a little easier to swallow.
Per the Jets email:
If you have questions regarding your 2024-25 season ticket renewal, please do not hesitate to text or call us at 800-469-5387.
Full Disclosure
On a personal level, I have been a season ticket holder since 1988. There is no way I would sit next season out. If the Jets are home, I will be there. I realize that is not a great thing from a leverage standpoint, but it is the truth. Going to games has become a family affair for the Sullivan clan. That said, enough is enough, though, with the greed from this team. So, I emailed the Jets and told them they could start taking payments from me in January as we have done in years past. I have not heard back yet.
So, what do you think, Jet Nation? Are you going to renew, and pay in November? There is a thread in our forums about 2024 NY Jets season tickets that is worth checking out.
Videos
JetNation
4.6K
Subscribe
Broken Brains; Critics of Jets Quarterback Aaron Rodgers Begin Stirring up Conspiracy Theories