Former Jets Linebacker, SNY Analyst Chad Cascadden Talks Offseason and More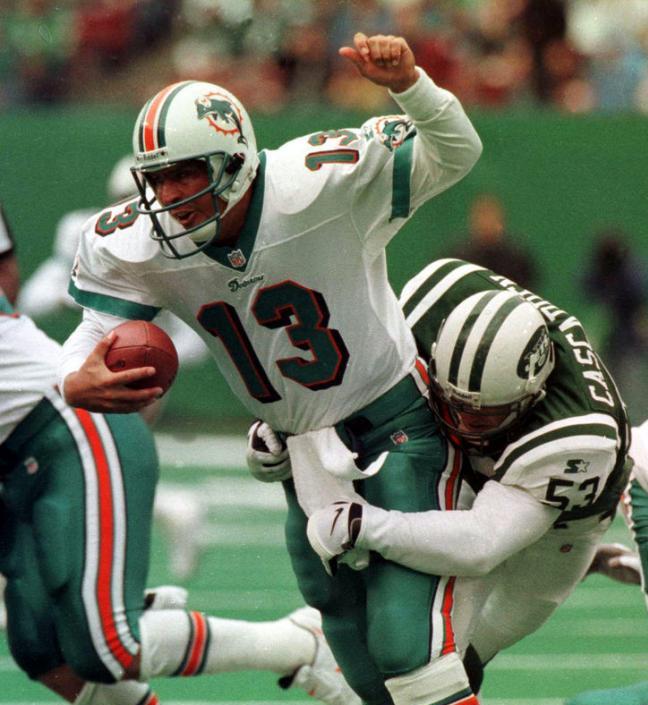 By Glenn Naughton
Leading up to the 2014 NFL season, former New York Jets linebacker and current SNY studio analyst Chad Cascadden sat down to talk at length with JetNation.com about his time in green and white from 1995-1999 before his time was cut short due to a knee injury that he suffered in week four of the 1999 season.
Having started his Jets career under Rich Kotite before transitioning to play under head coach Bill Parcells and defensive coordinator Bill Belichick, Cascadden experienced both ends of the Jets spectrum in a very short time frame, going from 1-15 in 1996 to the AFC Championship game in 1998.
Today however, Cascadden the analyst spoke about the 2015 Jets regarding their active 2015 offseason, Muhammad Wilkerson's contract situation and some  young Jets prospects as the team moves on from the Rex Ryan era.
Glenn Naughton: Thanks so much for taking the time to join us today Chad.
Chad Cascadden: Not a problem Glenn, my pleasure.
GN: Let's start with the latest news on Muhammad Wilkerson reporting for mandatory workouts which wasn't all that big of a surprise, but until you see him at practice there's always going to be that speculation as to whether or not he's going to show up.
Where do you think things are heading with Wilkerson?  Do the Jets want to keep him around or is he a chip they'd like to use in a trade somewhere down the line?
CC: I think it's a little bit of both.  I think they want to bring him back at the right price but the question is, does that price agree with Wilkerson and his agent?  My guess is that when Leonard Williams became the steal of the draft with the sixth pick, and I don't think they expected that.
I think they fully expected to get somebody else.  To have such a talent fall to number six, all of you sudden you've got all the "sons" up front and now you add this kid and you just say "wow, this is a formidable defense".
Now they've got a chip in their pocket and I think they're waiting to play that chip correctly for the franchise.
Could that mean a trade down the line?  I'm not sure, could it lead to a nice contract for Wilkerson?  Perhaps, but injuries happen and eventually they'll have to pay Sheldon Richardson as well.
With so much talent up front, that's a lot of mouths to feed and they have to find a good way to deploy that capital.  I think the Jets and Wilkerson are both playing it well. Until they absolutely have to come up with a deal, this is what we're going to see.
GN: That's a fair point.  If there's no need to get it done now, the Jets may as well let it play out.
CC: Until they put some pads on and have the live bullets flying in a game, this regime is going to have to decide "is this a guy we want to give this much money to"?
It's a new regime and a new GM that hasn't seen him in pads yet.  Now of course they've seen him on tape and that really should be good enough but I'm sure Maccagnan is going to want to see him live.  He's going to want to see how he practices, how he is in the meeting room, what kind of leader he is so that when he does sign the check, he's got a good personal feeling about it.
Up to now Wilkerson hasn't been around so Maccagnan will probably want to hang around him a little bit and get to know him before he commits that much money.
GN: Many fans do understand that while it does take some fun out of the game itself, the NFL is a business and players are going to look out for themselves and try to avoid injuries while teams are going to protect their assets.
In terms of Wilkerson's injury history, he apparently suggested that last season's turf toe issue could limit him during this three-day camp.
As a player, you not only suffered a career ending knee injury just as your career looked like it was on the upswing following a strong finish to the 1998 season, but you also battled turf toe.
Speaking from experience, is this something you would expect to linger for this long or is there a chance that Wilkerson is posturing a little bit to give the Jets a look at what it'll be like without him on the field?
CC: It might be a little bit of grandstanding but turf toe is an interesting injury.  Much like simply saying somebody has a knee injury.  You could have a patella tear, a tendon rupture, an ACL or a meniscus.  That's similar with the big toe.
You can have cartilage or ligament damage; I don't know what his situation is and if it's a little bit ginger right now and he wants to take it easy then that's understandable.
I'm sure the medical staff is looking at it and making sure that if it is injured it's healing appropriately and getting it taken care of.
It also wouldn't surprise me if he was grandstanding a little bit to say "hey, I'm here and I'm participating but I'm not a full go" and you know what, I'm not so sure that I blame him.  These workouts are non-padded and mostly drills and installations.
When it comes to the D-line, there are only so many adjustments he'll have to know how to make.  You're head up, you go left or you go right.  It's not overly complicated and Mo is a smart pro, he'll pick it up just fine.
GN: Speaking of injuries and guys dealing with the training staff, what are your thoughts on Dee Milliner?
Here you have a guy who struggled as a rookie but came on strong late.  Then he struggles against Green Bay in his first game back following a high-ankle sprain in week 2.  He looked very good a few weeks later against San Diego before going down for the season in the opening minutes against Denver.
The Jets have said publicly that he's on the bubble, but is that really the case for a talented young cornerback who  has played so well when healthy or is this the Jets trying to light a fire under him?
CC: Well, this is a new regime and they set the tone when they went out and signed Cromartie, they signed Revis, they signed Skrine, they brought in Gilchrist to play safety and essentially addressed all of their needs in the secondary.
To unseat Cromartie would take a monumental effort and I don't think he's up to that task.  Is he the nickel? Maybe, but you have Buster Skrine there.  Now you have some depth there with Antonio Allen there who is obviously a safety but he can step in to play in a pinch. You've got Marcus Williams who played really well last year as an undrafted player and of course Walls who started last season too.
I think what Bowles is trying to create here is the feeling that this is a competition and nobody is guaranteed a roster spot…that you'll have to earn it.  I have no problem with that and I think expectations need to be raised and I think the Jets are going to respond to that.
GN: That actually leads in to my next question about the contrast in comments made by Chan Gailey and Todd Bowles regarding the quarterback situation.
After Gailey said that there would be no competition because Geno was the starter barring injury, Bowles backed up a little bit and said it's Geno's job to lose.
Was that the right move to make, or do you think they should have said a starter wouldn't be named until somebody won the job on the field?
CC: Perhaps it's their mindset when Fitzpatrick came in was that he wasn't going to be the starter right out of the gate.  Of course he was coming off of a broken leg, he's a smart guy who knows the system and played for Chan Gailey who will be an excellent mentor.
I think they saw some value in putting Geno ahead of him and saying "you were the guy last year and we're going to give you shot because we think you can thrive in our offense".
Now, the question is can Chan Gailey build an offense around this guy and get the Jets in the end zone?
I went out to Florham park last week and to be fair I probably caught Geno Smith on his worst day ever.  He was over-throwing, under-throwing, missing guys on patterns, he was late to make some throws.  He just didn't look good and I'm sure that has been rectified and we'll see a much sharper and crisper Geno Smith, or at least I hope.
Should he have been named the starter?  I don't think it matters.  If he goes out there and lays an egg in the first two or three weeks of the season, I doubt they'll stick with him for too long.
This is a loaded team.  If you want to call it a porche then call it a porche.  I don't think it's a porche, maybe on defense it is, but on offense they've still got some question marks.
That offensive line still needs to jell.  Who's going to be the starting guard on the right side?
Geno is a guy who is still developing.  The running backs are good, but you don't have anyone dynamic.  You have a bunch of thumpers in my opinion.
You've got good receivers and a good tight end.  No game-breakers…is Smith from Ohio State going to be a game-breaker?  Maybe, but still lots and lots of questions on offense.
GN: One promising young player who hasn't been as consistent as many would have hoped up to this point is former first-round selection Quinton Coples.
He has all the physical tools you look for but hasn't become the dominant force many projected him to be.  How do you envision him in Todd Bowles' scheme?
CC: I'll tell you what, if Quinton Coples can't make it work in this defense then I'm not sure he can make it work anywhere.  He does have flashes of brilliance and when the Jets picked him in the first round they looked at him as a poor man's Julius Peppers.
He's 6′ 6" with a great physique, runs well, long arms, tough kid and a really nice guy.  Yet somehow, he's only got sixteen sacks in four years.  He's had two years where he played all sixteen games so a guy who was picked sixteenth overall getting only sixteen sacks, I would call that under-performance.  They need to get more out of him and if he doesn't step up in a defense that's designed for a guy like him, I think it may be time to part ways.
GN: Last season there was lots of criticism directed at the Jets poor draft class.  Unfortunately under Rex a lot of these guys didn't get on the field in a lost season.  Whether he didn't think they were good enough or if he was trying to win a few games to save his job, the bottom line is that a lot of these guys didn't get many reps.  Are you hearing anything from anyone in the building about any youngsters who might be opening some eyes and impressing the new regime?
CC: He wasn't a draft pick last year but one guy who impressed me when I was out at Florham Park a couple of weeks ago was wide receiver Walt Powell.  He looked like he was running good routes and catching the ball extremely well.  He stood out as somebody who could be that fifth or sixth receiver and a good special teams guy.
Jace Amaro and Jeff Cumberland also looked really good but a lot of the young guys weren't practicing.  Will everyone get a fair shot?  I absolutely think they will, they just have to show it in practice.
A lot of people don't realize that you have to earn the right to get on the field and you do that through practicing hard and successfully executing.  Once you do that, you'll get in the game.
GN: Given all of the off-season moves the Jets have made; loading up at the cornerback position, adding a true free safety, bolstering a defensive line that was already one of the best in the NFL and bringing in a receiver of Brandon Marshall's caliber, how good can this team be considering the fact that they advanced to the AFC championship game with largely mediocre quarterback play and a far less talented roster not long ago?
CC: Well, if Geno doesn't play well early then we'll probably see a quick hook.  He has been given two years and if he goes in to year three and isn't helping the offense run efficiently and score points, I think you're going to see Fitzpatrick pretty quickly.
If things get that bad, we may see Bryce Petty get some reps toward the end of the year.  I think at worst they're a 7-9 team.  The schedule isn't as tough as last year and this defense is good enough to be top-five.  Bowles picked Kacy Rodgers for a reason…they both like to get after the quarerback and bring pressure.  I also think Calvin Pryor has a really good chance to be a good player in his second year to blitz a little more and get in there to make some big hits.
When I went out there two weeks ago and I watched the offense against the defense, the defense was clearly the better side of the ball and that's not surprising.
The offense has to get it in gear and I think Chan Gailey is a good coach and I think he's going to do a good job.  He spreads the ball around, he'll always have a deep receiver, a middle receiver and a short receiver and he mixes the running game up pretty good.  But you still have to have a guy who can deliver the ball on time and on target consistently, week in and week out.  Is that Geno Smith?  I don't know.
Once again, JetNation.com would like to thank Chad for taking the time to sit down with JetNation.com and we look forward to more of his analysis in 2015.
Videos
Aaron Rodgers Injury Fallout & Jets/Bills Recap