Breaking News Featured Editorials Home Slider Player Profiles QB Film Review
Scouting Report: Christian Hackenberg- (Summary)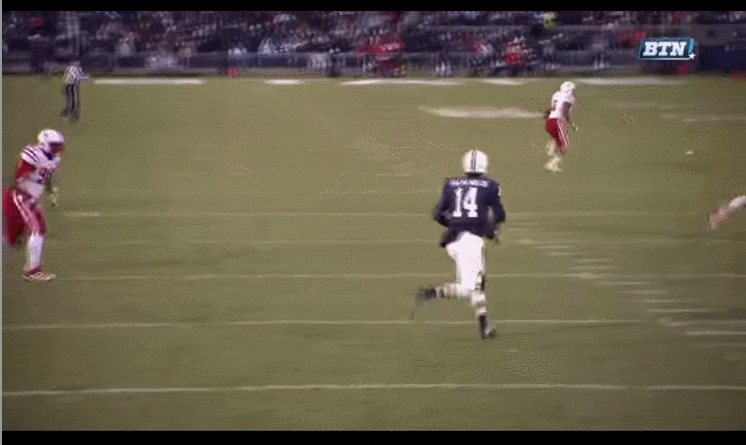 Please check out Part 1 (Pros), Part 2 (Cons), and Part 3 (Summary) of our scouting report into Christian Hackenberg.
Scouting Summary:
Mental:  Hackenberg displays very good understanding of the game, picks up on small nuances.  He's shown instances of inducing off-side penalties from the defense with hard counts, and also recognizing when he may have a chance to pick up free yards when players are running off the field.  Most QBs playing in spread offenses do not have this level of recognition, so he is definitely advanced in this aspect of the game.
Field Progression:  In his freshman year, Hackenberg showed good ability to go through progressions.  However, as shown in examples, these progressions were easy read progressions, and not situations where he was sitting in the pocket looking sideline to sideline.  The good news is that, those types of plays are very similar in a Chan Gailey system.  However, his second and third seasons do not provide much evidence of improvement here because the system is completely different.  The system relies on a good offensive line play, which was impossible for them to attain.  In the second and third year, Hackenberg seems to make up his mind on who to throw to by the time the ball is snapped, which might be a result of bad offensive play or a lack of ability to scan from sideline to sideline.
Screen Passes:  This is absolutely the biggest weakness in Hackenberg's game.  He is terrible at the screen pass, often side arming the ball and showing terrible ball placement.  There were numerous examples of passes being too high or low.  This is one aspect of his game that needs to be broken down and built from the ground-up.  If Jet fans thought Mark Sanchez had problems with screen passes, Hackenberg is ten times worse in this aspect.
Intermediate Passes:  These are really the strength of Hackenberg on film.  These passes utilize his arm strength well, and does not force him to wait for deep routes to open up, a scary proposition given his weak offensive line.  He shows much better ability throwing to his right than his left at times.
Deep Passes:  While he has a very strong arm, it is hard to understand Hackenberg's ability here because of the weak offensive line.  There are plenty of occasions where he seems to over-throw his receivers when they are wide open.  While he has the ability to have an effective vertical game, his consistency is nowhere near elite level, as his arm strength would have you believe.
Mobility:  Hackenberg shows surprisingly respectable mobility outside of the pocket.  He's not going to win rushing titles, but he can pick up 4 or 5 yards if need be, especially if the defense is playing back.   He reminds me of a Derek Carr in terms of his ability to rush out of the pocket, almost no way they run designed plays for him, but in an emergency he can pick up a few yards.  He also shows an exceptional ability to make throws while rolling out to the right.
Mechanics:  Another area where Hackenberg needs a lot of work.  The main issue seem to be his set up with his hips.  He has his hips fly open at times, making him lose his control.  Once his hips are open, he's throwing across the body and therefore sacrifices his ability to throw pin point passes.  There are also plenty of times where Hackenberg throws off of his back foot, relying mainly on his arms.  With the sheer amount of times that he has gotten hit, it's almost a miracle to see him healthy.  However, if you watch some of his throws, he's spinning away from the play as soon as he throws the pass, in a way to protect himself from the hits he receives.  While this has helped him stay healthy, it has a drastic effect on his accuracy.
Leadership:  He stayed with a sinking ship, which seems to show character.  He could have transferred without penalty, but decided to stick it out.  That kind of commitment can rub off on people and he seems to show decent leadership qualities.  However, his case might be an example of why elite prospects should consider leaving if a similar issue occurs in the future.  The lack of talent around him made it virtually impossible to evaluate the player.
One of the reasons people play the lottery is the availability bias because the human mind is trained to remember the few successes that we've heard about, rather than the countless failures we don't hear about.  Christian Hackenberg is lottery ticket for the Jets.  However, there have been countless others than have had similar ability fail.  His situation is unique, because teams usually have a good two years to scout players, but in this case it's impossible to tell because of his surrounding talent.  He reminds me a lot of Dellin Betances in the MLB draft a few years ago.  He was a really talented pitcher who fell in the draft because his mechanics were out of whack, along with a commitment to college baseball powerhouse Vanderbilt (James Franklin's old playing ground).  He dropped to the 8th round, but I believe he got a signing bonus similar to a first round pick.  For years he teased with potential, but never could put it together.  In the end, forced to put him on the 40 man roster, the Yankees moved him to the pen and tried to simplify his delivery, and now he's become a dominant relief pitcher.  For every Dellin Betances, there are countless Daniel Cabreras, Andrew Brackmans, and Kris Bensons.
Fans have a tendency to be hopeful that they can be pleasantly surprised by a high potential prospect.  Somewhere deep in your hearts lays a feeling that says Hackenberg may come to camp and light it on fire, and solve the Jets problems for years.  However, it's far more likely that he will need to sit for a whole year and re-work his whole approach.  He needs to work on his mechanics, along with trusting his offensive line again.  There are too many examples of him spinning out of throws, or side arming screen passes that can be solved in one off-season.
Overall, this was a B- pick.  There are chances it can be an A+ pick in two years, or an F.  Hackenberg certainly has the potential, with his mental approach as well arm talent.  When he was a freshman at PSU, many projected him as the next great QB to come along, and a future No. 1 draft pick.  Many made that prediction based on the notion that he would improve on his work in the next two years.  Not only did he not improve, he actually regressed from his freshman year.  The best case scenario for the Jets this season is that with all the work he has done for the draft, he's back to the freshman level QB he was three years ago.  Then, they can take the next year to make progressions with him that should have already occurred during the last two years.  He has exciting potential, but he also requires patience as far as the tape can tell.  However, the one caveat is that the surrounding cast was so bad, that it's nearly impossible to tell if he made any progressions, so it would be interesting to see how he does at camp.
Please discuss.
Videos
NY Jets Phase 3 OTAs, Expectations and a Minor Calf Tweak with Greg Renoff