Jon McGraw/Erik Coleman: Free Safety Superheroes?
by Rob Royal
Contributing Columnist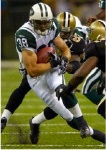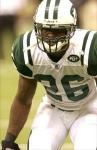 Jon McGraw will be defined as a talent that was never fully seen or never fully existed. It's been pain-staking seeing him toil around the field with no accolade directed towards his football prowess other than, "He's the next John Lynch.� To his credit, McGraw has shown some brief flashes of brilliance since he was picked in the 2nd round of 2002 draft. His shining moment in a Jets uni came in the form of an interception of the Broncos' Brian Griese to clinch a Jets victory back during his 02' rookie campaign. Defying his frail nature, McGraw somehow managed to play in fifteen games in 02' and recorded 47 tackles (27 solo), that one prized INT, and two forced fumbles. It was a pretty solid rookie showing and it looked as if McGraw was on his way to becoming a real gamer at free safety, hopefully in the form of Brian Dawkins.
Even though I despise the Sleazles, I admire Dawkins. How can you not? This is the same guy who has the persona and attitude of the super-hero Wolverine. Aspirations for our own future super-hero were reasonably high after McGraw's solid 02' season. Maybe McGraw would be like Captain America soaring across the secondary defying physics and cold- cocking opposing receivers. Possibly he could be the second coming of Spiderman ripping balls fired by the opposing team's quarterback right out of the air. But, alas, the dream is nearly over for country boy McGraw. I have given him the anti-super hero name of "The Plastic Maestro.� His accomplished violin playing must have been a huge factor when we drafted him in round 2.
Since 02' McGraw has been marred by injuries seemingly to every part of his body. First, it was the shoulder in 03' when he missed 10 games (I will give him credit–his numbers weren't terrible during the six games he started, but what use was he on the bench?) Then, it was the ailing abdomen year of 04' where he missed 4 games and had spot action in the rest. Note to John: Your last name is not Abraham it is MCGRAW you are not an elite player at the FS position in this league, you cannot afford to whimper away with injuries, you must be durable and on the field every chance that you get. This is the concept of a role player: there is no room for an injury-ridden role player on the Jets roster.
It's time to permanently turn the page on the dreams of "Captain America McGraw,� and realize he is just lonely "Plastic Maestro McGraw.� We have Erik Coleman now, he stripped the starting FS position and now McGraw will finally slip into his role as lifelong back-up and situational player. I, for one, am happy and sad about his demise. McGraw is a good guy at heart, and I would gladly buy him a beer at McSorley's, but the bottom line is that I would rather do it after a Jets win with him coming off the bench than a Jets loss with #38 limping around the field. Time in the NFL has given him an identity and that identity is ultimately not as a star, but solely a role player.
Due to GM Bradway's steal of Coleman, who amassed 89 tackles, 4 INT's, 1 forced fumble, 1 fumble recovery, and 2 sacks during his 04' rookie season, the Jets have a renewed belief that a super-hero will be lurking in their secondary. I hope Coleman is the super-hero we have been waiting for–similar to Brian Dawkins, but in the end, resoundingly better.
McGraw was a second rounder; Dawkins was a second rounder and Coleman a 5th rounder. I hope the chip on his shoulder grows larger every time he takes a rep in the weight room and every time he walks out of that tunnel into a sea of green. Only time will tell if he reaches super- hero status, but when that time comes, at least it will erase the memory of Jon "Plastic Maestro" McGraw.
Videos
JetNation
4.6K
Subscribe
Broken Brains; Critics of Jets Quarterback Aaron Rodgers Begin Stirring up Conspiracy Theories