Tedy Bruschi, Football Player
by RichardSeymour
Contributing Columnist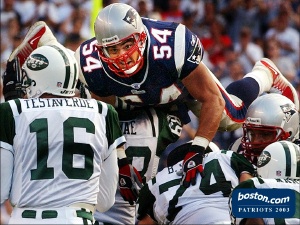 Tedy Bruschi in action against the Jets
There's a banner in Gillette stadium with Tedy Bruschi's number on it and the slogan "Full Tilt, Full Time.� Normally signs like that are hyperbole or chest thumping. This one was always just a fact.
Tedy Bruschi played with abandon, selling himself out on every play. He had no off switch, no neutral gear, just uncanny football instincts, toughness, and an angry burning desire to impose his will on the other team. He was an athletic freak, with limbs of rubber that let him walk off horrible knee twisting collisions that would end anyone else's season. He could leap like a cat, and sometimes he would launch himself up and over the offensive line, flying at the quarterback, and he'd just hang in midair. I remember seeing him do it many times, but somehow I never remember him hitting the ground.
On February 16th he hit the ground. Hard.
It was a mild stroke, but that's all it takes. Now nobody knows what to think. Now when I talk about watching Tedy Bruschi play I have to use the past tense because I don't know if he'll ever step on a football field in pads again. Now all the concern is for Tedy Bruschi the human being, the husband, the father. That's the way it should be, but it makes it that much harder to deal with the possible loss of Tedy Bruschi the football player.
As a football player, Tedy Bruschi was everything you could ask for. He represented himself in negotiations and was always willing to take less money than he could earn elsewhere to stay with the hometown team. He was a warm and cheerful man with his teammates, the press, and the fans, yet each Sunday he took the field with a deep anger. He was furious in 2002 when the Steelers drove for a garbage-time touchdown against the Patriots second stringers in the season opener. This year in the divisional playoffs Bruschi physically assaulted Edgerrin James, punching repeatedly at the football and setting him up for a brutal hit from Rodney Harrison. This was the same game where he ripped the football out of Dominic Rhodes' hands simply because he wanted it more.
Bruschi was a team captain and the defensive face of the franchise. He played with obvious joy and fierce anger, the way football is meant to be played. He was a football player.
He may still be. He might come running out onto the field opening night against the Raiders in uniform and pads, and if he does the earth will shake a little bit underneath the stadium as the crowd rises to its feet and screams its adoration. I don't know if that will happen though. You don't know. Bill Belichick doesn't know. Tedy Bruschi doesn't know. Not yet. It is a joyous time to be a New Englander, but this winter has been a little colder and a little darker, the clouds over Bruschi have cast their shade on all Patriots fans.
The Patriots defense is run by the best brain in the national football league, that hasn't changed. Now, though, there is the real possibility that it will have to continue without its beating heart.
Videos
Aaron Rodgers Injury Fallout & Jets/Bills Recap