Bryon Leftwich Interview
Courtesy Of The New York Jets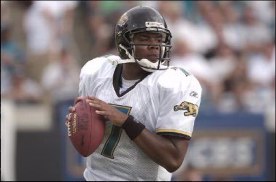 On if he's looking forward to playing against Chad Pennington?
Yeah, it's going to be fun to go out there and compete against him. Chad's not going to bat any of my passes down, he doesn?t play defense. But it?s still going to be fun to go out there and have a chance to play against someone I'm real close with.
On playing another tough defensive team?
Yeah, watching those guys on film, they're playing real fast and doing a lot of different things. I think they do a great job of mixing up and having a lot of different pressures to try and make the QB make some mistakes. We have to do a great job of preparing and I have to do a better job of not making mistakes.
On how he feels physically?
I'm ok, man. All I need is about 48 hours after the game. I'll be ok and ready to roll on Sunday.
On the criticism Chad Pennington has received?
He lives in New York. That's what's going to happen when you live in New York. When you play there everything gets magnified. Everybody knows how good of a QB he is and all the good things he does for the Jets. We never really talk about it. It's something that comes with the position. Every QB in this League has to deal with some form of criticism. You try not to worry about it and not let it affect the way you play.
On Pennington playing last season with a torn rotator cuff?
I knew he was a tough guy from back in college. If he can go out and play, he's going to be out there. I knew he was still out there playing. It's good to see a guy go out there and do anything to help his teammates try to win the football game.
On what he most admires in Pennington?
I think his work ethic and the way he prepares for a game. He's a guy that taught me how to prepare, how to get ready, and the things you have to do to make sure you're ready to play on game day. He's had that influence because he worked so hard during the week, preparing, making sure he's ready to play on Sunday.
On if him and Pennington have talked recently?
Yeah, we talked last night. We normally talk about once a week. We were talking almost like we weren't about to play each other. We just talk. He asked how my family was doing, I asked how his family was doing. It's not any trash talking. We just talk about life, football in general, our weekly conversation.
On facing a good pass rusher in John Abraham?
They have a great pass rusher in Abraham and they have some other guys who can apply some pressure also. It's going to be challenge. It's going to be a challenge to go out there and do what we have to do and execute.
We're going to do a great job preparing all this week and be ready to play on Sunday.
On the incident last week ?
I don?t know what you're talking about. I?ve forgotten about it already. I learned form that. I made a mistake, we all make mistakes, and we move on.
On getting over a tough divisional loss?
Oh yeah, we do a great job. We have a 24 hour mood around here. Win, lose or draw after Monday that?s all we worry about is that game. It's not hard to forget about last week when you come off the field and you see how good the Jets are playing. You know what type of team you're going to play. It's very easy to move forward because we know we have a good football team we have to play.
On playing tough defenses and staying calm?
Every defense in this League is good. I haven't played against a poor defense since I've been in this League, to be honest with you. Some are better than others, some have better players. But, we had Seattle the first week and we had Indy last week. We play some good defenses and I just think we have to do a better job executing on offense. There are going to be times this year, like the first two games, where we've been stopped. We just didn't go out and execute. Hopefully we find a way to execute those plays.
On why he's able to go out and play with injuries that may keep other players out?
I really have no idea, but I hope I keep that my whole career. I just go out and there and play. My main goal is to go out there and help out my team.
Videos
Aaron Rodgers Injury Fallout & Jets/Bills Recap