Tis the Season
by Tyson Rauch
Senior Columnist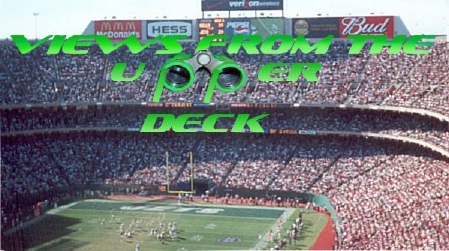 The holiday season is upon us and families all across the country are preparing to spend a festive holiday weekend together. What a great weekend it will be: family, friends, fun and football. It doesn't get any better than this…or does it?
Flashback: December 24, 1995 – NY Jets vs. New Orleans Saints, two teams playing for nothing. I brought some family and friends to the game, which was easy to obtain tickets for, only to watch Bubby Brister and the gang, lose 12-0. The highlight of the game was blocking a punt inside the 15 yard line and coming away with zero points. But the Jets fans get a major gift from Rich Kotite: The number one pick in the NFL draft!! Happy Holidays, Richie!!!
Flashback: December 24, 1994 – The Jets in the midst of a complete collapse end the season with a degrading 24-10 loss to the Houston Oilers and a five game losing streak. The label, "quittersâ€? was applied to the team and what was once a very promising season ends with a tank job. Pete Carroll, a usually jovial man, leaves the field beaten, tired and fired. Who will be the coach that Mr. Hess leaves in our stocking?
Flashback: December 24, 2000 – NY Jets vs. Baltimore Ravens. A win puts the Jets in the playoffs. The family all gathered around the television as the Jets charged out to a quick 14-0 lead. The Jets were dominating what was supposed to be one of the best defenses of all time. Could it be? What a celebration we will have! Only one thing happened. The Jets quickly blew it, aided by a horrible interception before halftime that was returned for a touchdown and the final score was 34-20 in favor of the Ravens. Disgust, anger and frustration shadowed the remainder of the afternoon as the Jets played the role of Scrooge.
Ah, the football memories during the holiday season. Well, at least the NFL played Santa this year and allowed Jets fans to enjoy their holiday weekend and placed Gang Green in the Monday night match-up. Think Santa can help us out with draft picks, too?
Here is wishing all of you and your families a happy and healthy holiday season.
Videos
New York Jets OTA Presser Takeaways, Aaron Rodgers' Impact and Summer Delusion