New Years Resolutions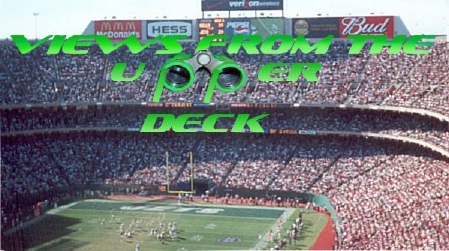 By Senior Writer
Tyson Rauch
New York Jets, 2006 New Years Resolutions:
Vinny Testaverde: I vow to return to fundamentals, view tons of game film and come back strong as the NY Jets quarterback coach.
Justin McCareins: I will stop watching game tape of Alex Van Dyke and Matthew Hatchette and start reviewing film of Wayne Chrebet.
Ty Law: I will continue to master the art of the ten yard cushion, as well as write two books: "The penalty flag is your friend� and "How to milk a team while rehabbing�.
Curtis Martin: I vow to learn the word "no�. No, Herm, I will not continue to run when my legs are at 50% and you are playing to not lose. No, Herm, I will not continue to run into nine man fronts and get pounded on while our offensive coordinators have shackles on. No, Herm, I will not start helping you watch the clock.
Sione Pouha: I vow to get the hours of operation and directions to the training facility.
Dewayne Robertson: I will give half of my salary to James Reed and Lance Legree as without them I would actually have to justify my sub par performance.
Chad Pennington : I resolve to say my prayers, take my vitamins and continue to train the Jets flag boys. In addition, I promise to take all of the snaps in the off-season programs, training camp and preseason to ensure that our new qb and my personal savior Steve McNair can start week one.
Jerald Sowell: I plan to meet with the new offensive coordinator Mike Heimersomething and learn how to become a tight end as the Jets have eliminated the fullback position.
Mike Nugent: I will work to improve my tackling skills, as I understand that my kickoffs will never break the 15-yard line. In addition, I want to give ESPN a small percentage of my salary for the pre-draft hype they provided for me.
Terry Bradway's Secretary: "I am sorry, Mr. Rauch. Terry is not available right now, he is reading Mel Kiper's 2003 draft guide.�
Coach Herman Edwards: "That is a very good question, Tyson. I live a resolution every day, and a man is not a man without a resolution. This team is all about resolve and resolutions and that makes me very proud. What is life without resolutions? It makes me sleep easier at night knowing that I completed my resolution for the day. Here is a copy of my new book "How to get the NY Media to eat out of your hands�.
Have a prosperous New Year everyone!
Videos
Aaron Rodgers Injury Fallout & Jets/Bills Recap