Christopher Gardella Featured Editorials
The Odds On Favorite
By Chris Gardella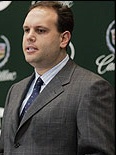 On April 29, 2006, Mike Tannenbaum must inform Paul Tagliabue who the Jets will be selecting with the fourth pick in the NFL Draft. The Jets are in good position to land a quality player, but let's make something perfectly clear: they must land a GOOD player.
This draft, more so than years prior, is huge for the Jets new head coach and general manager. Drafting a quality player will point the Jets in the right direction and prove that Mike Tannenbaum isn't too young to be a general manager in this league. Drafting a bust, however, could put new management in a particularly difficult position.
The Jets are in the process of switching their defense to a 3-4.  Not an easy thing to do considering they spent the past five years finding players who fit the 4-3 base defense that Herman Edwards coveted.  Dewayne Robertson can't be happy with the defensive changes and may be lost in the shuffle. He is better suited to play in a one gap system where he can use his quickness and strength to penetrate the backfield. Although he can play nose tackle in a 3-4, it certainly isn't an ideal situation for a man with his ability – the Jets may be in search of a new nose tackle come April.
The Jets' offense is a disaster. They are so desperate for a quarterback to who can compete with Pennington that they acquired Patrick Ramsey. The offensive line is in shambles and must be upgraded to protect whatever signal caller is behind them. The Jets roster has three less-than-spectacular running backs, no proven tight end, and average wide receivers. Nobody's job on the offensive side of the ball is guaranteed.
The Jets roster is spectacularly average, at best.  However, this is where the front office has to be careful. With so many positions of need on both offense and defense, it is unnecessary to draft a player based on need. They have to draft the best player on their draft board who represents the lowest risk. Allow me to explain.
I took a look at the history of top ten draft picks selected between the years of 1994-2004. To determine who represents the lowest risk in the upcoming NFL Draft, I have explored how blue chip players drafted at certain positions have a higher rate of success than other positions. Each position is broken down into three categories:
1) Players who reached the Pro Bowl
2) Players who became consistent starters
3) Players who busted
If Mike Tannenbaum is torn 50/50 between two players of equal talent at equal positions of need, it makes a great deal of sense to draft the one whose position represents the lower risk. The Jets have more holes than a box of Cheerios, so it is likely that they will draft the best available player on their board, regardless of need.  I tend to believe that Mike Tannenbaum and Eric Mangini are two very smart men who will make the right decision.Â
Odds of Drafting a Consistent Starter with a Top 10 Pick
Â
OT- EXCELLENT
DT- EXCELLENT
WR: 86%
DE: 77%
CB: 76%
RB: 67%
QB: 46%
Odds of Drafting a Pro Bowler with a Top 10 Pick
Â
RB: 56%
OL: 54%
DT: 50%
WR: 39%
CB: 38 %
QB: 33%
DE: 33%
My research has led me to believe that the three safest picks in the 2006 NFL Draft are Virginia Offensive Tackle D'Brickshaw Ferguson, Oregon Defensive Tackle Haloti N'gata and USC Running Back Reggie Bush.
Â
The Jets won't have a chance to land Bush, but should have a chance at landing Ferguson or N'gata.
Â
Eric Mangini and Mike Tannenbaum are not likely to address the quarterback position with fourth pick in the draft – but why would they?
Â
Quarterbacks are the riskiest prospects in the draft. Drafting a bust will make the new management's tenure in New York shorter than that of their predecessor's – this is likely a scenario they would like to avoid.
Â
Look for the Jets to draft a quarterback in the third or fourth round. Brody Croyle and Brett Basanez are two promising prospects they may look at.
Â
Eric Mangini and Mike Tannenbaum understand that a solid foundation must be built before a quarterback is inserted to finalize a team. One only needs to look at the Lions drafting Joey Harrington and the Texans drafting David Carr before their respective teams had solid foundations in place.
Â
Young quarterbacks need to play for a team that has weapons in place to increase their chances at success, or, at minimum, a quality offensive line – the Jets do not any of these elements to their offense.
Â
The Jets need players who can play immediately. No quarterback, Matt Leinart included, could immediately step in and make the Jets significantly better. The front office will focus on the area where games are won: the trenches.
Â
My Prediction: OT D'Brickshaw Ferguson
My Pick: QB Jay Cutler
Â
Draft Research:Â  http://www.jetnation.com/graphics/Articles/draft_project.ppt
Videos
NY Jets Phase 3 OTAs, Expectations and a Minor Calf Tweak with Greg Renoff