Not this Feeling Again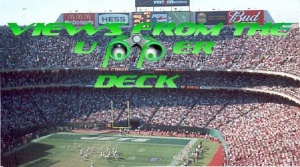 By Tyson Rauch 
For fans of the New York Jets the wait for training camp is almost over after a very long off-season.  The coaching overhaul is complete, the draft and free agency have come and gone.  We are a couple of weeks away before the journey for the 2006 Jets begins.  The question is, what emotions are running through the heads of New York Jets fans?
 
Are you excited to see what the new staff brings to the table? Are you curious to see how the quarterback situation ends up? Are you nervous about how the "new� offensive line will hold up?  Are you truly excited about the upcoming season for the NY Jets?
Ok I am sure most of you answered yes to the above questions.  Here is a better question, are you kind of annoyed knowing the Jets are a long shot to make the playoffs this year, let alone win a championship?  Sure anything can happen in the NFL but once again the cards are stacked against the Jets.  It would be a football miracle for a new inexperienced staff to take over a team, implement new systems and strategies while dealing with quarterback problems and go to the playoffs.  Are you fulfilled knowing the Jets are rebuilding and possibly in 2-3 years can maybe make another run at the playoffs?
 
I for one think this feeling sucks and at times find myself jealous of other teams that rarely experience down times like the Patriots.  I live and breathe football and cannot wait for training camp every year.  But it is a dimming feeling going into the season knowing that at best your team can get 6-7 wins.  Don't get me wrong I will still attend every home game, wear my jersey proud and even hit a road trip but to have these thoughts come back again is depressing.  Sure one can look at the bright side and look to the future with an innovative coaching staff, a potential franchise quarterback in Clemens and a defensive leader like Vilma.  One can say with the modern era of free agency anything can happen from year to year.  As a long time Jets fan I have said all of these things before and I am afraid to feel that hope again.
Videos
Aaron Rodgers Injury Fallout & Jets/Bills Recap