Tuesday Morning QB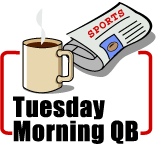 by Tyson Rauch
The New York Jets displayed a lot of heart and character in their loss to the New England Patriots.  It was obvious that they believed in their coach and their quarterback and never quit on each other.  In addition it is apparent that the team is in very good condition displayed by their frenzied play in the second half without waning.  There are some things that are not so positive and should be questioned.  
The first major problem the Jets are facing is establishing a running game.  As much as Coach Mangini likes to rotate his running backs I think it is time to pick one guy and let him build up some steam.  Many times in the past Curtis Martin has talked about needing the ball often to get a rhythm and this could be the case with these backs.  This shuffling of running backs is just not working and I think it is time to make Barlow the horse and see what can be done.  If not Barlow I think Houston should get a shot as the Jets need a physical runner that can move the pile a little bit and not fall down to an arm tackle. 
The second issue the Jets are facing is getting too "cute� with their play calling.  I understand the notion of disguising plays and confusing defenses but at times it may be more effective to just slam a play down the other team's throat and see if they can stop it.  It may be more difficult for a tight end to position himself in a strong blocking stance after he ran up and down the line of scrimmage to disguise the play or help identify the blitz package.  I agree with going for it on 4th down but why not give it to a power back or better yet run a qb sneak with either Chad or Brad Smith?
Also, what in the hell are the Jets doing leaving Eric Barton and Jonathan Vilma standing in no man's land on every passing play?  They will both set up at the line of scrimmage pretending to blitz and then fall back into coverage where they end up covering NO ONE!  This philosophy makes zero sense and does not utilize what could be the strength of the defense whatsoever.  Both of these guys could be a lot more valuable if they were sent after the quarterback or maybe trying to cover a running back or tight end off the line.  Several times on Sunday Vilma and Barton where standing around watching plays happen around them as they were in no man's land doing nothing.  The coaching staff must utilize these guys better to help offset what could be another problem on defense.
The Jets are making progress and it is clear that they are heading in the right direction.  Hopefully Mangini stays true to his word and reviews the film and continues to make changes both in personnel and strategy.
Videos
Aaron Rodgers Injury Fallout & Jets/Bills Recap