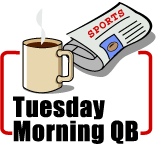 By Tyson Rauch
 
Remember the days when the New York Jets were mentally and physically prepared for their games? Remember the days when as a fan you knew the game plan for your beloved Jets was going to be well thought out and effective?  Well my friends these days are back.  Through one full training camp and three games of the 2006 season it is apparent that Coach Mangini and his staff are establishing a very strong culture for this Jets team.  There are quite a few things you know you are going to get out of these "new� Jets.
 
1.      This team is well conditioned and will play a full, physical 60 minutes on both sides of the ball.  This comes from a rigid training camp as well as having players that are buying into the system.
2.      The game plan will be aggressive and efficiently developed and each player will clearly understand their role.  The leaders and captains of the team have a clear voice and understanding of what the staff wants them to do and how it should be communicated to their teammates.
3.      The coaching staff is able and willing to make adjustments throughout the game in order to gain an advantage.  In addition the staff clearly understands how to manage a game effectively.
4.      The players will not quit on each other and will play for one another.  The family theme that has been preached throughout training camp has lead to team chemistry.
 Now I am not going to say the 2006 New York Jets are going to go 12-4 this year but I am willing to say there will be very few games that this team will not be competitive in.  There are going to be some bumps in the road, especially the next two weeks, but is a nice feeling to have knowing that the right measures are being taken to make this team better.  Coach Mangini has brought back the feeling of confidence within the organization as well as the fan base.    That says a lot coming off a 4-12 season and an off-season that included a coaching change and some indecisiveness within the front office. 
 
 
Team notes:
·          Chad Pennington was impressive with his ability to throw in the windy conditions and it was impressive that he was barely touched by the physical Bills defense.
·          The WR tandem of Coles and Cotchery continue to show their fluidity in the offense and ability to make tough catches.
·          Kerry Rhodes is beginning to blossom into a game changer on defense and teams will begin to game plan around his blitzes.
·          Ben Graham had an outstanding day of punting especially considering the windy conditions.
Special kudos to Leon Washington for providing a spark to the Jets offense.  Here is hoping he gets more opportunities, especially catching some passes out of the backfield.