Learn From Your Mistakes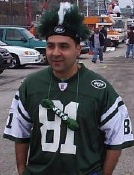 by Tyson Rauch
Since being hired by the New York Jets, Head Coach Eric Mangini has repeatedly stated how the team needs to remain consistent, continue to progress and learn from their mistakes.  Well coach here is your chance to be a man of your word and learn from your mistakes. 
 
Correction #1:  Bench Kevan Barlow.  What will it take for you to realize this guy is nothing more than a goal line back at best.  There is zero explosion out of the backfield, he rarely sheds tackles nor moves the pile.  The Jets offense is stagnant with him in the backfield as compared to when Cedric Houston or Leon Washington man the position.  Both of these runners give the offense a spark AND are able to move the chains.  You missed the boat with Houston due to injury now give Leon the shot he deserves.
 
Correction #2:  Enough with the gadget plays.  Is Brad Smith a player or a toy that the coaching staff likes to play with?  I understand the need to keep the defense off balance but running four or five of those plays within the first ten is ridiculous.  It would be hard for any offense to build momentum when Chad is running out to be a wide receiver or in the backfield as a running back.  It is nice to be creative but this is the NFL and teams will catch on shortly if they have not already.
 
Correction #3:  Feel free to bench "starters� on the defensive side.  Coach Mangini had no problem making an example of Justin McCareins and giving him the harsh doghouse treatment.  Why not spread that wealth to the defense?  Dewayne Robertson and Kimo Von Oehlhoffen are getting pushed all around the field.  So why not give others a chance? It appeared to me Dave Ball was everywhere on the field when given the chance to play. Oh it is not the players? How about changing your scheme then? This run defense is borderline embarrassing and does not give the team a chance to even compete in the game, something you supposedly take great pride in.
 
Correction #4:  Keep an eye on the grand scheme.  What in the hell was Chad Pennington doing playing in blowout like this? Would it have not been a good opportunity to give Clemens or Ramsey some reps to see what they can do? You take Coles out for whatever reason but you keep the rest of the starters in? Why not incorporate some of the younger players to build up some game experience as well as preserve some of the veteran players that you will need later on in the season?  Who cares what the Jaguars were doing, the game was clearly over why risk injury to players you will need for your team to have any chance to win?  Chad gets hurt late in the 4th quarter, have fun facing yourself for the rest of the season when team has zero chance to win and the media is pounding on you.
 
This week will be the true test to see how much progress this new regime has made. Will the team bounce back? Can the staff adjust their schemes? Will there be doubts in the locker room? A bad loss here and Mangini will face his biggest challenge in his young coaching career.
 
Hats off to Pete Kendall:  His post game interview showed the true heart and desire that you want out of a team leader.  He was clearly pissed off and embarrassed.  More importantly he was not scared to show it.  In the past under Coach Edwards losing seemed to be accepted and hopefully Kendall's attitude is common place in this locker room.
Videos
NY Jets Phase 3 OTAs, Expectations and a Minor Calf Tweak with Greg Renoff