Hello Is Anyone Out There?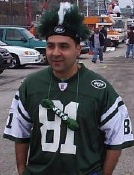 by Tyson Rauch 
While arriving at my section this past Sunday it was surprising to see all of these red items around my seat.  Were these the new colors of the New York Jets? Was I surrounded by Kansas City Chiefs fans?  No, I was viewing several empty seats, including a FULL row of empty seats.  Then while glancing through the stadium it was shocking to see that my section was not the only one experiencing this "emptiness�. 
 
Can someone tell me how in the hell this could happen?  It was not overwhelmingly cold, it wasn't raining or snowing and it wasn't an 8pm game or a match-up of two horrible teams.  So were 15,000 people invited to the same wedding?  As a long time Jets fan I find this extremely embarrassing and I am sure the Jets players and staff had to be surprised as well.  The New York Jets are a team that is drastically improved from last year, playing very competitive and are WINNING.  As a fan what else could you ask for? 
 
Can fans only come to the games when the Jets are playing a top rated team or a division rival?  The fan support on Sunday was pathetic.  Then to top things off, a good majority of the people in attendance left at the end of the 3rd quarter.  The Detroit Lions are mounting a comeback in the 4th quarter and the defense is looking for crowd support and the stadium is half empty.  Ever see this happen in Kansas City? Green Bay? Denver? Washington? Baltimore? 
 
Jets fans are supposed to be a proud bunch, a loyal diehard group.  Well actions speak louder than words and this Sunday was a complete joke when it came to supporting a team that is improving each week.  If you have tickets and cannot make it, at least try to give them to someone that wants to be there.  Hell even sell them at half price if you have to, but to just sit on them is senseless.
 
Comments from the upper deck:
1)Â Â Â Â Â  It is fun watching the draftees play well and with so much passion and excitement.
2)      Hawaii Bound?  Anyone else voting for Chad, Coles and Rhodes to go to the Pro Bowl?  Another you may want to consider…Eric Barton
Anyone else have a funny feeling that if the Jets go into the bye at 5-3 the Pats game will be a 8pm game?
Videos
Aaron Rodgers Injury Fallout & Jets/Bills Recap