High Hopes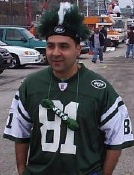 by Tyson Rauch 
Come on Jets fans, admit it, the Jets had you.  They had won two in a row, they were playing a team with a bad record on the road before the bye week.  Did you not see this coming? As much as you want to see the direction of this franchise changed, some things are going to take time.  As the legendary coach Bill Parcells always says, "you are what your record says you are.� 
 
The Jets are an average team at best.  They are making progress and heading in the right direction.  I think some fans started to drink the Kool Aid and have much higher hopes for the Jets while ignoring some of the major warts on the team.  The bottom line is that the Jets cannot effectively stop the run or establishing a ground game.  That is a recipe for disaster at any level of football.
 
Repeat after me:  THE JETS ARE NOT A PLAYOFF TEAM THIS YEAR.   Has everyone forgotten that this staff consists of inexperienced coaches that are learning on their way?
Has everyone forgotten that the Jets are implementing two new systems and a drastically different way to manage games?  The coaches are trying to figure out what they can and cannot do with their systems and personnel and the players trying to figure out where to stand on the field.   The Jets will end up 7-9, 8-8 at best this year, which is a drastic improvement from last year. 
 
Here are some interesting questions to think about though:
 
1)Â Â Â Â Â  Is Pennington the QB for next year? Do the Jets offer him a new deal?
2)Â Â Â Â Â  Should the Jets get Clemens AND Brad Smith time at quarterback this year to see what they can do and get them some experience?
3)Â Â Â Â Â  If the coaching staff starts to tinker with the lineup will they lose the veteran support?
How many Jets fans are going to sell their tickets for the Bears game to have the rest of us season ticket holders surrounded by Chicago fans?
Videos
Was Boomer Right to Blast Becton? Former Jets QB Sounds off Against Jets Tackle.