Good Ole # 28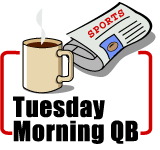 by Tyson Rauch
In the coming months there are going to be many articles written about Curtis Martin.  There will be stories about his career statistics, about his awards and accomplishments.  There will even be articles discussing his future.  The one story that can never be told enough is how much of a class act Curtis Martin is and how much he gave back to the community and the fans. 
Curtis Martin was never one to showboat on or off the field and always faced the music despite how bad the situation was.  Whether it was losing a game the Jets should have won, losing a heartbreaker or being downright embarrassed Curtis Martin always faced the media front and center and took it like a man.  Good ole #28 was always ready on game day regardless of the health of his body and refused to back down from any challenge. Curtis Martin is the epitome of a leader, warrior and team player, which is a lot to say in this day and age of the professional athlete.
As a long time fan of the Jets it makes me sick to think the career of this great athlete is almost over while not accomplishing his ultimate goal, winning a championship.  I can never forget his post game interview on January 17th 1999 after the loss to the Denver Broncos in the AFC Championship game.  The look of pain, hurt and disappointment on his face is something that could not be expressed in words and still puts a knot in my stomach thinking about it.  But for each moment like that there are positive memories like clinching the Jets first AFC East title in 1998 and watching Martin and Coach Parcells embrace in pure excitement and fulfillment. 
As Jets fans we have watched Curtis Martin and his Jets accomplish many things.  They took a franchise known for losing and made them a competitive team.  Good ole #28 helped restore pride in the Jets organization and refused to let complacency set in with this team.  For this Curtis, I would like to thank you.  Thank you for being the man and the player that you are.  You gave everything that you have to the game of football and for that I thank you and will always respect you.  I look forward to the day that all of us Jets fans can salute you in Canton Ohio at your Hall of Fame induction.
My introduction to Curtis Martin:
July 1998 Training Camp Day One — The 1998 New York Jets team takes the field for their first practice and Bill Parcells begins to bark out orders left and right.  The team is in full pads and full contact on day one.  The offense takes on the defense in an 11 on 11 drill.  Glenn Foley handed off the ball to #28, he cut back twice juking a linebacker and then a safety and coasted down the sideline.  The crowd erupted, the players looked in awe and the head coach had a huge smile on his face.  He looked over to his coaches and said "that #28 is a good one.â€?  At the end of that long day of practice Curtis Martin walked over to the fence full of fans, took off his helmet and spent about a half hour taking pictures and signing autographs.  He was the only player to do so.
Videos
NY Jets Phase 3 OTAs, Expectations and a Minor Calf Tweak with Greg Renoff