Trip To Foxboro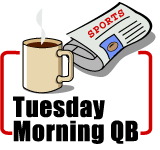 The day started out soggy, with torrential rains and brisk winds blowing throughout the parking lot.  The Patriots fans were full of confidence as the New York Jets were coming to town, the perfect team to cure their woes.  The common thoughts expressed by the Pats fans were that the game would be close, but in the end Brady and Belicheck just have the Jets number and will take it in the end.  Well as Lee Corso always says, "Not so fast my friends.�  
I have to admit I have never been so proud to be a Jets fan than I was walking out of Gillette Stadium on Sunday.  The team played physical, tough, smart and aggressive.  The game was managed well by both the coaching staff as well as the quarterback and it was obvious the Jets players have clearly bought into the new systems and methods that are being employed.   Sure there were some ups and downs during the game but in my eyes you could just tell the Jets wanted it more.  They wanted to prove to the world that they could play with anyone in this league.  They wanted to prove that they have ability to grind it out and win a tough physical game. They wanted to prove that they could beat a good team, a championship caliber team, in their own backyard.
 
Don't get me wrong I am not going to say the Jets are going to win the Super Bowl or even make the playoffs but they are showing tremendous signs of improvement.  This is an exciting time to be a Jets fan.  With that being said, support your New York Jets and DON'T SELL YOUR SEATS TO BEARS FANS!  The Giants game last night was embarrassing with the amount of Bears fans in attendance and the same thing could happen this Sunday.  The Jets have accomplished more than we all have expected and deserve a nice hearty raucous welcome on Sunday.  They also deserve to look up into the stands full of green and white and get that energy up to compete with a very good Chicago team.  Last season was a disaster that not many enjoyed so why not come out now and enjoy in the excitement of what is a new and improved Jets team?
 
Side Notes:
1.      With all of the money spent on Gillette Stadium how in the hell are there no escalators?
2.      You think $15 is a lot to pay for parking at the Meadowlands? Try $35 at Gillette and only one way in and one way out.
Also, get out and vote for your favorite Jets into the Pro Bowl!
Videos
NY Jets Phase 3 OTAs, Expectations and a Minor Calf Tweak with Greg Renoff