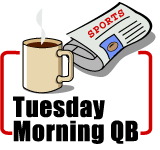 by Tyson Rauch
After Sunday's loss to the Bears there are many clichés that can be used but the one that the fits the best is "You are what your record says you are�.  Let's face it people the Jets are a team with many warts that at times is playing above its head.  This is a team that is doing everything in their power to be competitive but without perfect execution and a break or two they cannot beat a quality playoff caliber team.  This is not the fault of the coach or the players, it is just the result of a team going through a transition.  People tend to forget that this is a new coaching staff implementing different schemes and philosophies of game management.  In addition they are doing with this personnel that might not necessarily fit with what they are trying to do. 
So what does it all mean?  It means there are going to be more games like Sunday when you leave the stadium pissed off and frustrated knowing that with a break or a different bounce the Jets could have won.  It sucks, but its reality.   This team is progressing but the changes that need to be made to make them an above average team cannot be made during the season, they will have to be done in the off season.  With that being said I predict the Jets will finish the season at 8-8, which is a drastic improvement from last year and should be viewed as a good year. 
 
Side Notes:  1)  So what now Chad sucks? This guy has worked his tail off and rehabbed like crazy and to me it is a miracle he is even playing for the Jets this year.  I think his arm/shoulder could be tiring out a bit but come on people this guy is a good quarterback. 
 
Every quarterback in the NFL is going to have his ups and downs and that is just reality.  I think for Chad to play a full season this year is a major accomplishment and then with conditioning and a healthy off season he can come back next year stronger and better than ever.  Now I will say once the Jets hit 7 losses I would not mind seeing Clemens play a bit but I think all of the Jets short-term success is going to be hinged to Chad Pennington.
2)Â Â Â Â  So once the season ends how long will it take the front office to cut/release Mike Nugent? The over/under here is 72 hours.
3)      The Jets had Freeman McNeil and Mark Gastineau in the alumni tent on Sunday and once again Gastineau left his mark.  Mark showed up late, while Freeman had to sit there and face the brunt of the fans that were getting impatient.  Freeman once again showed his class and grace trying to do what he could until the arrogant Gastineau appeared.  Freeman you will always be one of my favorites.