Under The Radar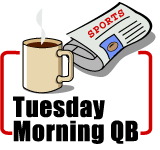 By Tyson Rauch
In a city consumed by the self-destruction of the Giants and the bumbling of the Knicks it appears the 6-5 New York Jets are flying under the radar a bit.  In the beginning of the season how many so-called experts expected the Jets to be in this position? How many fans expected the Jets to have a legitimate chance to make the playoffs?  Well truth be told not many. Coming off a dismal 2005 season the Jets have bounced back nicely playing physical, smart, disciplined football.  They are not the most talented team, but they are well prepared, conditioned and determined.  They are winning games by not beating themselves as well as out thinking the opposition.  So has anyone really noticed?
It appears that many in the media see the Jets as improving but not truly worthy of playoff consideration with that credit being given to teams like the Jaguars, Bengals and Chiefs. This lack of attention could be a great thing for the Jets as it allows the team to remain focused as well as supplies a little motivation with the underdog role.  The "us against the world� mentality tends to bring out the best in athletes and this could end up being the case with the Jets. So let the spotlight remain on the teams with the flashy players, whiners and crybabies.  Let the reporters chase the sound bites and excuse makers.  I'll just sit back and watch my team continue to play well and win.
Side Notes
·Beware!!   The upcoming schedule is not as easy as many think.  It is always difficult to win on the road and games at Green Bay and Minnesota are going to be very difficult.  In addition, the Dolphins and Bills are much improved teams will give the Jets all they can handle at game time.
·Kudos, well sort of-  It was great to see Mike Nugent make the 54 yard kick on Sunday but he still has a way to go to prove he is a legitimate kicker for the Jets.  He has yet to hit a kick under pressure, not to mention make a big kick on the road.
·Are you a pilot?  What is with the growing amount of paper airplanes being thrown at games? What will it take someone that you know to get blinded before you stop throwing them?
·Bring on the Pack!! A group of Jets fans are heading out to Green Bay for the weekend and heading to Brett Favre's Steakhouse for the tailgate party before the game.  If you are heading out to GB, keep an eye on the pinned Jets/GB thread and feel free to meet up with us for a beverage or two.  The more the merrier!
Videos
New York Jets OTA Presser Takeaways, Aaron Rodgers' Impact and Summer Delusion