JetNation Week Fourteen Power Rankings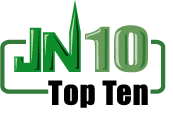 By Nick Ferraro
1.  San Diego Chargers – The Chargers are rolling, Tomlinson is heading toward the MVP trophy, and the defense is healthy.  Can they overcome Marty's playoff jinx?
2.  Baltimore Ravens – A win in Kansas City against a desperate Chiefs team playing for their season is very impressive.  This team is starting to look a lot like the Super Bowl version of a few years ago.
3.  Chicago Bears – The Bears finally got some production from Rex.  What will they get from him in January?  Lovie Smith is toying with the idea of playing Hester on offense.  Can you blame him?
4.  Cincinnati Bengals – The Bengals are getting turnovers and getting the ball to Chad Johnson.  They can beat anyone when those two things happen.
5.  New Orleans Saints – Are the Saints that good, or was all the hype about the Cowboys undeserved?
6.  Jacksonville Jaguars – The Jags ran over, around, and through the Colts in their best game of the last two years.  I still have trouble respecting teams that have two losses to the Texans.
7.  Indianapolis Colts – The Colts have pronounced weaknesses on defense, and Manning is having trouble keeping up with all the points they are giving up.  It's not panic time yet; it will be panic time if they lose again on Monday night.
8.  Dallas Cowboys – I guess we can hold off on the Tony Romo Hall of Fame bust.  Will Owens be back next year after they lose in the playoffs?  How about Parcells?
9.  New England Patriots – The Pats have some major weaknesses.  They are going to have a short stay in the playoffs.
10. Ohio State – Nobody in the NFL deserves this spot.  We might as well salute the best college team in the nation.  If there were a clear #2 in the NCAA, I would have dropped the Pats from the ninth spot too.
Videos
NY Jets Phase 3 OTAs, Expectations and a Minor Calf Tweak with Greg Renoff