Dreaming of a Green Christmas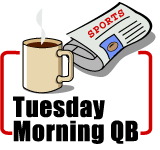 By Tyson Rauch
Looking back over the years, the New York Jets have many ghosts of Christmas' past in their closet.  There is the ugly, dark, embarrassing ghost of 1995 that was made up of a terrible season and a disgraceful 12-0 Christmas Eve loss to the New Orleans Saints (in front of about 15,000 diehard fans).  Then there was the heartbreaking and gut wrenching ghost of 2000 that consisted of a season of hope and ended up in a 34-20 loss to the Baltimore Ravens on Christmas Eve.  So what will Christmas Day 2006 have in store for the New York Jets?  Will coach Mangini and his team of believers provide us the joy for the holidays or will Jason Taylor and his angry mates play the perfect role of scrooge? 
As long time bitter rivals this game will be a slugfest with both teams leaving it all on the field, but in the end my prediction is the Jets will have more heart and determination and will come out the victors.  This team has come too far and worked too hard to have a let down now and come up short.  If Jets fans have learned one thing this year, it is that this team is well coached, focused and determined and these traits will send them to victory on Monday night.  
Wouldn't a picture of Mangini, Pennington and Vilma victoriously running off of the field in Miami on Sunday be a perfect Christmas card?
Quick Hits
1.  Hats off to both Dewayne Robertson and Mike Nugent.  I have ripped both of these players in the past but throughout this season both have improved and are making a difference on the team.
2.  Hawaii Bound?? Is it me or is Laverneous Coles more than deserving for a trip to Honolulu?  He may not have the brand name, the big mouth or the gaudy numbers but there is no tougher receiver in the AFC than Mr. Coles.  
3.  So how many season ticket holders have already given away their tickets to the New Years Eve game against the Raiders? Let me guess you are waiting to see what happens Monday night first right?
Here is wishing all of you and your families a happy and healthy holiday season.  There are times when we all get fired up over this team and the NFL but in the end it is just a game.  Let's not lose focus of that and try to value and appreciate our friends and families.  Also please do not forget our troops and their families during this holiday season.  
Lets Go Jets!!!!
Videos
Aaron Rodgers Injury Fallout & Jets/Bills Recap