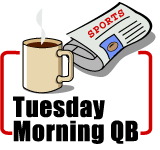 By Tyson Rauch
 
My name is Tyson Rauch and I am proud to be a fan of the New York Jets. When was the last time you said that?  Ok many of you will say after the Jets beat the New England Patriots this year but truly when was the last time you actually had an overall positive, excited feeling about your beloved Jets?
 
Most of the time discussions regarding the green and white usually involve a look back at moments gone bad: fake spike, late hits, fumbles, missed field goals, poor play calling etc.  Now the discussion includes comments like disciplined, intelligent, passionate, determined, play like a TEAM etc.  This group of players is not the most athletic, not the most talented or the most gifted but they are group of men that truly believe in each other and their leader Eric Mangini.  This team wins as one and loses as one and that has not been the case with this franchise in years past . 
 
The game against the Dolphins is the perfect example of these "new age� Jets.  The team was on the road against a division rival in horrible weather conditions.  The team faced some early adversity with a missed field goal and endured some frustration with some poor performances on offense.  The Jets battled but found themselves losing in the 4th quarter.  How many of you uttered the words "same old jets�?  Then they took the lead, forced the fish to punt but fell to a fluke play when the kick bounced of Brad Kassell's leg and was recovered by the Dolphins. How many of you then blurted out "same old jets�?   The Jets held the fish to a field goal and had the ball in their possession with the game and season on the line.  So what would your same old Jets do? Would they stall on offense and end up punting?  Would they have a huge turnover that would cost them the game?  Would they miss a field goal and head into overtime? Would they be content with running the ball and heading into overtime?   These are not your same old Jets.
 
Quick Hits
How is that Chad Pennington is not the front- runner for Comeback Player of the Year? Love him or hate him the guy has worked his a$$ off and overcome many medical obstacles to have a good season and lead this team to a winning record.
The management of ESPN should be embarrassed with the broadcasting performance of their Monday night team.  They were unprepared, clueless and more focused on humor and entertainment than the game.  Instead of replays of the game there was more attention put on useless sideline reports, highlights of the NBA and staff photo shoots.
Is it me or does anyone else wish that Wayne Chrebet and Curtis Martin could be a part of this ride to the playoffs?
Have a Happy and Healthy New Year!!