All For One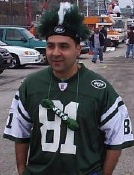 By Tyson Rauch
 
There will be many stories written this week about the New York Jets and their wild card match-up with the Patriots.  There will be stories focusing on the quarterbacks and their innovative coaches.   There will be tons of statistical analysis, trend reports and even roster breakdowns.  The one thing that cannot be highlighted enough is the chemistry that both of these teams have. 
Following the Jets win this past weekend against the Raiders it was interesting to watch the pure excitement and happiness displayed by the Jet players.  These players realized they worked hard as a unit, believed in each other and won as a team.  There was no one individual that made this team great, it was a sum of the parts that allowed them to succeed and each member of the Jets realizes that.  Eric Mangini will be given a lot of credit for his game plans and schemes but one of his biggest accomplishments is getting a team of young players and molding them along with veterans to build a strong united front, ready every game day.  In addition to coach Mangini players like Curtis Martin, Pete Kendall, Laveranues Coles, Chad Pennington and Eric Barton should be given a lot of credit for being willing to take these young players under their wings and work with them to achieve the common goal which of course is winning.   In this day and age of the "me first� players it is refreshing and encouraging to see the direction this team is heading and how they are going about it.
This is going to be an exciting 4 or 5 days for Jets fans and regardless of the outcome on Sunday this has been a successful season for gang green.
Side Notes
-Hats off to Randy Moss staying late after his team had already departed to wait for his buddy Chad Pennington to congratulate him.
-How come Herman Edwards is not getting anywhere near the amount of grief Tom Coughlin is getting?
-Can anyone else picture the Chiefs vs Jets in the AFC Championship game at the Meadowlands?  Ok ok I drank too much of the jetorade.
J-E-T-S JETS JETS JETS!!!!!!!!!!!!!!!!
Videos
New York Jets OTA Presser Takeaways, Aaron Rodgers' Impact and Summer Delusion