Jets Fall To Patriots 37-16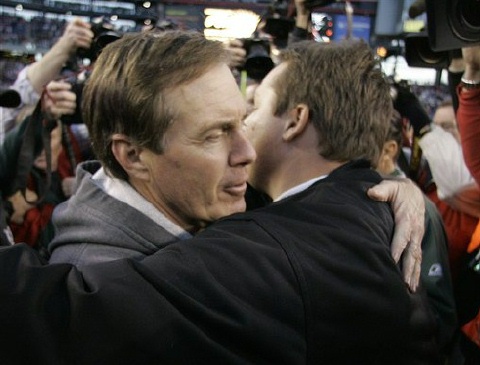 The New York Jets lost to the Patriots this afternoon.  The Jets battled and played hard as they have done all season long.  The Patriots score TDs on the first drive of the game and on the last drive before the half.  Those scores proved to be costly and they added 14 points in the 4th quarter to pull ahead for good.
Chad Pennington threw for 300 yards and and Jerricho Cotchery had 100 yards receiving.  The offensive highlight came on a 77 yard TD pass from Chad to Cotch.  The Jets could not get anything going on the ground and they only attempted 16 runs as a team.  On defense the Jets blitzed constantly.  Although they knocked Tom Brady down several times, they only recorded 1 sack.  Ultimately the Jets just couldn't slow down the Patriots offense.  Brady orchestrated a short passing attack that countered the Jets blitzes and threw 2 touchdowns (Faulk, Graham).
It was a disappointing loss for the Jets but it does not undermine how far this team has come since last years disappointing 4 and 12 finish.  The Jets surpassed even the wildest of expectations in this "rebuilding year".  Jets fans can hold their heads high and trust that this franchise is finally headed in the right direction.  Thank you Eric Mangini.  You should be proud of what your team accomplished this year.
Videos
New York Jets OTA Presser Takeaways, Aaron Rodgers' Impact and Summer Delusion