Roadtrip To Gillette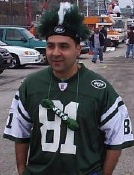 By Tyson Rauch
Gone was the smell of bratwurst and sausage that wafted throughout the parking areas.  Gone was the festive feeling and tone of football friendship and camaraderie.  Gone was the feeling that it was only a football game and we were all there to enjoy it.  From the state troopers who threatened to arrest Jets fans for not following the correct walking routes (which of course were not posted anywhere), to the security guards who patted down and harassed the Jets fans, it was apparent that Gillette Stadium would never be confused for a football paradise like Lambeau Field.  Add to the atmosphere the alcohol fueled teenagers who felt it was their god given right to spit, curse and throw things at every person wearing green and it truly felt like a division 3 college football game.  Yes this was my experience last Sunday at the Jets vs. Patriots playoff game.  If it was not for the hospitality of the Zip's/Bruschi bunch I truly think I would never return to this stadium again.  At some point I think people need to remember this is only game that we are all privileged to attend. 
Other than the unfortunate happenings outside in the parking lot and inside the stadium (yes things were thrown there too) it was apparent that the Patriots were the better team with more talent.  The New York Jets have made progress and have a lot of work to do to get to the next level.  The important thing that everyone should remember is that there are no guarantees for next year.  There is no guarantee that what happened this year with game planning will be effective this year.  There is no guarantee that a player that shined this year, will shine next year.  There is no guarantee with anything in the NFL. 
Side Notes:
1.  The Chad Pennington story this year was great and this is his first healthy off- season in a long time, which could result in improved play next year.
2.  The Jets have a lot of cap room and very few free agents.  It will be interesting to see if gang green does anything with the contracts of Vilma and Kerry Rhodes.
3.  What are the chances of the Jets raising ticket prices after a successful year?
Videos
Aaron Rodgers Injury Fallout & Jets/Bills Recap