Featured Editorials Jet News Jets Report Card
JetNation Year End Report Card
by Joe Grinwis
Quarterback: B
For the first time in his seven-year career, Chad Pennington started an entire season. Pennington threw for the most yards he's ever thrown for in a season (3,352) yet also had his worst TD-to-INT ratio (17-to-16). The most telling stat of all, Pennington led the Jets to the playoffs for the third time in the past five seasons.
Running Back: C
Leon Washington (650 yards), Cedric Houston (374 yards) and Kevan Barlow (370 yards) led a running back by committee approach that for the most part was not that successful. Tangini must find a full-time carry the load type back this off-season whether it be San Diego back-up Michael Turner or one of the big three in April's NFL Draft.
Wide Receiver: B+
Jerricho Cotchery (82 receptions, 961 yards, 6 TD's) had a breakout season and looks to be a future long-term starter for the Jets. Laveranues Coles (91 receptions, 1,098 yards, 6 TD's) had his third 1,000+ yard-receiving season and his second in a row when his buddy Pennington is back in the huddle for double digit starts in a season. Brad Smith looks to be a promising talent and next season could be the team's number one slot receiver option.
Tight End: C
Chris Baker (31 receptions, 300 yards, 4 TD's) caught almost everything thrown his way but the problem was he didn't get a lot thrown his way. The Jets must utilize his receiving skills next season to show what he really has. Sean Ryan has a very good future as a blocker.
Offensive Line: B+
The run protection was decent but without a feature back running the ball maybe we haven't seen the best of the line yet. Pennington was protected well for the most part and rookies D'Brickashaw Ferguson and Nick Mangold are going to be the building blocks on this line for years to come.
Defensive Line: C-
The line as a whole only reached 10 sacks, which is not enough, and Kimo von Oelhoffen (28 tackles, one sack) had a very unimpressive year. Look for the Jets to get rid of Oelhoffen or keep him as a back up and try to find a pass rushing DE. Dewayne Robertson (61 tackles, 2.5 sacks) also is NOT the long term solution as a 3-4 NT.
Linebackers: B
Jonathan Vilma (113 tackles, INT) is out of place in the 3-4, like many speculated he would be, but Bryan Thomas (77 tackles, 8.5 sacks) and Victor Hobson (100 tackles, 6 sacks, INT) had career years and will be here for the long haul. Eric Barton (101 tackles, 4.5 sacks) successfully returned from his injury that kept him out the final 12 games last season and performed excellent at times in the new 3-4 scheme.
Secondary: B+
FS Kerry Rhodes is a future Pro Bowl player and star safety in this league as he had a breakout season in the new defense (98 tackles, 5 sacks, 4 INT's, 9 passes defended). Rookie Eric Smith and third year man Erik Coleman both played fairly well at SS and Andre Dyson (62 tackles, 4 INT's, 4 passes defended) stepped up and became the leader in a fairly young secondary. Dyson looks like a steal on the FA market for the Jets and will be here as the #1 Cornerback for a while unless the Jets go out and get Patriot CB Asante Samuel this off-season which is has a very high chance of happening. Samuel and Dyson would make this secondary great.
Special Teams: A-
Justin Miller is a Pro Bowl kick returner (2 KO's returned for touchdowns) and even though his play on defense has been shaky he will probably be here for the long haul as the primary KR. K Mike Nugent had an outstanding season kicking field goals as he went 24-for-27 in the regular season then 3-for-3 in the postseason, making his last 21 straight. P Ben Graham for the second straight season had a good year punting the ball and the former Aussie Rules Football League star may be taking over Nugent's duty as the Kickoff Specialist as that was the lone category where the Jets struggled. One other quick note: Nobody ran back a touchdown on a kickoff on the Jets and nobody had a punt return more than 20 yards on the Jets, best in the league.
Coaching: A-
Eric Mangini, Brian Schottenheimer, Bob Sutton, Mike Westhoff and the rest of the staff took a team many were saying would reach 6 wins at best into the playoffs. Who knows what's in store for this team in 2007 but the future looks bright for the Green & White.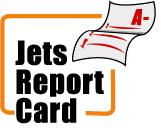 Videos
Aaron Rodgers Injury Fallout & Jets/Bills Recap