Free Agency Is Near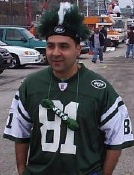 By Tyson Rauch
Coming off their playoff appearance both the New York Jets and their fans head into the off-season full of excitement.  The teams play improved as the season progressed and it appears that with some quality personnel additions a better season can be achieved next year.  The question is where will this personnel come from? 
Based on the figures provided by the NFL it seems that the average cap space for NFL teams will be 15 million dollars with several teams with close to 20 million available.  The New York Jets reportedly will be in the 20 million dollar range, which at first appears that they will be able to make a big splash in free agency. But after reviewing the list of potential free agents and the Jets needs this may not be the case.  For example, it is no secret that the Jets are looking up to upgrade their secondary.  Asante Samuel received the franchise tag from the Patriots but Nate Clements is still available.  Adalius Thomas, the star linebacker from the Baltimore Ravens will hit the open market this Friday.  He will be 30 when the season begins and will command a big, guaranteed salary.  Will the Jets make a run at him?
Based on early analysis of the 2007 draft class for corners it does not appear to be overly strong.  With Asante being franchised the stock for Nate Clements is rising.  Would the Jets want to get into that bidding war and would it even be cost effective to do it?  Would this one player make them a substantially better team?  If the answer is no, the other free agent cornerback pickings are slim with players Nick Harper and David Macklin heading off the list. 
So what about running backs? Well names like Ahman Green, Chris Brown and Dominic Rhodes are out there but none of these players would be considered game breakers at this point.  It is possible that players like Thomas Jones, Michael Turner and Clinton Portis could be obtained through trade but again based on what is available on the free agent market the price could be steep.  So what approach should the Jets take?  This appears to be a sellers market.  Is it worth breaking the bank for one player, or even over paying for a player to upgrade a position? Should the Jets rely on a quality draft and "bargain� shop for second tier free agents?
What about getting some of the younger Jets players like Kerry Rhodes and Jonathan Vilma extended?  These are questions that Mike Tannenbaum and Eric Mangini will repeatedly have to answer this off season and it will be very interesting to see the results.  For the first time in a long time the Jets have the financial resources to make a splash in free agency, the question is will they even go into the water?
On Friday, March 2, we will get the answers. Free Agency is near.
Videos
NY Jets Phase 3 OTAs, Expectations and a Minor Calf Tweak with Greg Renoff