Jets Trade For Thomas Jones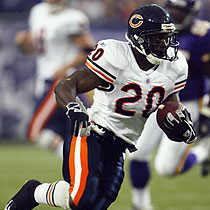 ESPN has reported that the Jets have worked out a trade with the Chicago Bears for RB Thomas Jones.  The Jets gave up their first pick in the second round (# 27 overall – obtained from Washington).  In return they get Thomas Jones and the Bears second round pick (#63 overall).  The deal is contingent upon Jones passing a physical and signing a contract extension.  He currently has one year left at slightly over 2 million dollars.
This is a very solid move for the Jets.  Jones is a proven back who can be the # 1 guy or share the load with Leon Washington if needed.  Jones was the 7th overall pick in the 2000 draft (Cardinals).  He struggled early in his career, failing to surpass 1,000 yards in his first four years with Arizona and Tampa.  In his three seasons with Chicago he has gained 3,493 yards on the ground.
See what JetNation thinks of this trade by clicking here.
Videos
Aaron Rodgers Injury Fallout & Jets/Bills Recap